Dubbel Cannon
| Heavy Seas Beer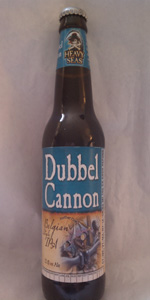 BEER INFO
Brewed by:
Heavy Seas Beer
Maryland
,
United States
hsbeer.com
Style:
Belgian IPA
Alcohol by volume (ABV):
7.25%
Availability:
Rotating
Notes / Commercial Description:
No notes at this time.
Added by tbrown4 on 04-05-2011
This beer is retired; no longer brewed.
Reviews: 97 | Ratings: 225
4.05
/5
rDev
+8%
look: 4 | smell: 4 | taste: 4 | feel: 3.5 | overall: 4.5
12 oz. bottle poured into a pilsner glass
Best by August 2011
Appearance: Semi-clear in clarity with a honeyed copper color. Beautiful off-white, creamy, yet slightly frothy head. Excellent retention. Rings of lacing are left on the glass. I can see tiny bubbles in this one.
Smell: The first thing I noticed was my beloved spicy Belgian yeast. Slightly malty, earthy, and very floral. I'm also picking up some faint banana notes. Hints of lemongrass and coriander are in the background. There is a mild fruit presence in this one as well. Hints of biscuit.
Taste: The arrival is very balanced. I'm getting some spicy citrus notes. The taste is very similar to the nose. I noted a juicy, crisp, and drying citrus finish, which dissipates until all that is left is a Belgian spiced orange memory. The alcohol is nicely masked with the hop/yeast balance. Faintly on the sweeter/dryer side, but not nearly to the extent of Chimay Tripel. Quite enjoyable.
Mouthfeel: A small margin lighter than medium bodied. Sufficient carbonation (not over the top). Very refreshing. Easily sessionable.
Ending notes: When I saw this on the shelf, I had to pick it up as I am always ready to try a new BIPA. I liked this brew a lot; will definitely have to get it again. Overall, I must say that I was impressed. Nicely done, Clipper City!
1,327 characters

3.53
/5
rDev
-5.9%
look: 4 | smell: 3.5 | taste: 3.5 | feel: 3.5 | overall: 3.5
Amyliz4 had to try this one when we were out at Rustico. Pretty good choice. Served in a mini snifter.
Pour is a goldish-copper color (gotta get that first "ish" in the first sentence) with a nice white head and a ring of lacing on the way down. The nose brought some floral and herbal hops along with a bit of spicy Belgian yeast. A fairly strong fruit component was there as well; mostly stone fruits, I'd say. Flavor was pretty similar. I should just copy and paste that last sentence. Really, solid base of malt with a bit of sweetness. Medium hop presence doesn't take over, but rather gives way to a bit of fruity and spicy yeast. Fairly well done. Mouthfeel is medium with a bit of zest. Solid effort for sure, but not as good as the BIPA made by their friends 45 or so miles westward.
793 characters
4.42
/5
rDev
+17.9%
look: 4 | smell: 4.5 | taste: 4.5 | feel: 4 | overall: 4.5
On tap at Max's today.
The beer pours an amber orange color with good head retention and decent lacing. The nose is quite attractive, showcasing banana, considerable spice, a hint of brown sugar and some impressive dry citrus. The flavor profile replicates the nose very closely in this well crafted beer. Also, while the beer is moderately sweet with an attractive dubbel flavor profile, there is a goodly amount of hoppy bitterness in this beer as well. It dries out the sweetness very nicely, leading to a long, spicey, bitter finish. Mouthfeel is medium bodied to full, and there's no doubting this beer delivers plenty of flavor.
Wow! It's been a while since I was this impressed by a Clipper City/Heavy Seas beer. Will definitely be ordering this one again.
766 characters

3.61
/5
rDev
-3.7%
look: 3.25 | smell: 3.5 | taste: 3.75 | feel: 3.75 | overall: 3.5
We got a sneak preview of this one. It poured semi-coffee black with a nice creamy head. Hops were distinct, really hitting my nose. I was expecting a really heavy dose of hops, yet at my first sip, there was a perfect balance between body, malt, spices and hops.
My mouth was filled with the first sip, which I always think is a fantastic description of any beverage. With the hops, I detected a small amount of vanilla nuttiness, almost like toffee.
The finish was just as good as the start, and in fact I think it finished even nicer
This was a really nice beer to drink, soft and fun, light and full, hoppy and not.
I will have this one again
651 characters
4.23
/5
rDev
+12.8%
look: 4.5 | smell: 4 | taste: 4.5 | feel: 4 | overall: 4
Served at ~48 F.
Monster white head with good retention. Has a rich amber color, great clarity. A pretty beer as is typical for the brewery.
Grapefruit citrus hops, slightly peppery, but overall somewhat sweet.
Slightly biscuity malt flavor up front, gently sweet. Citrusy hop flavor blends in seamlessly, and finishes with a biscuit tinged slight bitterness. Belgian influence, particularly from the yeast, is quite muted, but the biscuity malt flavors add an extra dimension.
Medium body and carbonation, no astringency, minimal (if any) alcoholic warming.
A reinterpretation of one my favorite beers, Loose Cannon. It doesn't wander incredibly far from the original, but is a distinct beer that probably is more complex. A good beer to sip and drink slowly, as there is a lot going on here.
800 characters
4
/5
rDev
+6.7%
look: 4 | smell: 4 | taste: 4 | feel: 4 | overall: 4
best by aug 2011
pours clear copper amber orange with a big 2+ finger off white head that faded fast and left some spotted lacing
smells very fruity - apricot banana grapefruit orange - bready malt and belgian yeast/spice - not the nose is not strong but it hits all the notes
taste - first this beer is different then all the other belgian ipas i have had - after trying this the others have too much belgian yeast flavor they are basically a tripel with hops - this is more american ipa with hints of belgian flavors - lots of fruity american hops with the earthy spicy belgian yeast flavors still there but talking a backseat - light semisweet grainy caramel malts in the aftertaste
mouthfeel - light/medium body with plenty of carbonation that give it a crisp finish but does not have a dry finish
overall - first impression/bottle is good and could go for another one and would buy this again
902 characters
3.76
/5
rDev
+0.3%
look: 4 | smell: 3 | taste: 4 | feel: 4 | overall: 4
12 oz bottle -> Weyerbacher tulip
A - Deep dark copper, almost crystal clear, off-white thick fine to medium sized bubbled head, thick lacing, moderate carb streams at first, little through the tasting.
S - Mild sweet bread, just a tad of citrus bitterness. Surprisngly, that's it.
T - Mildy bitter upfront, settles in sweet like an English brown, finishes with clean and tart. Flavors that I'm picking up are toasted English muffin, citrus marmalade, tart cherries for a moment, light pepper.
M - Medium bodied, I feel like this one sticks around for a little bit. Light alcohol warmth.
O - I'm pleased with this beer. It doesn't push the envelope much but is a decent American representation of the style. At 7.25% it's far from session-able, but is a nice one or two-fer beer. I look forward to finding it on draft and will definitely buy in bottles again.
877 characters
Dubbel Cannon from Heavy Seas Beer
3.75
out of
5
based on
225
ratings.