Land Ho! Black Pilsner Style Lager (Devil's Backbone Collaboration)
| Heavy Seas Beer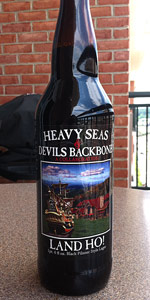 BEER INFO
Brewed by:
Heavy Seas Beer
Maryland
,
United States
hsbeer.com
Style:
Schwarzbier
Alcohol by volume (ABV):
5.30%
Availability:
Limited (brewed once)
Notes / Commercial Description:
No notes at this time.
Added by Thorpe429 on 05-09-2012
This beer is retired; no longer brewed.
Reviews: 38 | Ratings: 98

3.8
/5
rDev
+0.5%
look: 3.5 | smell: 3.5 | taste: 4 | feel: 3.5 | overall: 4
Almost black in color, almost but instead is a really deep ruby garnet brown. An average size head sits on top lingers but fades to a color and no lacing.
Aroma to me like most pils and lagers is quite thin and in this case is quite the same but there is the sutle nuiance of roasted malts.
Taste is like the nose with a malty up front and some roasted malts in the back.
Drinks like a thin bodied porter and in all honesty is quite good. The aftertaste is abit harsh.
A desent beer but nothing really to hook you in.
519 characters

4.18
/5
rDev
+10.6%
look: 4 | smell: 3.5 | taste: 4.5 | feel: 4 | overall: 4.5
Man, I love this style!
Served in a Delirium Tremens shaped-glass.
A: Poured a dark, dark color, with a decent bit of ruby once I held it up to the light. I think if you were to peel away the blackness, the clarity would actually be pretty good here. The mocha head was about a finger or so and stayed a sawdust formation on top of the brew for a good bit.
S: Very muted (weak), yet still present aroma of yeast and fresh clean linen. It didn't really have any sort of cocoa or chocolate per se, but there was definitely a bit of dark malt poking through.
T: Excellent flavor of carmel, yeast, and sort of a smoked or toasted grain bill. This had some of the characteristics of a nice Scottish Ale, but without the heaviness or sweetness sometimes associated with that style.
M: Creamy, spritzy, malty, and fresh! This was just a downright pleasure to drink and fell on the palate almost perfectly. In a market saturated with hops, char, and cocoa nibs, this was a most welcome change. Bravo Heavy Seas and Devil's Backbone!
1,029 characters

3.78
/5
rDev 0%
look: 4.5 | smell: 4 | taste: 3.5 | feel: 3.5 | overall: 4
Cool collaboration I picked up for a good price at the Beer Dispensary in Apex. I really like Schwarzbier and it's rare to see one I haven't tried. This 22 oz pours dark chestnut with a wet tan head that leaves a creamy cap and thick lace. Medium roasted malt with coffee tones is the main player in the nose.
The malt flavors are pretty close, although a late kick of sweetness makes me think that the alcohol seems active for 5.25%. Satisfying chocolate malts with flavors of coffee, roasted, and raisins. Noble hops are present in the aftertaste but the malt is the stronger of the two.
Interesting and fairly complex. Not my favorite Schwarzbier; I'd like to see a complete absence of cloying sweetness and a little more smoothness in texture. It's not at all bad, however. i could definitely see picking this up again.
827 characters

3.89
/5
rDev
+2.9%
look: 3.5 | smell: 4.5 | taste: 3.5 | feel: 4 | overall: 4
Normal pour fills a third of a pint glass with dark brown microfoam, no larger bubbles at all, burns off swiftly with minor dimpling, like delicate whipped head of a latté, very little lacing and no stick to what's there. The liquid is a spotless deep brown, not quite black, strong orange to yellow tint at the top and bottom of the glass, not really seeing many bubbles. Malty, roasty nose of caramel, mocha, molasses, caramelized brown sugar and raisin, cherry fruit, presents a peppery side too, as it warms there's a leafiness too but nothing which really bespeaks a strong hops presence. Medium-bodied, the carbonation is stronger than expected after visual inspection, however, the mouth feel remains on the creamy side. Same high level of toast and roast, more like coffee and cocoa powder than sweeter caramel. Some vanilla bean or cola perhaps. At the same time lemon to sour orange citrus asserts itself and the leaf, grass element bolder as well. The texture is dry and the fruit more of a demure cherry, apple, golden raisin, fig. Leaves a lot of that malty roast behind as a residue. Not a lot of personality yet nothing which perturbs. Can't say it leaves you yearning for more.
1,200 characters

3.96
/5
rDev
+4.8%
look: 3.75 | smell: 4 | taste: 4 | feel: 3.75 | overall: 4
"Virginia's Devils Backbone Brewing Company, with Brewmaster Jason Oliver, was a perfect partner for us to do a collaboration beer. Not only is Devils Backbone one of the most award winning breweries in the country over the last few years, but Jason hails from Heavy Seas' Brewmaster, is clearly a lager lover and specialist, and he and Jason had a great time conceiving and developing this special lager. It has been a privilege working with both of these gentlemen, and I hope you enjoy the result of this joint effort." Brewed in the style of a Schwartzbier. This is a one-off collaboration between Devils Backbone Brewing Company and Heavy Seas Beer, available in 22 oz. bottles and on limited draft.
Poured from a 22 oz. bottle to my Heavy Seas pint glass. Served above 55º Fahrenheit.
(Appearance) Pours a crisp fizzy mocha tan head over a dark cola brown body with deep mahogany highlights. Retention is slightly above average and lacing is spotty and thin. 3.75
(Smell) Earthy malts combines cracker pilsner malts and light caramel with faintly roasted grain and a pinch of black malt bitterness. Hop bitterness and aroma is mild to pair, mostly resiny but with some mild fruit. Pleasantly inviting and enjoyable aroma for a black lager. Potency is medium-high. 4
(Taste) Pale and roasted malt paired with a toasty, earthy bitterness for a complex but inviting malt profile. Sweetness is mellow but balances well with the bitterness of the specialty malts and mild acidity of the lager strain. Low earthy and grassy hop flavor with a lesser bitterness. Like most lagers, the profile is light and drinkable without encroaching on thin or watery. 4
(Mouthfeel) Texture is thin, smooth and mildly chalky dry. Carbonation is mild, generating a thin creaminess and fluffy mouthfeel. Body is medium for the style, light/medium overall. Balance is equally sweet, roasty, acidic and bitter. Alcohol presence is light. 3.75
(Overall) An excellent collaboration brew that takes ones expectations of a Schwartzbier to a new level. Very flavorful and well balanced with an enjoyable carbonation and high drinkability. 4
Heavy Seas Beer/Devil's Backbone Brewing Company's
Land Ho! Black Pilsner Style Lager Collaboration
3.96/5.00
2,234 characters

3.63
/5
rDev
-4%
look: 3.5 | smell: 3.5 | taste: 3.75 | feel: 3.75 | overall: 3.5
Pours black, opaque with just a little light at the bottom when held to the light. 2 thin fingers of foam that fell fast to a filmy cap and ring. Soapy lace. Nose is strong with toast, roasted grains and floral hops. There's some grass from the hops but almost no fruit except for a hint of dark fruits. Smells a lot like cola. Nose has chocolate but it's not sweet. It has plenty of grain. There's some caramel and molasses as ti warms. Taste is strong malt. Toasted, a little smoke, the mild chocolate cocoa powder, and walnut.The hops are floral and earthy with plenty of grass but no real fruit on the palate. Also there is not really any malt sweetness on the palate so it has a dry quality. Body is thin and a little over carbonated. Finishes with toast, roast, coffee and a moderate bitter. It was hard to want more of it because it lacked any kind of sweetness. It tasted a lot like dry cheerios. For the style it's right on. A neutral malt character with nothing burnt, moderate roast and a bitter chocolate flavor featuring a moderate hop bitterness.
1,068 characters

4.23
/5
rDev
+11.9%
look: 4.5 | smell: 4 | taste: 4.25 | feel: 4.5 | overall: 4.25
a black pour with 2 fingers of fluffy light tan head which dissipated slowly and gave off nice amounts of lacing. smells of very sweet citrusy malt, light roasted scents.. orange, chocolate.. very strange profile for its color! a bready, very refreshing tasting beer. slight orange citrus flavor, a very slight roasted grain profile.. very refreshing and mellow beer, perfect for a nice spring night like tonight. light body with high carbonation, yet a slightly creamy mouthfeel. a really nice overall very enjoyable beer. never had a black pilsner, but if this is something that catches on, i could become a pretty big fan.
625 characters
3.88
/5
rDev
+2.6%
look: 4 | smell: 3.5 | taste: 4 | feel: 4 | overall: 4
Poured into my crystal mug, this beer is a clear dark reddish brown, with a whitw bubbly head about one finger high. It dissipates fast leaving some lacing.
The smell is mild and of caramel and malt.
The taste is quite as expected from a Schwarzbier. Malty and sweet beginning, balanced by a nice hop selection. Very drinkable, medium to light in body, yet substance in taste and color.
Great job in my opinion.
411 characters

3.83
/5
rDev
+1.3%
look: 4.5 | smell: 4 | taste: 3.5 | feel: 4 | overall: 4
Bought a 22 oz bottle at Rick's in Alexandria. Poured into a pilsner glass. Awesome look! Very dark, slightly ruby colored, thick 3 finger head. Tastes very refreshing on a hot day. Smooth feel, tastes lightly of raisins, ends with a very slight hoppiness. Much lighter in taste than I expected based on the color, but very good. I would definitely drink this again.
366 characters

3.95
/5
rDev
+4.5%
look: 4 | smell: 4 | taste: 4 | feel: 3.5 | overall: 4
P: 22 fl oz bottle in to a DFH tulip
A: SRM is dark brown/almost black. Semi-translucent. Head is light tan, 1 in, dissipates to line the top of the beer. Medium carbonation. Medium lacing.
S: Nice medium-dark roasted malt nose, a bit of the signature pilsner scent, not really picking up on Warrior hops, but the mellowness of the Tettnang & Saaz come through.
T: Nice dark roast malt body, light-moderate hop additions, a bit of the "lager" taste/bite. Nice roastiness on the back end and aftertaste, with just a bit of hop pine as well.
M: Medium body. Initial feel is that of a lagered beer, akin to a traditional pilsner. Dark roast malt follows immediately and covers the entire palate, dismissing any notions of a pilsner feel. Light hop presence does add a bit to the feel, especially on the back end of the flavor profile. Semi-dry finish.
O: Quite good. Fantastic price. Typically I hate Schwarzbier as it is generally too hoppy, uses too dark of a roasted malt, and is too bitter for my palate. This beer however is very complex. I love how it teases with the traditional lagered pilsner flavor and immediately hits with the dark roast malt. Good hop choices and integration, but I did not pick up on the Warrior. Very nice, complex smell as well. I would by this again.
1,287 characters
3.65
/5
rDev
-3.4%
look: 3 | smell: 3 | taste: 4 | feel: 3.5 | overall: 4
This collaboration is a German black beer brewed with four types of malts and three types of hop, one of which is the ubiquitous salz.
The body is a dark ruby color that sits beneath a moderate froth crown. There is minimal carbonation and a smatterin gof lacing throughout the quaff. There are a few notes of apple and plum; the taste is pleasant if a little sweet with the aforementioned apple that is quickly rushed out with some mild malty toastiness. THe body is very light - nothing unexpected from the style, of course.
Decently made beer and a nice little beer. I hope to see more collaborations from these two brewers,
630 characters

3.75
/5
rDev
-0.8%
look: 3.5 | smell: 3.5 | taste: 4 | feel: 3 | overall: 4
Dark black in the center but brown around the edges of the glass.
Described as a black pilsner but the hop presence is minor.
Very light bodied and easy drinking. There is a noticeable malt flavor which sort of mingles with the hops to produce the stereotypical schwarzbier flavor.
I don't really like the fact that this is billed as a "black pilsner" its kind of misleading but the beer overall is very good.
413 characters

4.92
/5
rDev
+30.2%
look: 4.5 | smell: 5 | taste: 5 | feel: 4.5 | overall: 5
An EXCELLENT Schwarzbier! FINALLY something American seriously competitive with Köstritzer (Germany's premium schwarz). Properly labeled a "black pilsner" (not all schwarz's are) this beer is smooth, subtle and refreshing like a good pilsner, with the bonus of some easy-going black malty notes in the background.
I LOVE this style, as it has so much more finesse than say a stout, porter or a strong ale, and is more interesting than a pilsner...with the bonus of being a session beer--one you can enjoy during hours of Stammtisch with friends...
550 characters
Land Ho! Black Pilsner Style Lager (Devil's Backbone Collaboration) from Heavy Seas Beer
3.78
out of
5
based on
98
ratings.