Baltimore Brewing Company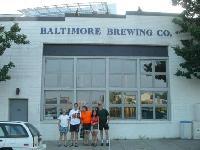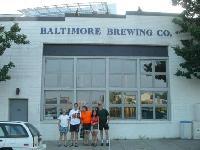 PLACE INFO
Type:
Brewery, Bar, Eatery
104 Albermarle St
Baltimore
,
Maryland
, 21202-4457
United States
(410) 837-5000
// CLOSED //
Notes:
No notes at this time.
Added by BeerAdvocate
Beers are brewed at / by another brewery.
HISTOGRAM
Ratings: 11 | Reviews: 11
Reviews by Billolick:

4.05
/5
rDev
+2%
vibe: 4.5 | quality: 4 | service: 4 | selection: 4 | food: 4
Really enjoyed our visit to this spot. Downtown B'more, not far from Cam. Yards. Big open room, with brewing stuff located behind the bar. TVs going with sports, pool tables and a nice, sunny and large outdoor sitting area. This place is simply a very pleasant place to eat, drink and have a good time for dinner or lunch. Also great with the family group I was with or with da' guys or would be nice for a date. Food was tasty burgers, salads, pub grub, some german style entrees, extensive kids menu etc, all nicely done. (Yummy crabcakes). Brews, of course, are all German style, the two I tried (Dunkles and weizen) were well crafted and enjoyable. If in Baltimore this place is well worth a visit.
702 characters
More User Reviews:

4.15
/5
rDev
+4.5%
vibe: 4 | quality: 4.5 | service: 4 | selection: 4 | food: 4
June 2004
Nice open high ceilinged pub feel. Brew kettles located behind the bar area. The beers were fresh and top notch, particularly the Altfest and Weizen on this visit. Food is fairly standard pub food, with several German dishes on the menu. All well made and very tasty. I was here on a rainy Saturday afternoon, so all was cozy and fairly subdued. Service was freindly and quick and very knowledgable about the beers. I would definitely reccommend stopping by if you are in the area, for the atmosphere, for the food, and especially for the beer.
557 characters
4.65
/5
rDev
+17.1%
vibe: 4.5 | quality: 5 | service: 4.5 | selection: 4.5 | food: 4.5
A very pleasant surprise, to be sure, and this will no doubt be one of my stops every time we are in baltimore. The establishment is spacious and very open and airy, to say the least. No closterphobia (sp) here. The decor is a combination of would-be German and American pub. Not a terrible mix, and I love the fact that the bar is situated with tanks immediately surrounding it. Love that. The food was good, although we did not try too much. The Sausage Bites are very, very good, and the Maryland Crabcake Sandwich is well-worth the market price (only $10.95 on this day) for something that had little if any filler in it at all. A great place with some of if not the best and freshest German-style micro brews I have had in quite some time. I do wish I could have tried some of their other brews like the Helles and Dopplebock, but that will be for other occasions.
Zum wohl!
883 characters
3.3
/5
rDev
-16.9%
vibe: 4.5 | quality: 2.5 | service: 4 | selection: 3
Although an award winning brewery, I was unimpressed with my recent visit there. The altbier was way off. The Weizen was pretty good, but not as good as I had expected.
As I write this, I'm thinking I may be too critical of this place because I went in with high expectations, and they weren't exactly met. If I go again, I will have a more realistic expectation, and maybe my ratings will improve somewhat.
The atmosphere and service are excellent, and prices were very reasonable. Despite my bad "quality" rating, you should definitely make it a point to visit.
565 characters
4.18
/5
rDev
+5.3%
vibe: 4 | quality: 5 | service: 3 | selection: 4.5 | food: 4
Must visit places in Baltimore: Camden Yards, Inner Harbor, Fort McHenry and the BBC. Also known as DeGroen's Grill.
Go there during happy hour for $2.50 half-litre, about 18oz. Get your happy hour beers at the bar, since the discount doesn't apply if you are sitting for food. Don't ask me why.
The Pils is World Class and rates a 10 (Hall of Fame) on my 10-point scale. The Weiss is also top notch if you are a wheat-eater.
The Marzen is my wife's favorite local beer and the Dunkles is just OK.
The seasonals here are well worth the $4.50/half-litre. My top pick is the RauchBock, makes you feel like you are sitting in front of a warm cozy fireplace. A garnet bock base topped off with lasting smokey finish makes each swallow memorable. Not for beginners. January-February.
The WeisenBock (Oct-Nov) and Dopplebock(Nov-Dec), are unique examples of their style and also highly recommended.
The above three are not to be missed, but often are, since only limited quantities are made.
The Maibock, Altfest, and Helles (spring and summer) are excellent, though I prefer the Pils at the happy hour price.
I've heard scary rumors that Theo is trying to divest and I hope whoever buys the place continues the great tradition.
The food is a good complement to the great beer. Try the sausage bites for a solid appetizer to go along with your brew.
Update: March '04. Great news!! Seasonals are now included in Happy Hour pricing. This years RauchBock was again outstanding.
Warning- Happy Hours are Monday through Friday only 3:30 - 7:00.
1,552 characters
2.64
/5
rDev
-33.5%
vibe: 4 | quality: 1.5 | service: 3 | selection: 3
DeGroen's is apparently under new management, and their beer has suffered greatly as a result. I hate to be negative and I try hard to find positive things to write in reviews, but the beer was very disappointing this time (Sept. 2003).
I used to try to stop by when business brought me to the Baltimore area because they are one of the few brewpubs that do German style beers. I went back there for the first time in many months, and found the beers to be very disappointing. The Weizenbock seasonal was good, but the Maerzen and the Dunkel both had strong, off-flavors. The Maerzen had a very strong yeasty flavor, and the Dunkel had a sweetish almost smokey flavor. Both of these beers should have very clean flavor profiles, but they sure don't anymore. I don't know if DeGroen's has tried to cut down lagering time or what, but I sure hope that they can fix their quality issues or they will lose a lot of loyal customers. I have no plans to go back until I hear that they've made improvements.
On a more positive note, the atmosphere is still the same -- I like the old stone building a lot and they have a nice patio area. The people, both employees and patrons, were all nice. I would have had a great time if the beer hadn't tasted bad.
1,253 characters

3.86
/5
rDev
-2.8%
vibe: 4 | quality: 4 | service: 4 | selection: 3.5
A short walk past the ESPN Zone and you hit the BBC. It is a large open building with plenty of tables and a large bar area. There is some outside dining also. The basic beers are the Dunkel, Marzen, and Pils, but they also had a seasonal Helles on tap for $2.50. They had some acoustic guitar entertainment which was nice, but no one seemed to care. I had the Helles and Marzen, and both were good and enjoyable. This is another place I have visited for years and the beer remains very good and consistent.
507 characters
4.03
/5
rDev
+1.5%
vibe: 4 | quality: 4.5 | service: 3.5 | selection: 4 | food: 4
The BBC is a must stop while in Baltimore. Nice, airy, modern seating area, good sized bar and great beers. The pilsner is outstanding, but the märzen, the wheat and the seasonals are all fine examples of their respective breeds. The menu is not extensive, but what I've had has always been good. Service is definitely spotty, especially when they are busy. My tip: when going to a game at Camden Yards, come early, park in the stadium lot (or on the street if you can), walk from one end of the inner harbor to the other, eat and drink at the BBC, then walk back (about 20 minutes) to the stadium for the game. Can't be beat.
627 characters
3.9
/5
rDev
-1.8%
vibe: 4 | quality: 4 | service: 4 | selection: 4 | food: 3
DeGroen's Grill, as it is now known, has been remodeled slightly. The pool tables are gone, replaced by several small tables and chairs. The food is more like Pub fare with a german accent. The beers are always wonderful; authentic and particularly fresh tasting. Their seasonals are often not widely distributed but are available here.
336 characters
4.65
/5
rDev
+17.1%
vibe: 4.5 | quality: 5 | service: 4.5 | selection: 4.5 | food: 4.5
You've got to love DeGroen's! Nice, comfortable, open brewpub with a German beer hall feel; the brewhouse on display; a semi-authentic German-based menu and excellent beers! Growlers are already filled and ready to go which makes it nice when I just want to stop in and exchange for a refill. I've always had good service and the food has always been high quality (although I'm personally not real crazy about the German selections, but I understand they've changed the menu a bit to make it more accessible). And the beers are what really bring me in! I absolutely love the fresh, authentic taste of these beers. The pilsner is my favorite, just brimming with malt & hop flavor. It's not even filtered! Hell, they don't even own a filter... thay sold it to Capitol City years ago! The rauchbock makes a very interesting selection - a style you may not have had before! And the weizen and dunkelweizen are top notch, more along the spicy side than banana-ish. I stop here as often as I can to fill up my 3 growlers. 100% worth a try.
1,033 characters
4
/5
rDev
+0.8%
vibe: 4 | quality: 4 | service: 4 | selection: 4 | food: 4
Big, airy, nice-looking place. Lots of tables, and plenty of room at the bar. Brew-kettles are up behind the bar, and the bottling line is visible behind a glass wall. Had 4 year-rounds and 2 seasonals on tap. Proper glassware is used, as mentioned before. Had a tasty chicken sammich, too. Biers were good, though having had a lot of Deutsch Brau on both sides of the pond, it wasn't earth-shattering. But if I'm in Baltimore again, I'd quaff more of Herr DeGroens bier!
471 characters
Baltimore Brewing Company in Baltimore, MD
Brewery rating:
0
out of
5
with
0
ratings