New Pioneer Co-op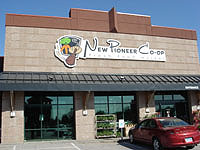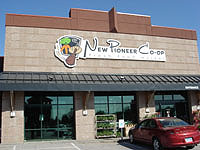 Store
1101 2nd St
Coralville
,
Iowa
, 52241-2924
United States
(319) 358-5513 |
map
newpi.com
Notes:
Reviews by Quaffer:

3.7
/5
rDev
+3.9%
I didn't spend much time in the co-op, but I must say that they had a decent selection of brews. Nice and diverse and rather plentiful. Not your typical food store type of stuff. Also, there were many singles in the coolers and that is always good, allowing one to sample at will.
Being that this place is more of a grocery store, you are probably going have to ask for help if you want it. That's not necessarily a bad thing, though. No one approached me while I was there, but the cashier was very friendly.
The co-op is a nice place, but if you can only make one stop while you are in the Iowa City area, make it at Dirty John's instead.
646 characters
More User Reviews:

3.79
/5
rDev
+6.5%
vibe: 4 | quality: 4 | service: 4 | selection: 3.25

3.69
/5
rDev
+3.7%
vibe: 3.75 | quality: 4 | service: 3.5 | selection: 3.5
3.45
/5
rDev
-3.1%
Stopped here in a pinch on the way to Colorado in hopes of picking up some things from Iowa breweries. It did for the most part fit that bill for me, picking up Millstream, Hub City, and others resulting in a good selection score. As far as quality, it didn't have much or any for high end beers, and service was ok, but it seemed for the most part only a part of a larger based store. I was there early in the morning so that may have had something to do with it. I might stop again in the pinch, but will probably stop somewhere else with better alternatives in the greater Iowa City area.
591 characters
2.9
/5
rDev
-18.5%
Nice exterior, the storefront looks pretty sharp. The Coralville location is easy to find right off the highly-traveled 2nd Street.
Maybe 100+ offerings. The popular craft micros for Iowa (Anchor, Goose Island, Sierra Nevada, Three Floyds, Boulevard, North Coast, Millstream, etc.) Some decent European brews that aren't available at every store, but nothing worth going out of your way to find. If we're calling this a great selection, then Iowa's beer scene is in real trouble.
There was a gal there that was sampling beers, and seemed to think that Tucher Hefeweizen was the best beer ever made for some reason... "You've GOT to try this beer with some cheese," she said as I was picking through the selection. I tried the piss warm sample offered and the smoked cheese..not sure why those go together, but I'm not one to turn down free beer & food. As pleasant as she was, there seemed to be the air of undeserved superiority that I could have gone without.
The grocery store as a whole is much newer and seems to be of better quality than the Iowa City location, but as a beer destination it lacks anything that would particularly spark most BA's interests.
1,168 characters
3.75
/5
rDev
+5.3%
I finally had an excuse to stop by the newest location of our local Co-op grocery store in our sister city of Coralville, as my drinking buddy recently moved in a few blocks away.
It is very similar to the Iowa City location in terms of selection, but the store is much newer and cleaner looking. All of the beer is in a cooler in the back of the store near the wine. Selection is fairly typical for Iowa City: Blvd, Alpha King, Sierra Nevada line, Sam Smith's, blah blah blah. Definitely more of a craft beer influence than schwag beer, though BMC is available in limited quanities.
I would rate the Iowa City location higher than this, but neither of them are particularly destination stops for out of town beer enthusiasts. Other than that, I love the Co-op.
767 characters
3.65
/5
rDev
+2.5%
Located in a new, upscale strip mall a stone's throw from the University of Iowa campus, New Pioneer Co-Op is a wonderful place to buy food and a pretty fair place to buy beer. Parking is ample, the aisles are wide, well-lit and clean and the check-outpersons are friendly (I didn't require any more than that from them).
The beer selection is, for the most part, standard Iowa grocery store. Sprecher, Summit, Leinies, Goose Island, Anchor, Boulevard, you know the drill (see bditty187's review for a more complete run-down). I was pleasantly surprised though by a few things that I hadn't seen before and picked up three bottles and a can which looked interesting if nothing else. I didn't really pay attention to the prices, but the total struck me as 'about right'. I spent a few minutes checking out the food products and they looked more varied, exotic and interesting than the beer.
Since this store is within a mile or so from John's Grocery, it can't help but pale in comparison. A destination store it most certainly isn't. Not a bad place to pick up a few quality beers though and the food could keep any 'foody' experimenting for quite awhile.
1,161 characters

3.85
/5
rDev
+8.1%
I visited this store totally out of the blue; we stopped in for some snacks and just happened to stumble upon the beer selection. It is on the back wall in the middle of the store, 95% is sold in a cooler.
The products in the store is similar to Wild Oats, it is health/organic/natural foodstuff. But we are here for the beer, right? Lets be honest, they sold nothing you could not get a John's Grocery, similar prices too. But a local of Coralville should not ignore this place. They had cold six-packs of Summit (all core products, seasonal), Boulevard (all core products, seasonal), Millstream (all core products, seasonal), a few offerings from City Brewery, Gray's, Samuel Adams seasonal, Samuel Smith, Fuller's, Chimay, Left Hand, singles of Old Suffolk, Abbot Ale, Wexford Irish Cream Ale, Anchor (16-ounce) and Sierra Nevada (bombers). Plus more… (Oh, I did not see one B/M/C product!)
When I visited there was an employee working in the liquor department, she was very friendly and asked if I needed anything. Also the checkout lady was ultra friendly.
As the name says, this is a Co-Op, any customer can join but you need not be a member to be a customer. Plenty of parking outside.
1,206 characters
New Pioneer Co-op in Coralville, IA
Place rating:
3.56
out of
5
with
9
ratings