High Street Brewery & Cafe (McMenamins)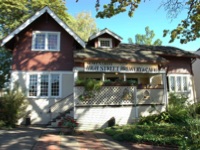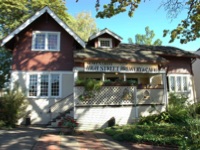 Brewery, Bar, Eatery, Beer-to-go
1243 High Street
Eugene
,
Oregon
, 97401
United States
(541) 345-4905 |
map
mcmenamins.com
Notes: On-premise brewing:
High Street Brewery, established November 1988
Reviews by dipso123:
More User Reviews:
3.04
/5
rDev
-19.4%
vibe: 4.5 | quality: 2.5 | service: 3.75 | selection: 2 | food: 4
V: Pleasant setting. Cozier than your average McMenamins in a good way.
Q: This is the oldest current brewery in Eugene. Unfortunately you go here for the food and atmosphere, not the ale which is average at best.
S: Service is good and much better than many McMenamins.
S: The same ales you get at most McMenamins.
F: Solid. Nothing fancy or amazing.
351 characters
3.78
/5
rDev
+0.3%
vibe: 3.75 | quality: 3.75 | service: 3.5 | selection: 4 | food: 4
3.33
/5
rDev
-11.7%
vibe: 4.5 | quality: 4.5 | service: 1 | selection: 3.5 | food: 4
I frequented High Street McMenamins many many times during my tenure in Eugene, often greater than twice a week.
Atmosphere: Very good ambiance, in the summer you can sit outside, and the inside is dim and intimate.
Quality: Beer is fantastic, they brew on site and have several offerings. Their Hammerhead and Porter are my favorites, though the Terminator Stout is very good as well.
Service: This is where I have to give them a poor mark. McMenamins, in general, has poor service, but I had always gone back because the beer and food are great. The one thing that happened here that I have trouble forgiving is the last time I was there, four of us drank 3 pitchers of beer for a total of $33 and we tipped $10 cash (which in my mind was EXTREMELY generous given the fact that the service was poor and we were no work at all sitting on the back patio). As we were leaving a waiter pulled me aside and said, "don't mean to bust your balls but we work for tips." I was shocked, and begged his pardon. He simply repeated his first statement. I shrugged and informed him that we left a $10 dollar tip, I then left and have not been back. I'm sorry, but that is something one should NEVER say to a patron, even if they did stiff you... which I didn't.
Food: great burgers, fries, salads. Very reasonably priced. Can easily get a meal for less than $10.
Overall: I like this place a lot, great beer and food. However the service is terrible and the staff, while usually friendly, have pretty bad attitudes and are ungratefull. I wouldn't discourage anyone from going here, but I won't be going back myself because of the above incident.
1,638 characters
3.95
/5
rDev
+4.8%
vibe: 4 | quality: 4 | service: 4 | selection: 4 | food: 3.5
There hasn't been a review of High Street in some time, so just in case someone is browsing, I figured it'd be worth updating a bit (or not, as the case may be).
High Street hasn't changed a whole lot in the past few years, which is a relatively good thing. Ample outdoor seating in the back, a nice, cozy house-like dining room, a small, unassuming bar. They recently remodeled the front patio and ground-level area to add a few more outdoor seats which is nice in the rare warm and sunny day in Eugene.
High Street is a rarity by McMenamin's standards in that they have a wide variety of in-house-brewed seasonals. Usually four or five beyond the regular McMs lineup, and they almost always have something on cask, which is difficult to find in Eugene. Most recently, they've been doing a pretty solid rye ale (Roggenwolf) and a few other interesting, relatively creative offerings.
With the Bier Stein and 16 Tons within a 5 minute walk, it's tough competition if you're looking just for the beer, but when you toss in the atmosphere, the cask, and the killer happy hour, High Street still gets a good bit of my business. A great place to grab a bite and a happy-hour brew after stopping at the Stein or 16 Tons.
1,218 characters
4.08
/5
rDev
+8.2%
vibe: 4.5 | quality: 4 | service: 4.5 | selection: 4 | food: 3
Had not been to the High Street brewpub in some time. This was the second McMenamins pub I ever visited, sometime back in the early 1990's, during another life time. Amazingly, very little has changed here, and what changes seem to have occurred, are positive.
Located on High Street, the pub is a converted home on what has become a pretty busy street. Despite that fact, the area has retained its neighborhood feel, though most of the homes on High Street look to have become real estate offices, beauty salons, etc. The pub itself has a small, pleasant patio area out front, but is quite cozy inside. At least to me, the place remainds me more of coffee shop then a pub, with a small bar area off to the right. A small fireplace just inside the door only adds to the cozy vibe here. Unlike a number of McMenamin establishments, High Street has it's own on premise brewery in the basement of the home, and I believe all the beers available are brewed on premise. Perhaps that explains the freshness of the standard McM IPA. It was the best McM IPA I could recall having in quite some time (and was considerably better then the McM IPA had in Roseburg the prior evening).
I came around noon on a Friday and had a difficult time finding a seat. The bartender acknowledged that for some reason this particular Friday was considerably busier then usual, so I was happy to find a seat at the bar. Service was quick and friendly, and the bartender knowledgable about the beers available (they had something like 5 or 6 seasonals at the present time, which in itself was a surprise at a McM establishment - typically there's just one). They also had a beer on cask, and I'm not sure, but this might be the first McM I've ever been to where they had cask beer. Otherwise, they had all the usual McM brewery suspects (Black Rabbit, Hammerhead, Ruby, etc.).
The only real fly in the ointment was the food. High Street has the usual McM menu, but also features "famous" pizza bread. It may be famous, but good it was not.
As in previous visits, I had a very nice time at High Street, and there is no doubt it would be my regular hang out (as I suspect it is for many of the patrons there on this day) if I lived nearby. Maybe someday...
2,233 characters
4
/5
rDev
+6.1%
vibe: 4 | quality: 4 | service: 4.5 | selection: 3.5
I like the way they refitted this older home into a cozy and inviting brewpub.
The outside is very attractive and loaded with flowers. Reminds me a bit of the pubs in England. There is a small patio as you walk up the steps to enter.
You walk directly into the dining area and it has both tables and booths. There are two unisex bathrooms off to the left. There is a lot of the original woodwork still in place.
The copper topped bar is in a separate room to your right. It seats about 6. There is one other small two-person table. Can you say cozy?
The kitchen is to the left as you face the bar. I find it kind of fun to watch the guys work.
It has friendly service and customers. Very well versed in beer and good conversation.
There is a Patio in back; bartender claims it's the best in the city.
As for beer, I would say 4 specials and 6 regulars. Pints are $4.15 and glasses are $2.40. I really liked the Purple Haze Boysenberry beer, the porter was a total miss.
I did not try the food but will next time as it looked and smelled really good.
1,062 characters

3.68
/5
rDev
-2.4%
vibe: 4.5 | quality: 4 | service: 3 | selection: 3.5 | food: 4
This is one of the better McMenamins. The atmosphere is very good; its cozy and warm in winter (there is a fireplace), and in summer the outdoor, three-tier patio is really nice, with its overhanging shade trees. Its one of the smallest McM's, occupying an older residential house, with the brewery in the basement. Food is typical for McM's, which is to say its decent enough, with a wide enough variety to satisfy a ravenous carnivore or a dieting vegetarian. Service is typical Eugene, not its best trait, but I wouldn't come here if you're in a hurry anyway. The beer is above average for McMenamins, in my opinion. The IPA is decent here, and recently I had a very tasty Hammerhead on nitro. The stout is very good too. My general rule of thumb for visiting Eugene is to come here if the Bier Stein is closed.
814 characters
3.83
/5
rDev
+1.6%
vibe: 4.5 | quality: 4.5 | service: 3.5 | selection: 3 | food: 4
Read about this place in BA mag and was home visiting some family so I decided to try it. Atmosphere is classic Eugene. It's built in an old house and has a great backyard style patio out back with lots of seating. Quality was very good, the beer was fresh and so was the food. Service was decent, though I think my server was new and maybe a little overwhelmed. Selection was good, not too much stuff on tap but it's all brewed right there so I give it points for that. Food was good, I had some french bread pizza that was pretty cheap and very good. My mother had a bbq chicken salad that she liked as well. Decent value, not dirt cheap but certainly not pricey. I really loved this place, if I lived in Eugene I would be back here again and again. Definitely a great place for lunch and for other times.
807 characters
3.73
/5
rDev
-1.1%
vibe: 5 | quality: 3.5 | service: 4 | selection: 3.5 | food: 3
This was the first place I had a meal and a beer in Eugene, the final destination of the Fe-brewery trip of 2007. And in the few weeks I've been in Eugene, I've gone back several times. It's not so much for their beer or their food, but more just for the cozy atmosphere. It's comfortable there, especially on a chilly Sunday afternoon when it's not too crowded and you can sit by their fire. They have free wireless internet access, so you get all kinds coming in there and chilling out - people there for a meal or folks just using the internet and getting a beer or two. McMenamin's is part of a chain of pubs in Oregon that have the same menu but differ in their atmospheres and restaurant set-up. High St. McMenamin's is in a converted old house a few blocks away from the UofO campus and a few blocks from the main downtown area. When you walk in, there's lots of seating in various different rooms, as well as a small patio for outdoor seating. The bar itself is located to the right of the entrance in a separate room, so you don't see any of the bar or servers unless you want to. Their beers are not spectacular, but they usually have a good selection on tap - about 10 or more. Their food is the same at all McMenamin's, which is mainly sandwiches.
1,259 characters
4.03
/5
rDev
+6.9%
vibe: 5 | quality: 3.5 | service: 5 | selection: 3.5 | food: 3.5
My first visit to High Street must have been back in '95. I recall talking beer talk with the bartender who was very appreciative of my interest in the house beers. High Street draws heavily from nearby O of U whose students drink enthusiastically but don't always key in on the nuances of fine beercraft. The bartender was especially floored when I commented that the beers were served at proper temperatures. He began to serve me a complete series of complimentary samplers such that I very nearly drank all night on the house. Needless to say, I had a damn good time.
Service is still abundantly friendly, responsive, and – in the best sense of the word – funky. This is an old Eugene house converted in the late '80's to a working brewpub. The brewery itself is in the basement. Like most McMenamin's outposts, the scene is low key and irreverent with outcroppings of psychedelic nostalgia. Walls are adorned with framed posters advertising Grateful Dead shows, Freak Mountain Rambler gigs, and similarly inspired grooviness. Company policy requires a TV in the bar, but High Street has removed its intrusive 27" model and replaced it with a tiny 3" unit that gets little mileage.
The fact that this is a converted home contributes to the immediate sense of comfort and belonging you get upon visiting. Hanging plants are everywhere and the outdoors garden is an essential expression of Eugene's famed mellowness. There's a fire pit in the garden and a wood-burning fireplace indoors. Liquor is served and drinks with mango puree or fresh squeezed citrus are especially popular. Beer offerings consist mostly of the standard McMenamin's lineup. I've only tried a few of the High Street specialties, but I look forward to future opportunities.
1,766 characters
4.01
/5
rDev
+6.4%
vibe: 5 | quality: 4.5 | service: 3.5 | selection: 3.5
Strolling around the streets of Eugene, Oregon is difficult when you have no real itinerary or feel for the town. On one hand, the college area is secluded from downtown. Some people probably just visit the village and go on their way. On the other hand, the downtown area can seem very touristy and miniature at times. You just have to know where you're going in Eugene.
And I found it in the High Street Brewery and Cafe in a really nice semi-residential part of Eugene. It was a little tucked away but easy to find if you've got a half-way decent companion. I was feeling a little unlevel from many days of driving out west and hitting it hard during the off-moments so the super-clean and nice private bathroom was a major plus.
The house-y restaurant area is superbly taken care of; the bar is minimal but really nice. The employees were hippish ... no pretense here - it is Eugene - but very friendly and engaging. My particular waiter took way longer than he should have on evening up though, he disappeared for almost a half-hour on our second pint. Still, the "dude" side of me was ok in this very relaxed atmosphere.
The beer was pretty damned tasty compared to what i'd found alot of in Portland - there are almost too many pubs in P-land serving beer that has the plastic-y taste of premature kegging.
We only partook in the Umpteen which was delicious and hoppy and the Hammerhead stout on cask which was phenomenal. A little too cold, but hey.
Quite a place, worth checking out.
1,509 characters
High Street Brewery & Cafe (McMenamins) in Eugene, OR
Brewery rating:
2.89
out of
5
with
4
ratings