Rebellion Blonde
| Rebellion Beer Co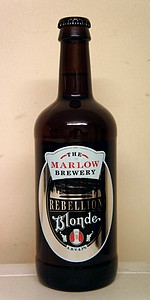 BEER INFO
Brewed by:
Rebellion Beer Co
England
,
United Kingdom
Style:
English Pale Ale
Alcohol by volume (ABV):
4.30%
Availability:
Year-round
Notes / Commercial Description:
No notes at this time.
Added by velkyal on 02-03-2009
Ratings: 6 | Reviews: 6
Reviews by wl0307:
3.17
/5
rDev
-4.8%
look: 3.5 | smell: 3.25 | taste: 3.25 | feel: 2.75 | overall: 3
Coming in a 500ml brown bottle, BB 30/07/14, served mildly chilled in a straight imperial pint glass.
A: pours a golden colour with good clarity and moderate carbonation, topped with a thin off-white frothy had settling fast to a thin sheet to last.
S: lemon-candy-ish, sweet buttery and faintly caramely on the malt side, alongside floral hop aroma and a light note of boiled sweet root-vegetables likely due to pasteurisation; given a good swirl, the sweet grassy hints of hops come to the fore.
T: quite effervescent/gassy on the entry, lemony&floral hoppiness and semi-sweet pale malt come hand in hand, with the latter showing a rather deep starchy and grainy quality to it which sends out rather nice malt aroma down the rear of the palate; the mouthfeel goes dry-ish in the aftertaste, fitting well with the restrained grassy bitterness and more undertones of boiled root vegetables.
M&O: the mouthfeel is not quite right on the carbonation level, being just too much as far as my palate is concerned, the flavour profile is unbalanced in favour of pale malts but really the hop flavour is a bit too timid, and the buttery bi-product of fermentation as well as the boiled veggie notes possibly from pasteurisation are noticeable at every sip. All in all, this is not a beer well-presented through this bottle, but I'm intrigued to see if it fairs better in the cask-conditioned form.
1,394 characters
More User Reviews:
2.92
/5
rDev
-12.3%
look: 3 | smell: 3.5 | taste: 2.5 | feel: 3 | overall: 3
Brown 500ml bottle, best before 10th Feb 2011, drank and reviewed 24th Jan 2011. The rear label claims it can be used as a light, thirst quenching alternative to a lager or you can liberate the complex flavours of an ale, depending on what you want, just serve it at different temps! I'm reviewing a cold one, so it should lean towards a lager!
Poured into a straight sided UK pint sleeve. The beer in certainly on the blonde side, light amber more than a strawberry or golden blonde, but blonde it is. The thin white head became a wisp and collar very quickly, a pity.
The initial smell was of a honey sweetness and treacle like malty molasses. That all sounds overly sweet, but wasn't really sickly, just huge hints of those aromas. To be fair, the smell changed as the beer warmed, becoming less sweet and more fruity and Ale like.
The smell sweetness turned semi-sweet with no hop feel what so ever, the malts being mild in flavour but giving the sweetness. I prefer sweeter beers, but I couldn't take to this for some reason.
Strange beer, not a huge disappointment, but not what I was expecting. It didn't turn into an 'Complex Ale' as it warmed in the glass either. A crossdresser of a beer, not in my eyes, just a beer that doesn't know what it is!
1,260 characters
3.42
/5
rDev
+2.7%
look: 3.5 | smell: 4 | taste: 3 | feel: 3.5 | overall: 3.5
Hand-carried from the Thames valley to Vienna (thanks, Simon!), the dark brown half liter bottle sports a wide body, thin neck and a long and thin label featuring the name printed vertically inside an doric column. No ingredient information. Best before 4/29/10, I opened it on 6/7/09. Label claims this is a mix of traditional ale and continental lager. OK...
Pours a clear and bubbly darkish gold under a one finger white head that fades fairly quickly to film and collar. No lace. The nose is berry sweet with a touch of spice. The mouth is quite prickly and fairly heavy. The taste is dominated by the sweetish spiciness. Not much hops bitterness, leaving a more Belgian than English impression. Certainly not an American-style pale ale, it does seem a bit of a mix. Not convinced I'm a big fan, either.
808 characters
3.72
/5
rDev
+11.7%
look: 3 | smell: 3.5 | taste: 4 | feel: 4 | overall: 3.5
On cask at The Bree Louise, Euston, London.
Pours amber orange with no head. Smoky orange boiled sweets nose. Jaffa cake malts and orange jelly hops. Vanilla finish. Medium, some cling, round.
Sweeter and maltier than most English Blondes I've tasted, which seems to land it between a summer ale and a pint of bitter, stylistically.
Hops are still there, though, which is good.
381 characters

3.73
/5
rDev
+12%
look: 4 | smell: 3.5 | taste: 4 | feel: 3.5 | overall: 3.5
Made with both lager malt and malt used for making bitter, the result is a drink which is great cold, and also not bad when it warms up. The beer itself is golden and with a nice amount of carbonation, although the head did disappear somewhat quickly. The nose was an orchestra of fruit, with apples and bananas very much to the fore, as the drinking went on I thought I could notice touches of tea as well. And what a nice beer it is to drink as well, there is a nice spiciness to it as well as it being rather light and summery, the only downer being that the longer it sits it kind of loses something and becomes lifeless. Still, a very nice beer to have on hand, well chilled in barbecue season.
699 characters

2.99
/5
rDev
-10.2%
look: 2.75 | smell: 3 | taste: 3 | feel: 3 | overall: 3
Available year round in bottles, summer only on draught. This review is of the bottled version.
L: Clear & gold with a white, frothy head that quickly diminishes to nothing.
S: Low level, biscuity malts. A hint of lemon washing-up liquid.
T: According to the marketing blurb this beer has a "distinctive citrus hop bite!". Not so much. There is definitely some citrus there, but it's not a sharp bite. Much too sweet.
F: Light to medium body with a trace of carbonation. A little oily mouthfeel saves this beer from a watery fate.
O: Another underwhelming beer from Rebellion. The label states it's a "thirst quenching alternative to a lager". Well...yes, I'd drink it in preference to a Carling or a Heineken every day of the week. But never in preference to a craft lager like Schiehallion (Harviestoun Brewery) or a local pilsener like Republika (Windsor & Eton Brewery).
879 characters
Rebellion Blonde from Rebellion Beer Co
3.33
out of
5
based on
6
ratings.