Embrace The Funk - Deux Rouges
| Yazoo Brewing Company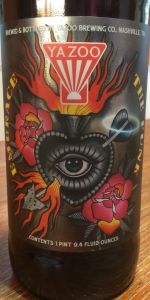 BEER INFO
Brewed by:
Yazoo Brewing Company
Tennessee
,
United States
yazoobrew.com
Style:
Flanders Red Ale
Alcohol by volume (ABV):
6.20%
Availability:
Rotating
Notes / Commercial Description:
A marriage of two reds – we present our flanders red, a dark ruby ale fermented with wild yeasts and souring bacteria, evolving for over a year in freshly emptied merlot barrels.
Added by cfaulman on 01-27-2014
Reviews: 14 | Ratings: 91
3.58
/5
rDev
-15.6%
look: 4.25 | smell: 3.75 | taste: 3.5 | feel: 3.25 | overall: 3.5
Bottle from Trey. Thanks, bud. Batch #2
A clear deep mahogany red with a dense, off-white head that falls off to a ring rather rapidly, this looks great. The nose is a blend of red cherries, a noticeably acetic Flemish red and a moderately jammy Merlot barrel character. Some vanilla, earth and lemon are also present. Really, though, this is all about a Merlot-based vinegar, bright and fruity. The palate opens rather bracingly sour with tons of vinegar, a moderate lime and lemon sourness and a little lactic acid. This is followed by a blend of red wine, cocoa, and dark red cherries. Funk is mild, having a little mushroom and wet earth. Drying, sour and with a touch of vanilla on the finish, this beer is medium in body and softly carbonated. This is a palate ripper and is too sour for its own good - I'm not sure if this is driven by age. I much preferred the grand cru version.
888 characters
4.71
/5
rDev
+11.1%
look: 4 | smell: 4.75 | taste: 4.75 | feel: 4.75 | overall: 4.75
Appearance: Pours a dark garnet with a thin white head that dissipates into a collar; a few shards hang around
Smell: Tart cherry, green apple, oak and funk; quite vinous
Taste: Tart cherry forward, with building tones of green apple and Merlot; considerable depth of flavor and funk, through the middle, with the finish being dry and oaky
Mouthfeel: Medium body with moderate carbonation
Overall: This Flanders is as good as anything I have encountered across the pond; I am vastly impressed
501 characters

4.2
/5
rDev
-0.9%
look: 4.25 | smell: 4.75 | taste: 4 | feel: 4 | overall: 4
Bottle:
The nose of a sour wafted to my nose as I was setting up the pictures below.
The pour seemed a little cloudy as I was pouring it, but the deep maroon to merlot color obscures the cloudiness in the glass. The head actually lasted fairly well for a sour, but did end up looking flat after being in the glass a while.
The nose is a sour fruitiness with a bit of a wooden note. Necatrine, sour apple, grape juice, a like-like citrus note, and a lighter musty wood note all mix together into a nice melange of a nose. Warmth deepens and blends the notes very nicely.
My first sip really drew in the sides of my mouth and shrunk my tongue with the sour notes. This was an initial reaction, as it didn't happen after my palate adjusted, but this might be a tad sour for a Flanders, but not by much. The opening tingle seems to be a mix of carbonation and sour - more lemon like in flavor. If I let the beer sit on my tongue, there is a constant barrage of my taste buds, though the wine barrel aging can be noticed. There is a nice base note to the beer I enjoy but can't quite get a handle on... it's almost a little nutty (but not very overtly). The tart notes (more sour apple than any other to me) engage my taste buds too much, making it hard to pick out the more subtle notes.
A very nice beer, a sour offering with a little bit of icing with the barrel-aging.
1,372 characters

4.9
/5
rDev
+15.6%
look: 5 | smell: 5 | taste: 4.75 | feel: 5 | overall: 5
Probably the best American version of a Flanders Red I've ever had. Well done Yazoo. Everything is spot on with a high end Belgium version, with tad more carb than most, which is a good thing!
192 characters

4.29
/5
rDev
+1.2%
look: 4 | smell: 4.25 | taste: 4.25 | feel: 4.25 | overall: 4.5
Poured 750ml into teku. Batch 1. Very dark garnet in color with a dirty 2 finger white head. Good retention and some blobs of lacing on my glass. Aroma is deep with malt, acidity, and some wine oak barrel notes. Flavor is intense with a bog punch of sour cherry, green plum, and some currants. There is a vinegar sourness but it is held in check from the malts and wine barrel it was aged in. It is a light body with a prickly sour finish. This was pretty deep in flavor and wasn't just a pure sour bomb. I enjoyed it far more than I thought I would.
550 characters

4.25
/5
rDev
+0.2%
look: 4.25 | smell: 4.25 | taste: 4.25 | feel: 4.25 | overall: 4.25
I have had both batch 1 and batch 2 and Yazoo Funk Fest. I really enjoy this beer. It is a good balance between tart, and funk. Not as good as the cherry version, but very solid
177 characters
4.21
/5
rDev
-0.7%
look: 4 | smell: 4.25 | taste: 4.25 | feel: 4 | overall: 4.25
i think if these guys were anywhere else in the country, they would already have risen to higher prominence. all of their beer is awesome, and this embrace the funk series has been tremendous in my exposure to it. this is a cool one, pretty traditional to start, at least in terms of grain and lacto presence, its definitely flanders red type as a base, but the merlot barrels, and all this weird other yeasty funk makes it pretty cool. it jumps out stridently to me as belgian at first, but then there is the lactic acid and then the funk, which is either barrel or brett derived, possibly both. the grape complexion of the merlot is not to be taken lightly in this, its a major contributor. unfortunately though, its a bit sweet in all facets. sugar and acid dont mix for me in a red malt base. it could just be my palate, but i can never get there, and the fruitiness, as good and true as it is, seems in many ways a detractor. however, the barrel character and the tannic properties of the wine really lend something unique to this, way past the grape flavor to something much more regal, and it really works to enhance flavor and temper the lactic acidity. sour for sure, but many other sensations as well. overall there really arent a lot of beers like this, despite its original impression. i dug this more and more as it warmed, and remain on a mission to try all the beers in this impressive series. well done again from these guys, who i still feel are one of our undiscovered national brewing treasures...
1,516 characters

4.09
/5
rDev
-3.5%
look: 3.75 | smell: 4 | taste: 4.25 | feel: 4 | overall: 4
A: murky brown to ruby. Khaki tan head
S: lots of funk. Tart cherries Wine
T: tons of funky brett. More tart citrus fruits Yeast. Red wine
F: tart. Medium plus carbonation
O: great balanced sour. Really delicious
225 characters
3.81
/5
rDev
-10.1%
look: 4 | smell: 3.5 | taste: 4 | feel: 3.75 | overall: 3.75
My first beer from Yazoo, this left a good impression. Reddish brown pour, hazy, with a small coating of bubbles on top. Aroma was funky and acidic, promising an obviously sour ale. Good taste, tart berries, red wine, touch of acetic acidity, but under control, some chewy caramel in the background. Medium body, good mouthfeel, with a moderate pucker.
352 characters
4.42
/5
rDev
+4.2%
look: 4.5 | smell: 4.25 | taste: 4.5 | feel: 4.25 | overall: 4.5
Bottle into a pilsner glass. Pours a ruby red orange with a solid finger of head. Smells off grapefruit or sour citrus and merlot barrels. Dry and sour in the mouth but really smooth. No abv burn. Definitely more like wine than beer. Nice though. Hard to describe. Dry, grapefruit and merlot. Easy to drink. Excellent Flanders red sour.
344 characters
3.94
/5
rDev
-7.1%
Thanks to Wowcoolman for sharing this one at his tasting.
Pours a hazy orange-red with a foamy beige head that settles to wisps of film on top of the beer. Small dots of lace form around the glass on the drink down. Smell is sour with malt, fruit, wood, and acidic aromas. Taste is much the same with sour fruit, acidic, and wood flavors on the finish. There is a medium amount of acidity on the palate with each sip. This beer has a lower level of carbonation with a slightly crisp mouthfeel. Overall, this is a good beer that is tasty but quite sour.
Serving type: bottle.
576 characters

4.38
/5
rDev
+3.3%
Red waxed bomber shared by Dan - thanks.
A: Pours a hazy dark red with a thin off-white head which settles to the rim and leaves spotty lace.
N: Funky farm, aged wood, some basalmic acidity.
T: Tart flanders-like, fruity, wood.
M: Medium body and light carbonation. Enamel scouring sour finish.
O: Bracingly sour - so good.
328 characters
4.19
/5
rDev
-1.2%
look: 4 | smell: 4.25 | taste: 4.25 | feel: 4.25 | overall: 4
My review here is a little overdue (slightly hazy), but the key points remain intact:
Split this impressive beverage with some nice fellows, and there was certainly no disappointment to be found in the "Embrace The Funk" style: Sour; Funky; Wild. Poured a reddish, orangey color; white head/nice retention. Smell and the taste were just mouthwatering; had that tart, sour, funk appeal that one seeks for in the style. Little citrus, but definitely lemon and sour apple sticks out here along with cherry, grape/fruit, oak and brett notes. Just a superb beer…one I hope to drink again soon and special thanks to Nashvillain for this guy
Additionally, I've considered that my review here might be a bit biased, due to my new love for Brandon Jones and his contribution to the craft world. However, those thought's vanished when the nice fellows around me shared the same appreciation for this beer.
909 characters

4.78
/5
rDev
+12.7%
look: 4.5 | smell: 4.5 | taste: 5 | feel: 4.75 | overall: 4.75
This beer was epic.
A: Pours a dark amber red into a snifter glass, with a beautiful creamy white head that dissipates into swirls around the glass. Small head retention around the edge of the glass, with great lacing. (Also the bottle art is badass)
S: Smells very tart, sour apple, cherry and funk. The smell ends with deep wine, earthy and spicy from the merlot barrel in which this was aged for 12 months.
T: Damn, first sip is super tart and sour, blasted me like a warhead. Notes of sour apple, lemon, cherries, and vinegar. Just awesome, but it gets even better. After taste begins with the merlot barrel, which is just prominent enough to be noticed without taking over this beer. It is perfectly balanced with the sour flanders. Finally, the best part because it was such a surprise, the aftertaste took to the barrel, fantastic oaky and prominent vanilla notes that linger on til you take another sip. Just wow.
M: Was moderate bodied with good carbonation. Nothing to complain about here.
Overall this beer was just fantastic. I can't get over how complex the taste was. Yazoo really outdid themselves with this beer. Glad I have more bottles, and Im already looking forward to next year's release.
1,216 characters
Embrace The Funk - Deux Rouges from Yazoo Brewing Company
4.24
out of
5
based on
91
ratings.