Hop Project #13
| Yazoo Brewing Company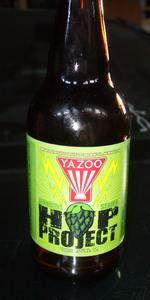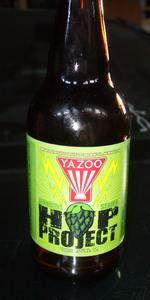 BEER INFO
Brewed by:
Yazoo Brewing Company
Tennessee
,
United States
yazoobrew.com
Style:
American IPA
Alcohol by volume (ABV):
not listed
Availability:
Limited (brewed once)
Notes / Commercial Description:
As with the first twelve Hop Projects, we used a different blend of hops for this one. For all you hop enthusiasts out there, the hops we used were: Galena and First Gold for first wort bittering; Cascade, Apollo, and First Gold at thirty minutes for flavor; Simcoe and Amarillo at five minutes left for aroma; and finally, we dry hopped the beer at day four of fermentation with Galena and Cascade.
Added by Misfit138 on 04-11-2009
This beer is retired; no longer brewed.
HISTOGRAM
Ratings: 8 | Reviews: 7
4.03
/5
rDev
-6.3%
look: 4.5 | smell: 4 | taste: 4 | feel: 4 | overall: 4
Finally a Hop Project in a bottle!
Poured from the bottle into my pint glass.
A- Very cloudy, amber/dark orange in color with a frothy head that remained present the whole time.
S- Smell is largely floral with hints of malt.
T- Very hoppy as it should be. Mild initial caramel malt followed by a sharp almost grapefruit kick.
M- I would say medium bodied beer with mild carbonation
D- Good IPA, I like this series of Hop Projects since it is a fun idea. I wonder if Yazoo will ever stick with one or just continue this forever.
545 characters

4.1
/5
rDev
-4.7%
look: 4 | smell: 4 | taste: 4 | feel: 4 | overall: 4.5
Big thanks to JR (Photekut) for sending me a bunch of bottles of various Hop Project. Served in a Goose Island pint glass.
A - Big three fingers of foam that dissipates fairly quickly but leaves tons of sticky lacework. Mostly opaque brown-orange color - pretty dark for a single IPA. A little better retention and little more glow to the color would have been nice.
S - This is a fairly old IPA (early April) but it's held up pretty nicely (much better than the Flossmoor Brewer's Whim series). There's still a decent amount of soapy Cascade hops and some tropical and citrus fruit notes as well. Good balance of toffee malt sweetness. I'm sure this "popped" a little more when it was new but it's still pretty decent.
T - The taste is pretty similar to the smell - some soapy Cascade hoppiness, candied tangerine, and toffee and doughy sweetness. There's a bit of Centennial Two-Hearted flavor going on in there. Clean aftertaste with some mild hop bitterness. Again, very solid.
M - Mouthfeel is very soft and smooth, with mild carbonation. However, I find the body a little thinner than I prefer. Nice residual sticky hop oils and resins and a bit of dryness.
D - Super drinkable stuff - nothing to prevent me from putting a few of these back. Not sure what the ABV is but it's not really showing itself in any way.
My first TN beer, and obviously my first Hop Project. I'm gonna have to keep any eye out for future batches and maybe grab some fresh bottles.
1,468 characters
4.13
/5
rDev
-4%
look: 4.5 | smell: 4 | taste: 4 | feel: 4 | overall: 4.5
Thanks to fsvan for Saturday's beer trade, which included this Yazoo specialty and my first Yazoo beer... Poured this one into a Sam Adams sensory glass and the appearance was, wow, like a white plume volcano just erupted from my glass. It took two pours to get all 12 ounces into the glass. Also, I love to smell the opening of a beer bottle just before and after the pour and this one is very, very nice. Taste, yum, is very refreshing. Surprising, I find this IPA very smooth in taste if that's possible. Some harshness and definitely some bitterness, but it's not overbearing like you find in some IPAs. I am glad I have three more to enjoy at a later date. Nice job, Yazoo!
678 characters
4.13
/5
rDev
-4%
look: 4.5 | smell: 4 | taste: 4 | feel: 4 | overall: 4.5
So ckeegan04 was generous to include this fine specimen from Tennessee in a recent trade. Fresh (Week 1 April) and 12 ounces into a Duvel tulip. Wait, I get it...the 13 on the cap actually means something! Never claimed to be swift, sir...
I am digging the bottle conditioning on this one - nice yeasty film at the bottom. Pours a luxurious 2-finger head (OK, a bit of an aggressive pour by me but I can't complain). Perfect caramel/honey/light bourbon color with solid head retention...dare I say excellent! Great lacing, too - muffin tunnels abound and it's quite bready. Maybe buttery eggshell in color. Carbonation is pretty solid and brisk as well.
Definitely plenty of "C" hops in here. Blend nicely with stewy lighter malts (a little Munich as well, hence the Oktoberfest scent). A little pulp, a little rind, and a whole lotta good stuff in here.
This is solid, and well-constructed but I think the Germanic malts are a little weird here. Brings out a more grassy texture that I haven't really gravitated towards in the past. The hops still take center stage but the citrus gets pushed to the background more than it should. Thankfully, give this 10 minutes and it's what I expect. Solid, very citrusy - a little grass and a decent, dry malt backbone.
Palate feel is solid. What you'd expect from a hop bomb...with a nice, tight balsa wood malt quality to provide very light huskiness. Carbonation serves as a rapid hop delivery device. Finish stands crisp.
Maybe it's a capping issue but the first few sips of this are a bit tight with slight off-character tastes...almost plastic-like. Let that burn off and it's off to the races. This could be a great spring/summer sessionable offering. Drinks wicked easy after a few minutes. So far Yazoo is 3-for-3 with the Rye Saison, the Hefe and now this...
1,814 characters
4.2
/5
rDev
-2.3%
look: 4 | smell: 4 | taste: 4.5 | feel: 4 | overall: 4
Had this one while attending the Repeal of Prohibition event at Schlafly Bottleworks in St Louis. This was by far the best beer at the event. It had a great orange/amber color and you could easily smell how great this was going to taste. Lots of florals and citrus. It had a nice citrus flavor that burst in your mouth. We went back several times. It was the first beer to run out and it did so early, so I think everyone at the event would agree this was a great beer.
469 characters
4.33
/5
rDev
+0.7%
look: 4.5 | smell: 4 | taste: 4.5 | feel: 4 | overall: 4.5
A - Vibrant orange/brown with a thick, foamy three finger head. Head slowly dissipates and leaves good 1 to 2 fingers of light brown foam.
S - Strong aroma of citrus and tropical fruits, primarily grapefruit, pineapple and tangerine. Very light candy sweetness in the nose, but the hops provide the strongest aroma.
T - Very fruity with lots of grapefruit and hints of orange. Bitterness is very strong. A faint bready sweetness is present but is strongly overwhelmed by the hops. As the beer warms a more grassy and herbal flavor comes in, but the fruitiness of it is still the strongest flavor.
M/D - Medium bodied with an almost chalky feel. Good carbonation. High bitterness does linger long after the beem is gone. An easily drinakble IPA, though a little heavier on the bitter side...which I am a fan of.
814 characters

4.47
/5
rDev
+4%
look: 4 | smell: 4.5 | taste: 4.5 | feel: 4.5 | overall: 4.5
Ale pours a cloudy gold with an amplle 1" head that stick to the glass all the way down. Assertive citrus nose followed by a deliciously fresh hoppy burst of flavor up front. Malt comes up to balance from behind with a pleasant bitter tingle at the end. Smooth, refreshing and flavorful. The best bottled ale in the State of Tennessee hands down.
346 characters

Hop Project #13 from Yazoo Brewing Company
Beer rating:
4.3
out of
5
with
8
ratings