Hop Project #16
| Yazoo Brewing Company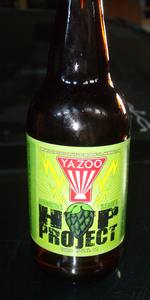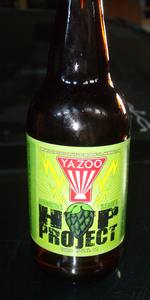 BEER INFO
Brewed by:
Yazoo Brewing Company
Tennessee
,
United States
yazoobrew.com
Style:
American IPA
Alcohol by volume (ABV):
not listed
Availability:
Limited (brewed once)
Notes / Commercial Description:
Hop Project #16 is hopped with Galena, Zeus, and Columbus at first wort, Goldings and Ahtanum at 30 minutes left for flavor, and with Perle and Ahtanum at 5 minutes left for aroma. We use Perle a good bit in our beers, but always as a bittering hop, never as an aroma or flavor hop. So for this one, we also dry-hopped it with a combination of Perle and Ahtanum. Finally, we wanted to experiment with the mineral profile of the beer, which changes how the bitterness is perceived on your tongue. We ususally use add gypsum to the water for hoppy beers, which tends to sharpen the hop bitterness. But this time we switched to calcium chloride, which rounds out the malt flavors a little more.
Added by mynie on 07-18-2009
This beer is retired; no longer brewed.
HISTOGRAM
Ratings: 7 | Reviews: 6
Reviews by Misfit138:
4.23
/5
rDev
-7%
look: 4.5 | smell: 4 | taste: 4.5 | feel: 4 | overall: 4
Poured from bottle into pint glass
A- Nice deep orange that you cannot see through and a generous two finger head that left a nice lacing along the glass.
S- Sweet caramel malts with a nice citrus compliment.
T- Initial sweet caramel which gives way to a citrus grapefruit kick
M- Medium bodied with a mild carbonation
D- Very good IPA. I normally don't get that interested in this style of ale, but Yazoo is starting to change my mind. I really like this hop project.
474 characters
More User Reviews:
4.5
/5
rDev
-1.1%
look: 4.5 | smell: 4.5 | taste: 4.5 | feel: 4.5 | overall: 4.5
I was lucky enough to be able to try this one on tap. Wished I lived closer that I could try them all but I will get what I can. Served in a pint glass.
The pour was very nice, deep amber in color with a nice clarity to it. Big head of white on the top fell off kind of fast but still clung to the sides rather well. Aroma of deep orange coming off right away. Richness beyond belief. Warming only serves to bring out nice notes of buttery malts and hints of rich caramel that compliment perfectly. Superb on the palate with a light drying n the back end, this was one damn fine and damn sessionable IPA.
Overall I would stack this one up against just about anything. Damn solid in my opinion!
695 characters

4.73
/5
rDev
+4%
look: 5 | smell: 4.5 | taste: 5 | feel: 4.5 | overall: 4.5
First things first: this is my first review. So don't expect anything poetic here (or anything efficient, for that matter).
I'm something of a hophead and so naturally I ordered the Hop Project #12 on draft last time I was at the Yazoo taproom. My brother and I were very impressed. Some months later...
In front of me I have a bottle of Hop Project, which someone was kind enough to label with a "16" on the cap in sharpie. I'm not sure if this was done in the brewery or at the store I bought it in. Either way I have reason to trust it, as the label shows it as being bottled in the fourth week of June. That would make the brew about a month old at review time.
The brew pours a nice deep copper color, something I like to see with a Double IPA. It creates a fine, sticky, finger and a half head, which eventually reduces down to a patchy layer of creamy bubbles which continues to leave lacing all the way down to the bottom.
The beer comes on bitterly with a proper hop zest, balanced very nicely against the malts, which are lucky to even appear against the hoppy might on display. The hops do overpower the trio of Pale, Caramel, and Munich malts, but that only seems right in a beer named Hop Project.
The hop flavor is floral and a bit piney, rather than being very much one way or another. Either way it leaves a lingering bitterness that will keep you satisfied half a minute after you've sipped it. This brew is full of hop flavor, but it isn't aggravating or cloying. It begs sip after sip. There are notes of citrus however I would hesitate to identify them (more grapefruity maybe). This is not one of those apricot-like, fruity IPAs, in my estimation. It has a simpler agenda. More of a yin and yang thing, with the hops and malts.
The mouthfeel is great and drinkability is what you'd expect from an American Double, and by that I mean that if you like hops you could drink quite a few, but if you don't the first sip would be your last.
Any hophead would be remiss not to try this at the first opportunity. Yazoo does Nashville proud with Hop Project #16.
2,082 characters
4.05
/5
rDev
-11%
look: 4 | smell: 4 | taste: 4 | feel: 4.5 | overall: 4
A - Caramel and orange mix, lightly hazed. Thin white head with good retention. Rings of lace left behind.
S - Spruce and pine come out at first with a sweet caramel malt backing coming through as it warms. Well balanced aroma.
T - Surprisingly strong sweetness up front with tastes of caramel. An earthy and piney hoppiness comes through mid drink but is not very strong. As the beer warms the hoppiness becomes much stronger and even pulls ahead of the sweetness. Well balanced IPA.
M/D - Medium bodied and lively feel. Very easy drinking. A touch sweeter than I like but certianly a strong offering from the Hop Project series.
633 characters
4.67
/5
rDev
+2.6%
look: 4 | smell: 4.5 | taste: 5 | feel: 4.5 | overall: 4.5
Pours a nice orange gold with a one-finger thick creamy head. Leaves a thin rind behind and decent lacing on the glass.
The cold nose is pine, but after a few seconds the citrus starts to come out - big time. Nice mix of apricot with pineapple/grapefruit. Very thick and very nice.
One of the best IPA's I have tasted this summer. Extremely hoppy from start to finish. Hits bitter and builds to a very bitter finish. Initial hit has some pine resins, but immediately jumps to a very tart not-quite-ripe grapefruit. Finish is very dry, almost arid. Excellent.
The slightest bit of fizziness brings the feel down just a tad for my tastes. Otherwise, spot on with good malt balance.
Very easy drinker if you like the style. They really hit the spot with this one.
764 characters
4.67
/5
rDev
+2.6%
look: 4 | smell: 4.5 | taste: 5 | feel: 4.5 | overall: 4.5
This is a project of some kind. Lots of IPAs. I--I feel as if I've been thrown into something much bigger than myself and asked to make sense of it.
Pours like... an IPA? Lighter gold, not as rusty as an APA, with a nice head.
Smells like hops. I'm pitching up goldings and then a whole big bunch of hops I absolutely don't recognize. Wonderful balance, all within the hops, between verdant gooey freshness and european sweet spiciness.
Tastes much like it smells. All hops yet still balanced. Big citrus up front, evening out into a more generic bitterness, sweeter biscuity finish leading into a very nice minty finale. Goodness.
Wonderfully brewed, right here. Not as Xtreme as the name might lead you to believe, just a remarkably inventive and tasty hop profile.
782 characters
Hop Project #16 from Yazoo Brewing Company
Beer rating:
4.55
out of
5
with
7
ratings