Hop Project #40
| Yazoo Brewing Company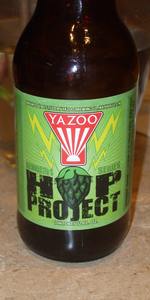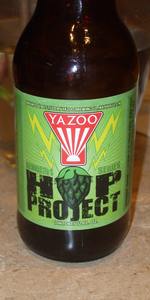 BEER INFO
Brewed by:
Yazoo Brewing Company
Tennessee
,
United States
yazoobrew.com
Style:
American IPA
Alcohol by volume (ABV):
not listed
Availability:
Limited (brewed once)
Notes / Commercial Description:
No notes at this time.
Added by weatherdog on 12-02-2010
This beer is retired; no longer brewed.
Ratings: 9 | Reviews: 7
Reviews by elgiacomo:

4.22
/5
rDev
+14.7%
look: 4 | smell: 4.5 | taste: 4 | feel: 4 | overall: 4.5
12oz bottled 2nd or 3rd week of November 2010.
Pours semi-hazy amber/orange/copper with a good fluffy white head that leaves tons of beautiful lacing and holds a good cap.
Pungent aroma of citrus, pot, cat spray, smells like Simcoe, some pine and bready malt. Great strength. I love super pungent IPAs and this one delivers.
Flavor is a blast of bitter grapefruit rind and resinous hops, some pine, some bready malt sweetness in the middle but doesn't do much to balance against the onslaught of hop bitterness.
Mouthfeel is medium bodied, oily, medium carbonation.
The best Hop Project I've had yet. Really smells/tastes like Simcoe was used here and I'm a big fan of that variety. Great stuff.
705 characters
More User Reviews:

3.11
/5
rDev
-15.5%
look: 4.5 | smell: 3.5 | taste: 2.5 | feel: 4 | overall: 3
I picked up a growler of this while I was passing through Nashville. I was told this variation is their fresh hop IPA.
It pours an almost amber color, fairly clear with a creme colored frothy head that lingers. A decent amount of lacing sticks to the side of the glass. A good looking beer, especially for one coming out of a growler.
The nose is a strong pine and grassy resinous hops. It's pretty signature of a fresh hop beer for me with a strong grass or plant matter nose. I'm not the biggest fresh hop IPA fan and this one just isn't doing it for me.
The taste takes all that plant matter aroma from the nose and exemplifies it into the taste. I'm just not digging it at all. I can detect a little bit of caramel to back up the hop flavor but it isn't doing a very good job. Way too grassy and plant like for me.
The mouthfeel is actually pretty good, a firm bitterness is present throughout with the right carbonation level. Drinkability is just average, the bitterness lingers a bit too long in the mouth and it's just not a very inviting beer.
I really appreciate Yazoo doing these types of batches. This is the second one I've had and I really wish more breweries would do something like this. I guess the downside is when you are making a new IPA every few weeks or so there are bound to be misses, this is one of them for me.
1,352 characters

3.73
/5
rDev
+1.4%
look: 4 | smell: 3.5 | taste: 3.5 | feel: 4.5 | overall: 4
pour a copper brown with decent white head. minimal lacing throughout the glass.
a little off balanced notes on the nose for an IPA. missing the floral hops and heavy on grass & lemon. pretty bitter with little malts or sweetness detectable.
tastes a lot like it smells... bitterness up front: grass, lemon and almost soapy. a strange warming aftertaste that was peculiar for a smaller abv beer of this class
medium body that was creamy with just the right amount of carbonation. best part of the beer.
though the taste is just slightly off, this is a drinkable beer. enjoyed the 2nd more than the 1st. glad I picked a couple up this evening.
646 characters
3.54
/5
rDev
-3.8%
look: 4 | smell: 5 | taste: 3 | feel: 3 | overall: 3
Drinking Date: 12/30/10
Bottled-on Date: 1st week of November
Glassware: Tulip
Appearance: An unusually colorful beer to look at! Deep amber at the heart fading to a bright red and then orange and yellow at the edges. Poured a thick, creamy head that had a slight orange tint, but left pretty quick. Pleasure to look at and had me stalling the first sip.
Smell: Bursting with all kinds of zesty, citrusy aromas. The smell was so pungent I could smell it a foot and a half away, which was great. This beer was a great pleasure both to see and smell.
Taste: Immediate bitterness that is the mainstay throughout the beer. I tasted some bitter citrus flavor that was much like orange rind. But that was it... just a bitterness and rindy taste with little complexity. Perhaps, the appearance and smell had me too excited, but I was somehat dissappointed in the taste.
Mouthfeel: light-bodied and average amount of carbonation.
Drinkability: The taste did not keep me interested very long, which argues against having multiple drinks. However, there was nothing offensive to the beer and was pleasant enough for uninvolved drinking.
Notes: Interesting enough... worth purchasing just for the smell and look.
1,208 characters

3.75
/5
rDev
+1.9%
look: 4 | smell: 4 | taste: 3.5 | feel: 3.5 | overall: 4
Special thanks to Tilley4 for tossing this in as an extra -- the other recipes I've had have been very solid, so this one definitely piques my interest. Review is from notes taken on 12/28/2010 and poured from the bottle to a pint glass.
Appearance: Pours a very solid orange and coppery color; starts with a full finger of off-white, frothy head that fades very quickly to an uneven and incomplete skim and a much thicker ring around the surface; body is mostly clear, but does show some cloudiness as well as moderately strong carbonation bubbling up throughout; some strands and small spots of loose lacing hold on and eventually fall back into the drink.
Smell: Like one would expect from something called "Hop Project," there are a lot of hops wafting out of the glass - juicy, mango and pineapple-like as well as a faint sticky pine; slight malt backing.
Taste: Very different than the nose -- the bitter is right up front, but it's not nearly as juicy as I thought it was going to be, and it's much more of an earthy and grassy/pine-like bitterness with some faint tropical fruit notes in the back; a very slight malt backing hides out underneath with a slightly toasty graininess; overall, it's really a grassy/piney bitter bomb.
Mouthfeel: Body is between light and medium in terms of weight; a thin, but full, sticky coating is left all over the mouth; gums are left a little tingly from the well-carbonated body; overall, while it's quite a good beer, the body feels just a tad "watery."
Drinkability: It's definitely solid, but I do wish it had more of the tropical flavor notes as that's what the nose really presents; good flavors though accompany a wonderful nose; it isn't especially heavy, and while the ABV is unknown, it doesn't feel especially strong so I feel that a couple would not be a problem to get through.
1,839 characters

3.82
/5
rDev
+3.8%
look: 4 | smell: 3.75 | taste: 3.75 | feel: 4.25 | overall: 3.75
4
/5
rDev
+8.7%
look: 4 | smell: 4 | taste: 4 | feel: 4 | overall: 4
A:Pours a hazy orange color with a thin white head that falls fairly quickly,
decent lacing hangs around
S:Nose intially picks up some pale malts along with a strong amount of piney
hops in the back with a little bit of tartness as well.
T:Up front a little pale malts come thru followed piney hops that take over the palate
from there on. A little bitterness is kicked around on the back as well.
M:Body seems to be pretty solid with good carbonation, mouth is left a little
dry along with the lips as well.
D:Drink was pretty easy going on this, a little bitterness but not much. Piney hops
are not really my preference but this was not too bad. Seems like every IPA I have
from Tennessee ended being more on the piney side.
743 characters

3.92
/5
rDev
+6.5%
look: 3.5 | smell: 4 | taste: 4 | feel: 3.5 | overall: 4
Pours a hazy golden with an average head atop... Spotty lacing throughout... Quite hazy and cloudy appearance...
Big freshly cut grass aromas mingle with some pine and booze along with some lemon zest... Interesting.. Crisp and clean..
Like chewing a mouthful of wet oily resiny hops... Pine and citrus flavors along with a sharp pointed bitterness... You can't taste the grassy aspect of the hops as its a touch earthy... Lightly toasted malts bring up the finish...
The Hop Projects are solid most of the time and this is no exception. Solid drinking IPA...
562 characters
Hop Project #40 from Yazoo Brewing Company
Beer rating:
0
out of
100
with
9
ratings