Toña Cerveza
| Industrial Cervecera S.A. / Compañía Cervecera De Nicaragua
BA SCORE
65
poor
129
Reviews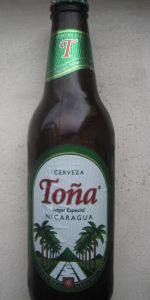 BEER INFO
Brewed by:
Industrial Cervecera S.A. / Compañía Cervecera De Nicaragua
Nicaragua
ccn.com.ni
Style:
American Adjunct Lager
Alcohol by volume (ABV):
4.60%
Availability:
Year-round
Notes / Commercial Description:
No notes at this time.
Added by Imbiber on 02-16-2004
Reviews: 129 | Ratings: 226
2.77
/5
rDev
+2.6%
look: 2 | smell: 2.5 | taste: 3 | feel: 2.5 | overall: 3
As mentioned ad naseum, this may be the palest beer ever. Light aroma, slightly hopped. Slightly sweet. Surprisingly I can actually taste hops. I also get an unusual after taste...remember those really old taffies your grandma would have on the mantle, and how they had a sort of musty after taste from being so old? Sort of like that, but very slight. Anyway, it's 10 trillion times better than Corana which isn't saying much, but it's something. Good with pozole and menudo.
★
476 characters
3.2
/5
rDev
+18.5%
look: 3 | smell: 3 | taste: 3 | feel: 3 | overall: 4
For what it is--a Central American thirst quenching light lager, it excels. Pours to a thin, white head that fades and ample carbonation. Color is light straw, similar to Budweiser. Aroma is sweet and corny as you'd expect. Flavor is very light, watery, adjuncty and very easy to quaff. Finishes clean with little aftertaste. True to style with no major flaws. I could drink this stuff ice-cold all day in the hot summer. Why? Because it is a refreshing water beverage and not much of a beer...as it should be!
★
510 characters

2.04
/5
rDev
-24.4%
look: 1 | smell: 2 | taste: 2 | feel: 2 | overall: 2.5
Ok weird bottle spotted at local grocer. Nice packaging in the 12 oz screen printed bottle.
The appearance of the beer itself however is very bad..its the palest yellow I can imagine, no head whatsoever..just plain ugly.
The smell..is sort of faint grassy hops..at least its not skunked.
The taste again has some faint hops but its overwhelmed by a sweetness that begins to get sickening near the end.
Very thin and spritzy mouthfeel on this one.
I suppose I have to say its better than Corona..probably because the darker bottle..but not one I will reach for again.
★
571 characters
1.28
/5
rDev
-52.6%
look: 2 | smell: 1.5 | taste: 1 | feel: 1 | overall: 1.5
I found this last week in Miami while dashing around in 84F heat and was thirsting for a beer. A Hispanic shop conveniently appeared so I thought 'what the hell', some of these Latino brews are ok...
Wrong on this one. I was going to take notes, but I had nothing to write as it turned out. Very pale in colour, like watered-down pee. Little aroma, no taste. Nothing, except carbonation - no true flavour at all. Just a hint of coarse grainy mouthfeel which was trying to be the flavour. Very watery, in spite of being 4.6%. Well, it briefly quenched my thirst, I'll give it that!
Ok for a hot day if water is in a short supply...
★
636 characters
Toña Cerveza from Industrial Cervecera S.A. / Compañía Cervecera De Nicaragua
2.7
out of
5
based on
226
ratings.