Victoria
| Industrial Cervecera S.A. / Compañía Cervecera De Nicaragua
BA SCORE
75
okay
12
Reviews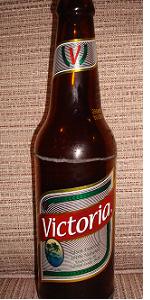 BEER INFO
Brewed by:
Industrial Cervecera S.A. / Compañía Cervecera De Nicaragua
Nicaragua
ccn.com.ni
Style:
American Adjunct Lager
Alcohol by volume (ABV):
4.50%
Availability:
Year-round
Notes / Commercial Description:
No notes at this time.
Added by nekronos on 10-10-2005
Reviews: 12 | Ratings: 42

2.54
/5
rDev
-12.4%
look: 2 | smell: 3 | taste: 2.5 | feel: 2 | overall: 2.5
My local main man, tone77, went on vacation and all I got was this lousy T-shirt ... No, wait, he brought back CANs of beer which fit me much better than any T-shirt possibly could. I put them in the reefer and promptly overlooked them until now. I just realized - this was my 1800th overall Beer Review!
From the CAN: "Pilsen Especial 100% Natural - Excelencia en Calidad desde 1926"; "Cerveza elaborada con finos ingredientes naturales y sin aditivos. Resgistro Sanitario No. 008"; "Ingredientes: agua, maltas, cereales y lupulos."; "Producto Centroamericano elaborado y distribudo en Nicaragua por Compnia Cervecera de Nicaragua, S.A"; and Consumir preferentemente antes de: (ver fondo) [- 290911]".
Following the Crack & Glug, I was looking at another Greg Koch special - a fizzy yellow beer. I had a finger of rocky, bone-white head that fell like Wile E. Coyote going over a cliff. Color was about the lightest shade of clear yellow that I have seen since I stepped down as urinalysis coordinator at PHD/NSWC in 1997. Nose was clearly cereal underlain with just enough hops to give it a little bit of a bite. Mouthfeel was thin with a light cereal adjunct sweetness on the tongue. If I were doing this blind, I would have guessed "American Light Lager", it was just that ethereal. Finish was light, bland, semi-dry and about as unobtrusive a beer as I have run across in a while. I am not putting this in my cooler and unless someone else is on a CANQuest (TM), don't take up luggage space bring it back to the U.S. Boring!
1,532 characters
2.97
/5
rDev
+2.4%
look: 2.5 | smell: 3 | taste: 3 | feel: 3 | overall: 3
A very hot day in Granada, now back at the hostel and ready for some brew. Poured from a 12 oz. can. Has a pale yellow color with a one half inch head. Smell is rather mild, some grains. Taste is crisp, light, some corn. Feels light in the mouth and overall is a mediocre beer.
277 characters
3.13
/5
rDev
+7.9%
look: 3.5 | smell: 3 | taste: 3 | feel: 3 | overall: 3.5
From a 12 fl. oz. can marked 090809-0742C2. Sampled on March 17, 2009.
On St. Patrick's Day I was drinking a Nicaraguan beer provided to me by a friend who had just returned from two weeeks in her homeland.
A - Fairly typical of a pale lager. It pours yellow with a whole lof of bubbly head that simmers down after a moment. No lacing to speak of. It reminds me of an American macro.
S - It smells like beer. It had some decent malty sensations and an aroma of rice, corn, and grass.
T & M - The mouthfeel is watery-to-medium. The taste is slightly hopped with a background of grains and grass. It went down in short order.
I love my friend for bringing this back to me to try because she said it was her favorite but to me it was not dissimilar to the average American adjunct lager.
789 characters
3.33
/5
rDev
+14.8%
look: 3.5 | smell: 3 | taste: 3 | feel: 3 | overall: 4.5
This is the second most common beer found in Nicaragua after Tona. I would say it is slightly better. Victoria is a fairly typical mass produced warm weather lager. Fairly inoffensive,it goes down remarkably easy in the hot weather and is really suited for relaxing in a hammock. Between this an Tona, I would rank Victoria slightly higher. It seems to have a bit more malt and heft to it than Tona.
Not a beer to seek out but if In Nicaragua,this can hit the spot.
Also looking at their website, this appears to be 4.9% ABV as opposed to 4.6% for Tona
556 characters
2.32
/5
rDev
-20%
look: 2 | smell: 2.5 | taste: 2.5 | feel: 2 | overall: 2
330 ml. bottle. I gues I could copy and paste my review of Toña. ? Are they really different? Anyway, here it goes: Clear yellow colour, head with no retention at all (maybe the only difference from Toña). Smell of grain, yest and some citrus. Thin body and nothing to say about the taste. Refreshing if you can't get any other, avoid it other wise.
351 characters
3.95
/5
rDev
+36.2%
look: 4 | smell: 3.25 | taste: 4.25 | feel: 4.25 | overall: 4
Victoria brewed by Industrial Cervecera S.A. / Compañía Cervecera De Nicaragua. This brew pours out a nice deep amber color with a small white head. The brew is almost alooks like tea in color. The smell is rich skunky, with, grains, and malts. You pick up a hit of hops in this brew. The taste is bold with flavor. It is sweet, with malts and grains. Victoria is a real nice relishing brew. The mouthfeel is nice and clean. There is nothing overpowering in this brew, it has a nice brew to it.Industrial Cervecera S.A. / Compañía Cervecera De Nicaragua, did a nice job with this brew. Overall I'm giving this brew a a solid 4 out 5. Nothing bad but nothing great.
676 characters

2.53
/5
rDev
-12.8%
look: 3 | smell: 2.5 | taste: 2.5 | feel: 2.5 | overall: 2.5
Pale gold pour with white head; some lace. Corny nose. Sweet corn with a little floral flavor on the finish. Lite and watery mouthfeel. Subtle floral linger.
157 characters

2.59
/5
rDev
-10.7%
look: 2.75 | smell: 2.5 | taste: 2.25 | feel: 3.25 | overall: 3
Hmm where to begin. This beer has it's place on drunken nights or for a stroll down the beach, but that's about all it offers. Tona kicks it's ass...hands down.
I wouldn't recommend it, better beers available in Nicaragua, even Frost is better than this.
255 characters
3
/5
rDev
+3.4%
look: 3 | smell: 3 | taste: 2 | feel: 3 | overall: 5
lol, ok, the reason this is rated so high for me is that I was laying in a hammock on the beach drinking it... this beer is one of only 2 you can actually drink in Nicaragua... but they come out of a fridge with the temperature actually on the door, so you know how cold it is, essentially... let me just say that this is the most refreshing beer, but on ly if it is cold...it is exactly what you think it is... cheap generic lager... but is damn tasty when in a hammock close to freezing... knock back about 12 of these during the day at about $.50 a pop, and you cant go wrong... dont seek it out though, but when in Rome...
626 characters
3.97
/5
rDev
+36.9%
look: 3.5 | smell: 4 | taste: 4 | feel: 4 | overall: 4
A dark yellow coloured beer. Strange for a lager one, but it is ok when you drink it. NOt refreshing at all, but it does not taste awfull as many of th macro lagers. The smell is alittle honney and does not have many foam or bubbles, but it sticks to the glass, so, after all,is not that bad, for me it was, fine, after a hot day, it can be deliscious.
352 characters
3.13
/5
rDev
+7.9%
look: 2.5 | smell: 2 | taste: 3 | feel: 3 | overall: 5
This beer is almost exactly Tona. In fact when I drank them side by side, they were all but indistinguishable. Whatever.
If you've ever had Dos Equis you've had this beer. The brew is a fizzy yellow drink with a little aroma and only a token head. Hops are absent in the flavor which is sweet with light colored malt. Adjuncts are not detectable. Mouthfeel is as weak as the rest of the beer and I can't find a better word to describe it than "average". Drinkability is very high. On a hot Nicaraguan afternoon these are very refreshing and cheaper than water. Somedays all you need is some cheap beer, a good steak, and some good friends, know what I mean gringo?
665 characters
2.65
/5
rDev
-8.6%
look: 3 | smell: 3 | taste: 2.5 | feel: 2.5 | overall: 2.5
Its whats available in Nicaragua. Nothing special, not too flavorful, nothing that anyone would really go for unless you like standard "lite" style beers. I was in Nicaragua for a couple of days, and with the limited choices, it was either this or Tona. It looks like any other beer in the area, clear. It smells average, nothing special. It does serve a small purpose, it can easily be a replacement for water after walking around in the heat of Nicaragua. It goes down easy, but dont expect much out of it. If you are at a point where you can order it, you are most likely in Nicaragua, and there arent any "better" options, so you might as well....
651 characters
Victoria from Industrial Cervecera S.A. / Compañía Cervecera De Nicaragua
2.9
out of
5
based on
42
ratings.