Merlin's Magic
| Moor Beer Company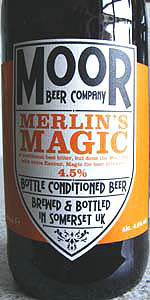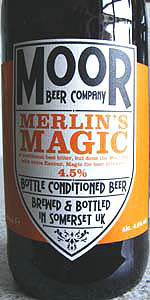 BEER INFO
Brewed by:
Moor Beer Company
England
,
United Kingdom
moorbeer.co.uk
Style:
Extra Special / Strong Bitter (ESB)
Alcohol by volume (ABV):
4.30%
Availability:
Year-round
Notes / Commercial Description:
No notes at this time.
Added by TheLongBeachBum on 03-01-2005
HISTOGRAM
Ratings: 11 | Reviews: 6
Reviews by beerdrifter:

3.88
/5
rDev
+5.7%
look: 4 | smell: 3.5 | taste: 4 | feel: 4 | overall: 4
Picked this up at the biggest beer store in the UK, Beers of Europe Ltd. Clear copper-orange pour with a few floaties and quickly fading one finger head with minimal lacing. Somewhat subdued nose dominated by sweet caramel malt with hints of tea, apples and bubblegum. The taste is nothing like the nose. Really bold, toasty and flavorful. A nice herbal, mildly hoppy backbone with a good amount of tea. Toffee and caramel malt sweetness balance it nicely. Smooth, savory, bitter finish make this a really drinkable ESB. Another really nice offering from Moor.
560 characters
More User Reviews:
3.17
/5
rDev
-13.6%
look: 3 | smell: 3.5 | taste: 3 | feel: 3.5 | overall: 3
660ml bottle, 4.5% ABV, and a recent arrival to join its scouting brethren on Alberta liquor store shelves. BB April 2013.
This beer pours a hazy medium golden amber hue, with one skinny finger of the broadest bubbly head that I have ever seen - more like persistent soda pop than anything, which unsurprisingly leaves nothing clinging to the sides of the glass in terms of lace as it weirdly takes a while to disappear.
It smells of caramel malt, with a twinge of biscuit and breadiness, some mild citrus and drupe fruitiness, and faintly spicy, grassy, earthy hops. The taste is light, toasted white bread, plain crackery malt, weak, muddled citrus rind, and bitter musty, dead leaf hops.
The bubbles are still floating on top this far into the game, the carbonation is rather mild and unassuming, the body a thin, somewhat watery affair, which bears little on the overall adequate smoothness. It finishes a tad off-dry, the grainy sweetness and loitering hops hardly even showing up armed for a fight.
Meh. The best English ESBs exhibit crisp, biscuity malt, and sassy, subtly engaging hops. Unfortunately, this offering seems at the pre-school stage of that state - nothing stands out in that respect, nor does anything actually offend, hence my strangely intense ambiguity towards this one.
1,299 characters

3.95
/5
rDev
+7.6%
look: 4 | smell: 4 | taste: 4 | feel: 3.5 | overall: 4
650ml bottle bought online from Tuckers Maltings...
Poured a coppery orange / amber colour... light creamy tan head poured fairly thick then faded quite quickly to light layer. Light lacing... Sparse carbonation...
Aroma - Lightly toasted caramel maltiness, biscuity, nice juicy fruits (oranges, pears, figs), some nutty sweetness, grassy, light spicy / floral hops, some bready notes, light cinnamon traces, light rubberiness...
Taste - Nice juicy tart fruits (oranges, apples, light figs, some grapefruits), light toffee sweetness, definite nuttiness, spicy hop bitterness, some nutmeg notes, toasted bread, nice biscuitiness..
Feel - Quite smooth with a hint of flatness - could do with a bit more carbonation... Medium body... Very quaffable - a perfect session beer...
Overall - A pretty good ESB that with a few tweaks could be world class... Recommended...
868 characters
3.53
/5
rDev
-3.8%
look: 3.5 | smell: 3.5 | taste: 3.5 | feel: 3.75 | overall: 3.5
Moor Beer seems to have a schtick going on ... Lively carbonation (probably due in no small part to the bottle conditioning regime), fresh-tasting but not wickedly complex or variegated grain bills, and flavorful, fruity, but not particularly bitter or piney hopping. This brew, identified via the pseudo-style moniker "best bitter" by the brewer (somewhere between "bitter" and "extra special bitter") but deemed an ESB here, hits most of these parameters square on but does swing away from fresh and grassy more than its lighter counterparts, winding up in sweet caramel and aromatic malt territory. Looks like a rich pale ale but just a hint darker, cloudy orange amber with an aggressively lavish pale tan head. Moderate degree of carbonation despite copious bubbles during the pour. Releases a rich caramel and bread crust aroma, with a distinct hit of lemon-lime hops. There is less citrus on the palate than on the nose, however; these elements give way to some deep nutty malt flavors that recall hazelnut and brown toast, sweet toffee, and weedy green tea hop notes with maybe the faintest specter of peach and tropical fruit in the semi-dry finish. The toffee holds on right until the (semi)bitter end. Pleasing enough for those with a malty sweet tooth but a paedomorphic example of an ESB, if indeed that designation fits here. The malt and hop elements are both restrained and you want this to blossom more than it does.
1,433 characters
3.44
/5
rDev
-6.3%
look: 4 | smell: 3.75 | taste: 3.25 | feel: 3.5 | overall: 3.25
Coming in a 660ml bomber brown bottle, bottle-conditioned, at 4.5%abv.; BB 15/04/2014, served cool in a straight imperial pint glass.
Appearance: pours a lightly hazy dark orangey amber colour, coming with constant and elegant carbonation and a well-lasting off-white creamy frothy head. Looking very decent for a bottle-conditioned ale.
Smell: lively fruity and aromatic, giving notes of bitter sweet oranges, earthy sprigs, lightly acidic dough and lightly gristy, caramely malts. Pleasant and light.
Taste: quite dry from the beginning showing a high level of attenuation, the flavour goes immediately sprigy and chewy bitter, against random maltiness, without much other elements to really enjoy on the palate really… while a pronounced yeasty tannic acidity lingers at the end of each sip. Up until the very last drop, the palate remains slightly… rough, showing signs that the conditioning is not quite finished upon the point of this bottle leaving the brewery for sale.
Mouthfeel & Overall: refreshing enough, the initially lively carbonation softens as it goes, this medium-bodied Best Bitter seems to have lose a lot of flavour elements to the semi-harsh bitter edge and an attenuation higher than suitable to keep a balance on the flavour profile.
1,263 characters

3.94
/5
rDev
+7.4%
look: 4 | smell: 2.5 | taste: 4.5 | feel: 4 | overall: 4.5
Served from a cask in a regular pint glass. The color is a reddish-orange; it is clear with a minimal head. The weak aroma does not do the taste justice - it is smooth, lightly malty, with a well-balanced sweetness and hints of citrus flavor. The hops are not too strong and linger ever so slightly to give it an excellent "REAL ALE" taste. The mouthfeel is light enough to drink all day and not too heavy in the least. At the Beerfest I worked where this was served, it was one of the clear favorites.
502 characters
Merlin's Magic from Moor Beer Company
Beer rating:
3.67
out of
5
with
11
ratings