Chernigivske Mitsne
| Chernigivske Pivokombinat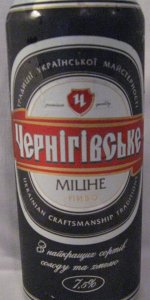 BEER INFO
Brewed by:
Chernigivske Pivokombinat
Ukraine
chernigivske.com.ua
Style:
Euro Strong Lager
Alcohol by volume (ABV):
7.50%
Availability:
Year-round
Notes / Commercial Description:
No notes at this time.
Added by Globetrotter on 02-16-2004
Ratings: 6 | Reviews: 3
None found.
More User Reviews:
1.31
/5
rDev
-20.1%
look: 2.5 | smell: 1.5 | taste: 1 | feel: 2 | overall: 1
Purchased in Kiev in a brown one liter plastic bottle with a white, grey and red label. Sugar and ascorbic acid are listed as ingredients. Best before 2/10/04, I opened it on 2/3/04 – one week to spare, but that didn't help much.
Clear deep gold under a thin and fizzy white head that mustered about 1.5 fingers after a hard pour. What little there was faded to paper thin very quickly. No lace. There's a strong odor that reminds me of a dentist office while the drill is on; or is that swamp water? Not sure I want to know. The mouth is very prickly and syrupy. The taste is pretty awful – very harsh metallic hops covered by a fig leaf of sickly sweet fruit juice. The harsh clashing metal quickly overwhelms all other sensations, leaving a taste on the tongue only matched by rusty braces. The aftertaste generates a choked "aaaack" as the rust seeps into your veins. No, no, no.
893 characters

1.09
/5
rDev
-33.5%
look: 2.5 | smell: 1 | taste: 1 | feel: 1 | overall: 1
The CANQuest has gone international! People are laying CANs on me from everywhere! CAN you dig it?
My pour resulted in an easy two fingers' worth of foamy eggshell white head with decent retention. The color was a slightly hazy deep-amber. Nose had an odd smell, cereal with fusel alcohol. Adjuncts galore, no doubt. Oh my freakin' god, this was like some of the really cheap malt liquors to which I subjected myself early on in this journey. The mouthfeel was thin with a sugary candy sweetness on the tongue, accompanied by an alcohol heat. Phew! Mother ...! The finish was more of the same - sweet, hot, foul. Man, a few of these could create the mother of all hangovers. I finished it in the name of science, but I CANnot recommend it to others. Leave it in the Ukraine where it belongs.
792 characters


2.56
/5
rDev
+56.1%
look: 3.5 | smell: 2.5 | taste: 2.25 | feel: 3.5 | overall: 2.5
Looks nice enough in the glass with plenty of head and swirls of lacing. Fairly spritzy on the tongue. An odd smell of cough syrup and bandaids.
Tart and wierdly sweet to start. This does have the malt liquor taste. Sweet malt and cardboard. Bitter from start to finish. Actually pretty revolting. This may be intended simply to get you drunk. It tastes so bad, you take another sip to get the taste out of your mouth. This is not making me like the Ukraine. They should stick to pickled cabbage, which they do very well.
From the 500 ml bottle bought at Europa Market in San Francisco.
588 characters
Chernigivske Mitsne from Chernigivske Pivokombinat
1.64
out of
5
based on
6
ratings.