Au Brasseur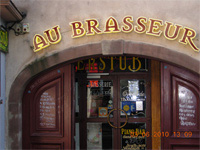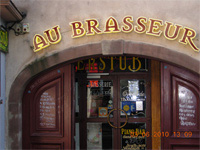 Brewery, Bar, Eatery, Beer-to-go
22 Rue des Veaux
Strasbourg
, 67000
France
+33 3 88 36 12 13 |
map
aubrasseur.fr
Notes:
Recent ratings and reviews.
Ratings by coldriver:
Reviewed by coldriver from Texas
3.6
/5
rDev
+6.2%
vibe: 4 | quality: 3.5 | service: 3.5 | selection: 3.5 | food: 4
We visited during lunchtime on a weekday and the place was pretty packed with the local workday lunch crowd. Beer choices were pretty pedestrian (a blonde, a brown, a wit, etc) but decently made. Food was good and I enjoyed the vibe of the sidewalk seating.
Jun 05, 2018
More User Ratings:
Reviewed by NeroFiddled from Pennsylvania
3.83
/5
rDev
+13%
vibe: 3.75 | quality: 4 | service: 3.75 | selection: 3.75
A six minute walk northeast of the Cathedral, Au Brasseur is a somewhat worn down but charming brewery-restaurant. It's nice and cozy inside, and there's a fairly large outdoor area as well. It's popular with college kids, and the food is reasonably priced. The beers, however, aren't the best to be found. There are four, as is common in France, with Blonde, Blanche, Ambrée, and Brune. I should also note that although this is the less frequented side of town there are some nice shops and plenty to look at, at least during the day. Just to the south of Au Brasseur is the river where you can get a great view of the twin spired reformed church of Saint Paul.
Sep 20, 2021
Reviewed by metter98 from New York
3.61
/5
rDev
+6.5%
vibe: 4 | quality: 3.5 | service: 3.75 | selection: 3.5 | food: 3.5
Vibe: After visiting each one of the city's Christmas markets, we stopped in for an early dinner and the place started to get very crowded soon after. There was a large rectangular bar in the center of the main room surrounded by table seating. The place had a "homey" feel to it with lots of wood paneling on the walls.

Quality: Beers were served in dimpled mugs at the proper temperature.

Service: I found the service to be rather prompt, even though the place was rather busy when we arrived.

Selection: A total of four beers were available on-tap at the time of my visit: Ambrée St Guillaume, Bière De Noël, Blonde Des Bateliers, and Brune Du Quai.

Food: We tried a variety of flammekueche salées for dinner including La Classique (onions and slab bacon) and La Gratinée (onions, slab bacon, and cheese) as well as a Pomme Flambée (apples and Calvados) for dessert.

Note: This place has very good happy hour deals—the half liter beers and tart flambées that we ordered for dinner were only about 3 euros each.
Nov 26, 2017
Reviewed by jeanmichelaubrasseur
1.85
/5
rDev
-45.4%
vibe: 2 | quality: 2 | service: 1 | selection: 2 | food: 3
It was about 14hr00 on a normal week day in June 2012 when my German girlfriend and myself walked in for a quick lunch. We were shocked at the total lack of welcome and the ridiculously bad service which eventually led me to tell the waitress that I had never before anywhere in the world felt such an inconvenience as a client expecting the most basic service. Although at the time the restaurant inside was almost empty, we were told not to sit at the table which we had selected. After I personally cleaned our table, came the only waitress, obviously very stressed, who told us that if we wanted some food, we had to eat quickly because she was on her way out! We ordered a Tarte Flambée, a beer and some wine in spite of having been told that the "Pinot Noir" was very "noir"! (I took this comment as the 3rd or 4th deliberate sign of inconsideration and reject with a smile as we were in a happy holiday mood.) A few seconds after virtually throwing our plate of food in front of us, she came almost in an aggressive manner and said "Please pay now because I am leaving!" This is when I allowed myself to comment in a normal tone about her poor welcome and service. And when she started to shout at me, I reminded her that the owners were free to open or close the premisses at any time that suits them. But if it is open, then they have only one legal right which is to serve the clients with a minimum of politeness. Dommage" for the stinking service because the Tarte was very good! JEAN MICHEL.
Aug 03, 2012
Reviewed by tjd25 from France
3.25
/5
rDev
-4.1%
vibe: 4 | quality: 4 | service: 2 | selection: 3 | food: 4
Au Brasseur (the brewpub changed its name recently, after being part of the Les Trois Brasseurs franchise) is a very famous place in Strasbourg, known for its tartes flambees, its beers, and its happy hours.
The crowd there is often made of students, some tourists if they can find the place, and some European MPs once a month.

They brew 4 or 5 beers, depending on the season. Their beers aren't all that great, but still pretty decent and this year they brewed a "new lager" that I found pretty good. They also have a stout, but I don't think we French people know how to make stouts. They should forget it.

The main reason why I go to this bar is their all you can eat meal with Tartes Flambees. Tartes flambees are an Alsatian specialty meal, like thin pizzas with cream, onions and bacon bits. Different versions exist, with mushroom, sauerkraut, cheese... You get all these types and two pints of beer for 12 euros, which is pretty decent.

I would probably go there more often just to have a drink if the staff were more welcoming. They often seem to be pissed to have customers, which I always find hard to understand. Some waiters are nice though. Sometimes you have to wait so long for your next tarte flambee, sometimes they come with another one before you even finished the first one. Weird...

They also offer a variety of other meals, that I unfortunately never had, since I am pretty much addicted to the all you can eat deal.

Tartes flambees offen cost 6 or 7 euros in other places in Strasbourg, Au Brasseur is thus a good pick if you aren't a baby and are going to eat more than one. And it's good quality too.
Mar 06, 2004
Au Brasseur in Strasbourg, France
Brewery rating:
3.64
out of
5
with
16
ratings