India Pale Ale
| Ice Harbor Brewing Company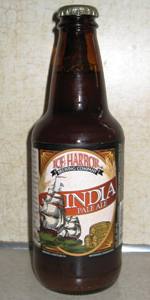 BEER INFO
Brewed by:
Ice Harbor Brewing Company
Washington
,
United States
iceharbor.com
Style:
American IPA
Alcohol by volume (ABV):
6.80%
Availability:
Year-round
Notes / Commercial Description:
No notes at this time.
Added by woemad on 09-27-2005
Reviews: 28 | Ratings: 48
4.42
/5
rDev
+15.1%
look: 4 | smell: 4.5 | taste: 4.5 | feel: 4 | overall: 4.5
Bought a 12oz bottle of this at a supermarket in Kennewick (I believe it was a Yoke's) the day after a night before spent at the Ice Harbor brew pub, in the old downtown area. I believe I had this on tap, but at the same time as a number of their other offerings, so no review for any of the drafts. The waitress told me that the IPA cask at the pub is different than the IPA in the bottle, but didn't elaborate, and I didn't pursue (the beer question, or the waitress...) Anyways, I've had this in the fridge since September, time to bust it out.
Right away I could see the sediment in the bottle, but no worries about that. Poured carefully into my Laughing Dog pint glass (another souvenir of that trip), this beer produced a healthy 3 fingers of off-white head, and was a beautiful hazy faded orange colour. Beers that look like this one did have always seemed to turn out well. (That's called foreshadowing, folks...) Some of the sediment from the pour settled as I looked at it, clouding it up further. Taking a whiff of this once the head disappeared a few minutes later, I knew I was in for a treat. This smelled amazing, the dry hopping really doing the trick - lovely grapefruit and pine, all present and accounted for. Taking a sip, I was pleasantly surprised that this wasn't an overwhelming hop bomb. It was all creamy, citrusy, and oily hop goodness, but all in even balance with a nice reserved maltiness. Very moderate carbonation, and well hidden alcohol - I had to pace myself, or this would have been done straight away.
I had to be selective in what I brought back across the border upon heading home from the Tri Cities, and I knew there'd be at least a few single selections for which I would wish I'd purchased a six-pack. Boy, is this one of them - I'm sure I could session this IPA all night long.
★
1,824 characters
4
/5
rDev
+4.2%
look: 4 | smell: 4 | taste: 4 | feel: 4 | overall: 4
I previously sampled this beer in a 12 ounce bottle so I resampled from the tap at the brewery pub in Kennewick, WA.
A: It poured rich golden color with an orange tint and white head. The head had good retention and produced a consistent lacing.
S: It had fresh herbal aromas that included spicy earthy aromas with a touch of lightly toasted malts. The aroma of hops is so dominant.
T: It began with a massive hop assault that was bitter and tangy. There are sharp spice flavors that are followed by a soothing and sweet malts. There was a slight but not distasteful bitter aftertaste.
M: Light to medium body with a bitter front, malty sweet middle and spicy end.
D: I am not a IPA fan but this one is very drinkable. I enjoyed the keg variation more than the bottle.
★
774 characters
4
/5
rDev
+4.2%
look: 4 | smell: 4 | taste: 4 | feel: 4 | overall: 4
Purchased a 6-pk for $7.89 at Yoke's in Kennewick. I've since discovered a sixer at the brewery is about a buck cheaper, so I'd reccomend picking it up there instead.
Poured a hazy orange/amber color into a SA BL pintglass (thanks again Bros & SA). Big, thick off-white head that took several minutes to drop and left "neglige" of lace on the sides of the glass.
The nose is tart and citrusy, with a bit of pineyness present as well. This is dryhopped with Amarillo hops, so if you dig that hop, this will please you.
This has a sharp, tart citrusy taste, along with some piney notes. There's a biscuity malt backbone that, while detectable, is properly subordinate to the hops.
Medium bodied, with a prickly and oily mouthfeel.
This, along with Laughing Dog's IPA, is one of my favorite session IPAs. I usually pick up a sixer when I visit the Tri-Cities. I'm deleting my previous review, as it's long since become apparent I had a bad bottle.
★
953 characters
India Pale Ale from Ice Harbor Brewing Company
3.84
out of
5
based on
48
ratings.