Hop Warrior
| Ice Harbor Brewing Company
BA SCORE
82
good
10
Reviews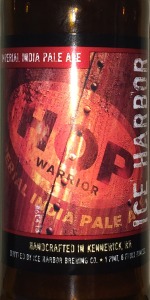 BEER INFO
Brewed by:
Ice Harbor Brewing Company
Washington
,
United States
iceharbor.com
Style:
American Double / Imperial IPA
Alcohol by volume (ABV):
9.00%
Availability:
Rotating
Notes / Commercial Description:
No notes at this time.
Added by woemad on 03-07-2007
Reviews: 10 | Ratings: 17

3.59
/5
rDev
+2.6%
look: 4 | smell: 3.75 | taste: 3.5 | feel: 4 | overall: 3.25
Poured from 22oz bomber into a dimpled mug.
Appearance: rich orange hue with a moderate-to-thick haze and a finger of frothy tan foam atop. I think it's quite attractive.
Smell: bright and citrusy hops atop a rather sweet malt base. The hops are good, but a little one-dimensional.
Taste: very sweet with citrusy, green, grassy hops and rather a lot of alcoholic heat. The hop profile is not exotic, but it's workable; decent, but a bit too sweet and hot for my taste.
Mouthfeel: medium-rich body with a good level of carbonation and rather a good creaminess indeed.
Overall: the alcohol and sweetness are just too far forward to be a super drinkable beer for me.
674 characters

3.54
/5
rDev
+1.1%
look: 4 | smell: 3.75 | taste: 3.5 | feel: 3.5 | overall: 3.25
Attractive dark gold color in the Stella Artois goblet with a decent foam and lacing. Resiny aroma and big grapefruit peel with some fruit in the nose. Quite sharp and spritzy in the mouth with some acidity.
This is pretty interesting with a wealth of hop flavors and moderate bitterness. The brewery notes say it's made with Columbus and Northern Brewer hops and dry-hopped with Cascade and Amarillo. It's a mouthful. Modest malt that provides some sweetness and substance. The tangy scorched pineapple flavor and an herbal hop flavor are intensified by the high octane ABV. Grapefruit finish.
Sharp but a little malty, and plenty of juice. Long bitter aftertaste is From the 22 oz bottle purchased at Central Market (Shoreline) in Seattle.
744 characters
3.53
/5
rDev
+0.9%
look: 4 | smell: 3.5 | taste: 3.5 | feel: 3.5 | overall: 3.5
The Hop Warrior from Ice Harbor is a very tricky IPA. The beer pours a hazy straw color with almost no head...but what is there is lacing. The smell is mostly a tangerine/bitter citrus. The taste starts with a fresh hop...then turns to a sharp citrus to a wierd twang then to a bitter spice. The mouthfeel is full with minimal carbonation. Overall its a big beer....only one for me please.
389 characters
3.7
/5
rDev
+5.7%
look: 4 | smell: 4 | taste: 3.5 | feel: 4 | overall: 3.5
Another selection from Seattle.
A: Cloudy Orange- white Fluffy head -No lacing
S: Hops, orange zest, caramel apple. Malt
T: orange starts out and hops bitterness hits soon often. A bit of malt in the Finish
M: Dry and medium carbonation
O: this is a decent offering. Good Sumner IPA
287 characters
3.45
/5
rDev
-1.4%
look: 4 | smell: 4 | taste: 3 | feel: 3.5 | overall: 3.5
Big-ass 22oz bottle purchased at Yoke's in the Kennewick highlands. According to the label, this has now dropped to 8%abv. This beer is new to me in bottled form, but I've had this many times on tap at the IH brewpub, and have scuttled out of there more than once with a growler of it as well. The label seems a bit more "industrial" looking than the labels of IH's other beers. Sadly, there's no freshness date on it, which should be a requirement for all hoppy beers.
Poured a hazy golden amber color, with a big, white bubbly head that took its time settling, and left lots of lace.
Big, citrus hops are up front in the nose. Smells like Amarillo hops were used liberally.
The taste is dominated by hops that are pretty up front, with a combined bitter and fruity blast to the tastebuds. From that point, however, there's not much else going on. Seems like more of a malt backbone is needed. Big pucker fractor at the swallow, its pretty dry at the end.
Medium bodied, with a drier, more prickly mouthfeel than I was expecting. I had thought to encounter an oily, hop-resiny feel, but that's not the case.
A mediocre Imperial IPA, and one that does not match my experiences with this beer when I've had it on-tap. This may be too old. I'll continue to drink it fresh when I visit the brewpub whenever I'm in Kennewick, but I'll be a lot more hesitant to get another bottle of this.
1,390 characters
3.52
/5
rDev
+0.6%
look: 3 | smell: 3.5 | taste: 3.5 | feel: 4 | overall: 3.5
Seems like I've been on a local beer buying kick lately, so...here goes trying one of them!
Side note: The bottle lists this beer at 8.1%, even though it says 9% here.
A - Pours a cloudy, slightly dull, orange-ish gold hue, with a somewhat small head, leaving moderate lacing.
S - Smell is of caramel drizzled mangos, pineapple, and piney hops. Not quite as strong as I was expecting, but pleasing nonetheless.
T - Taste is of semi-bready caramel malts, with mixed citrus fruits (mostly mango, orange), and a strong, piney bitterness that lingers. This will most undoubtedly please die-hard hop fans, but I felt it could use a bit more balance and flavor. Not bad though!
M - This beer is medium-bodied, with modest carbonation, and a slick, oily feel that complements the bready malt texture.
D - I do gotta say though, although this stuff is pretty potent, it's reasonably quaffable too.
Overall - Not a bad DIPA, but not a remarkable one either. The name certainly isn't false advertising though. Die hard hop fans looking for a strongly bitter ale will probably love this stuff. Overall, it's an ok DIPA that I wouldn't turn down. But in the PNW where there are many better DIPA options available, it's hard to make this one a go-to choice.
1,251 characters
3.6
/5
rDev
+2.9%
look: 3.5 | smell: 3.5 | taste: 3.5 | feel: 3.5 | overall: 4
22 oz. bottle purchased at brewery shared with local beer buddy 11.29.10.
One finger billowing white head, fairly quick dissipation with slightly above average lacing. Hazy orangish amber body, not sure if unfiltered or bottle conditioned, the glass I had at the brewery over lunch was much clearer, no visible carbonation. Nose is primarily mild citrus and some caramel/crystal malts for balance. Taste mirrors nose, distinct citrus aromas, mild grapefruit, some sweetness in middle, leading to a lingering noble bitter finish. Not much complexity to hop profile re only using one (Warrior) variety. Mouthfeel is medium, not much effervescence. Drinkability is ok, but I was surprised at the lack of complexity of the bottled version. Wonder if this has been sitting around a bit too long and the hops have faded. I prefer the tap version.
841 characters
3
/5
rDev
-14.3%
look: 3 | smell: 3 | taste: 3 | feel: 3 | overall: 3
On tap at the marina brew pup, served in a small (12 oz) glass due to the ABV which according to the waitress was "almost 10."
Pours a rich gold color and is hazy. The glass is topped with a small creamy white head.
Smell is faint and predictably piney.
Taste is a strong hop flavor and not much else. There is no malt presence to speak of. A real bitter heat sensation.
Mouthfeel is mildly carbonated and a bit watery. Lingering bitter aftertaste.
Drinkability is just average. It's over priced at $5.00 a glass. I'd skip this one in the future.
551 characters
2.44
/5
rDev
-30.3%
look: 4 | smell: 2.5 | taste: 2.5 | feel: 2 | overall: 2
We sampled a couple of ounces a few weeks ago when touring the brewery...now that it has aged and is on tap we returned to the brewery pub to properly sample it.
A: It poured a bright yellow with a ting of ruby, a bone-white head and nice lacing.
S: WOW!! The floral hops pop from the glass and punch you in the nose. Based on the aroma alone it deserves the imperial designation. The massive hop head makes detecting the sweet malts difficult if not impossible. It is very one dimensional...even if by intent its limited complexity is a downer.
T: Hops, hops and more hops. This brew is a pop heads delight. It is aggressively bitter, has a biting spice flavor and when ever any sweetnesses peaks through it is killed by the army of hops deployed in earning its name. It reminds me of a recent trip to Toppeninsh, WA to view the hop harvest. I popped a hop flower in my mouth...BAM...I was in hop hell. Over the top.
M: Light body with a bitter hoppy front, middle and end. Warm, bitter and sour aftertaste.
D: One and done. I am less than impressed.
1,056 characters
4.15
/5
rDev
+18.6%
look: 4.5 | smell: 4.5 | taste: 4 | feel: 4 | overall: 4
Presumably Hop Warrior uses Warrior hops, yes? Either way, this seasonal imperial is brewed to unapologetic extremes with a bright hop aroma that is floral, spicy, and potent. Ice Harbor deploys the Warrior in a stemmed wine glass that soon racks up a sizable measure of tightly clinging lace, though the body is nearly devoid of rising bubbles.
This amber-gold double IPA is a virtual hops war in a glass, yet the body doesn't suffer from astringency or excess tannins and a modest register of sugar residues suggests Warrior must have started with a gargantuan OG. An intense, smack-you-in-the-face citric flavor makes you wish for a chaser of fresh water. But don't let that hold you back. It takes a warrior to face The Warrior. Just proceed with caution.
763 characters
Hop Warrior from Ice Harbor Brewing Company
3.5
out of
5
based on
17
ratings.