Higgins Restaurant and Bar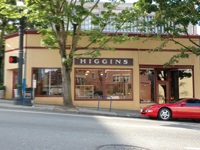 PLACE INFO
Type:
Bar, Eatery
1239 SW Broadway
Portland
,
Oregon
, 97205-2915
United States
(503) 222-9070 |
map
higginsportland.com
Notes:
Monday - Friday: 11:30am - 12:00am
Saturday & Sunday: 4:00pm - 12:00am
Added by HiroProtagonist
Reviews: 19 | Ratings: 22

4.05
/5
rDev
-2.9%
vibe: 4 | quality: 4 | service: 4 | selection: 4 | food: 4.5
A fine dining experience with a good beer list.
We made our way to the bar to start. The bar has an old timey fell to it, with a straight long bar with taps in front and mirrors behind. A few standing areas and tables fill the reasonably large area. The tap list was disappointing in that there were three open taps out of the ten or so taps there. Bottle list was nice but, as visitors, we wanted to do as much fresh, local draft as possible. Settled on Terminal Gravity IPA, which was a nice consolation.
We were seated on time in the moderately cramped but well appointed dining room. Service was prompt and attentive despite the quirkiness of the server. Dinner was very good. We had a nice salad, a blue cheese "flan" appetizer, halibut and the "whole pig" plate.
Prices were, I thought, a bit on the high side with our entrees at $29 and $30, and the duck entree topping the menu at $37.
HV
902 characters

4.13
/5
rDev
-1%
vibe: 3.5 | quality: 4 | service: 4 | selection: 4.5 | food: 4.5
Swung by this place for dinner with the girlfriend during a visit to the Portland area. Due to an Eddie Izzard concert that was beginning down the street, Higgins was packed. We put in our names for a table in the bar area, as we were nowhere near the "formal attire" requirement for the other half of the restaurant. The wait took over an hour, which we were expecting, but didn't mind as we were able to get seats at the cramped bar. Bartenders were as effective as they could be given the crowded status...I ordered a Hair of the Dog Greg on-tap. Bottle selection was extensive, but I would've like to see more locals on draught. Still, a pretty nice selection.
Finally seated at a table near the middle of the bar area, I ordered a seafood stew which was excellent. The lady's salmon was good, but woefully overpriced ($34!). Ordered a bottle of Hair of the Dog Fred, which was fantastic and decently priced. Overall, I enjoyed this restaurant and would definately return for special occasions, or only for a few pints at the bar.
1,036 characters
4.55
/5
rDev
+9.1%
vibe: 4.5 | quality: 4.5 | service: 4.5 | selection: 4.5 | food: 5
This place could only exist in Portland.
Before I review this place, let me say that I think it a bit unfair that this place gets reviewed here. I certainly don't think it one of the better beer bars in town, yet given the rating criteria it's unavoidable that it would score high. As I recall, the Celebrator rated this place the best spot for food and beer in the country. While that may be true (I certainly can't argue against it), I think it's more about the food here then the beer selection.
As others have noted, this an upscale restaurant, along with places like Paley's Place and The Heathman, one of the highest rated restaurants in the city (according to the Oregonian and Portland weeklies - The Mercury, etc.). It's reputation is clearly deserved; the times I've eaten here the food was terrific. That being said, let me also say that I almost NEVER order beer here. The wine list is outstanding at Higgins, and in my humble opinion, most of the food here goes better with wine. However, over on the bistro/bar side of the restaurant (the jefferson st. entrance), there is a very nice bar area with something like 10 taps. There is no "crap on tap" at Higgins, and what they have available is well thought out. As others have noted, the bottle selection (quite a few Belgiums) is also excellent.
The service at this fine restaurant is professional and knowledgable, exactly what you would expect at a fine dining establishment. Ditto with the atmosphere. There is a lot of wood and the dining room is very well appointed.
I'll finish by pointing out what should be obvious. For a fine dining establishment, I don't think the food prices are particularly out of line. They're about what you would expect. Last time I was there, I think dinner for 2 was around $150. However, for a beer bar, pub or tavern, the prices would be considered outrageous. At least I feel like I can ding them for that! Cheers!
1/5/09 update. Went here recently for New Year's eve dinner. If anything, the food was even better then I remembered (had the best cassoulet I can ever recall having), and the service and atmosphere superb.... and you know, there's just something profoundly gratfiying about a place where the girl friend can get a pre dinner glass of piper heidsick champagne, while yours truly can order a glass of Pliny. This place is just excellent.
2,360 characters
4.83
/5
rDev
+15.8%
vibe: 4.5 | quality: 5 | service: 4.5 | selection: 5 | food: 5
The strike ended 3 days ago, seems like a lifetime. I'll say, "Yeah, we did 114 days in the sun", but really, we didn't do any time in the sun. The Teamsters did, standing out front the gate every day, walking back and forth and back again. First in great numbers, and then less and less as time went on and they lost their spirit. I was in a trailer or a truck these last 114 days; I didn't see no sun except when I came outside to fire up the grill (Somebody owes me a Summer). But now, just 3 days later, I'm at the Oregon Brewers Festival. We scored a few folding chairs beyond the far side of tent in that stretch along the fence near the Willamette River. I've got a beer and the sun on my face and it's everything's all good again. The girls showed, now we are six and Jon's got a plan for dinner...
Higgins is a very upscale restaurant; too nice a place for our drunken asses, but nobody balked at our dress or disposition. You remember Higgins from Magnum P.I., right? He was boorish and kind of an asshole, but he's got a real great place here. The lower room holds a dozen lamp lit tables of various sizes and shapes. Large paneled walls with vineyard prints, cut window archways to the middle room, and a wall of window to the front. 9 tables in the middle room, some sharing a common bench, and then 4 tables above, near the door and off the open kitchen, prints of gourds, roots and vegetables.
Down the hallway, a room to the rear. 9 booths & tables and a "C" shaped bar seating 14 with a large mirrored barback, shelves of booze and glassware over mirrors, glass front cupboards, spot lamps, a pressed tin ceiling, towers and single taps, beer signs and placards running above the bar, and the tap selections written on a blackboard.
10 taps, 5 of them regional (Hair of the Dog Blue Dot IPA, Laurelwood Organic Free Range Red, Bridgeport IPA, Lagunitas Sirius Ale, Rogue Juniper) and the other 5 imports (Chimay Cinq Cents, Paulaner Hefe, Lindemans Framboise, Pilsner Urquell, Guinness) and a cask offering (Deschutes Mirror Pond Pale Ale).
Well over a hundred bottles, nearly half of them Belgians, a range of all sorts of stuff and many of them unusual to a restaurant beer list (Fonteinen Gueuze, Saison DuPont & Avec Les Bon Voeux, Petrus, Verhaeghe Vichtenaar & Duchesse De Bourgogne, DeuS, Cantillon Broucsella Grand Cru & Fou' Foune, Kerst Pater Special, DeProef Flemish Primitive & Slaapmutske Tripel Nightcap, Oud Beersel, Scaldis & Scaldis Prestige, Vapeur Cochonne, Boon, De Dolle Stille Nacht & Bos Keun, Orval, Westmalle, Rochefort, Achel, Chimay, Liefmans, Chouffe, Maredsous, Affligem, Delirium, Corsendonk, Kwak, Wittekerke, Abbaye Des Rocs, Leffe, Stella, Hoegaarden, Lindemans), plus a dozen American micros (Jolly Pumpkin, AleSmith, Full Sail, Hair of the Dog, Marin, Sierra Nevada, Boulder, Ommegang), a dozen Germans, a dozen English, and nearly 2 dozen more beers of the world. I ordered an Orval but they were out of them, so I slummed it with a DeProef Flemish Primitive (one of the types not yet available out East).
Foodwise, Higgins is all about sustainable food practices, organics & regeneratives, and foods from small local farmers. I had the red bean & pork soup (spicy, had some good heat) and the Flatiron steak with cheddar mashed potatoes, onions and greens (killer steak). Not always room for but always in want of dessert, I had the orange & lemon sorbet, accompanied by cookies (yay!!) and complimented it with a Liefmans Kriek.
Service was polite, attentive and our beerness was well received. Excellent!!
3,571 characters
4.83
/5
rDev
+15.8%
vibe: 4.5 | quality: 5 | service: 5 | selection: 4.5 | food: 5
Courtesy of a well deserved recommendation, we cruised by here after spending a fair part of the day and the Oregon Brewer's Fest. We weren't scraggly or anything, but not well dressed either, and at first I thought we might be out of place - this is a well-appointed, upscale restaurant with white-jacketed waiters, and it isn't cheap, by Portland standards (where I live "very expensive" means $100 or more per head, but you might consider this place expensive.) Yet, nobody cared we weren't wearing jackets, and the friendly wait staff even grilled us about the beer fest (and had read up on everything we ordered.)
They have a fantastic bottle list ('put that Jolly Pumpkin on this end of the table, please. Slander has the Orval'.), While the beer selection is great, (and Oregon pinot list for the wine nerd travelling with you,) you really go here for the food. I "split" (about 90-10) the sablefish salad appetizer and, frankly, I could have ordered another one for dinner and been quite happy. It was the best fish dish I've ever had. Ever. The flatiron steak was excellent as well, I had to skip dessert though, I was already in a food torpor but from what everyone else was saying even that was top-notch.
If you're sitting in a hostel thumbing through the greasy pages of your Lonely Planet guide looking for a cheap place to eat in Portland, put it down for once and take your credit card to Higgins'. There are a few places worth throwing some money down, and this is certainly one of them.
1,510 characters

4.88
/5
rDev
+17%
vibe: 5 | quality: 5 | service: 4.5 | selection: 5 | food: 5
My wife and I stopped in for a late dinner after arriving in Portland. Short walk from the downtown hotel we were staying at. The front of the restaurant was an upscale dining area and all table were full. We were told about 1/2 hour wait for the front of the restaurant, or a booth was available in the pub section. So we walked to the more casual, heavy wood looking bar area. Luckily we could order of the regular dinner menu here. The bar had about 12 stools and most were empty. A chalkboard listed beers on tap. Loads of bottled beers available too.
The tap list was varied - Laurelwood Red, Chimay, Hair of the Dog Blue Dot, Paulaner Hefe, Bridgeport IPA, Dupont Les Bons, Pilsner Urquell, Lagunitas, Lindenmanns Framboise, and a cask conditioned Mirror Pond. Beer quality was fresh.
The food is phenominal, as the razor clams I had were top notch, along with the wild salmon the wife enjoyed. I also saw some eating burgers that looked outstanding, and I later found out from some locals they thought Higgin's burgers were the best in town.
Service was slow, but it was crowded. The waitress did take some time to discuss other good places to hit in Portland during our stay. She was also pretty knowledgable about the beers offered.
This is a must stop for anyone visiting downtown Portland for great food and nice beer selection.
1,352 characters
4.53
/5
rDev
+8.6%
vibe: 4 | quality: 5 | service: 5 | selection: 3.5 | food: 5
Higgins is a Portland landmark. It is famous for its gourmet food with local ingredients.
The other reviewers wrote about the restaurant which is a luxury that we only enjoy on special occasions. We frequently go to the attached pub which serves less expensive but equally delicious food.
They have ten beers on tap. Not a single Coors or Bud variety amongst them. They tend to be extremely flavorful Belgians and local beers and change rapidly. Some Belgians I haven't seen anywhere else on draft (including Belgium!).
Prices are high. A belgian draft can cost $6. That is steep for Portland.
The bar menu (bistro) includes a cheesburger (chopped sirloin on a roll) which may be Portland's finest. The mussels are also really good.
Finally, there's the bottled beer list. They have over a hundred. Again, the choices are usually quite good with some unusual and hard to find ones thrown in.
The bar is smallish and there may be a wait when its busy. On particularly busy nights, they cover the tables in the bar with linen and it becomes an extension of the restaurant. You can still sit at the bar, though.
1,126 characters
4.83
/5
rDev
+15.8%
vibe: 4.5 | quality: 5 | service: 4.5 | selection: 5 | food: 5
Whoah, HIGGINS! My girlfriend and I were referred to this place by her boss, who is both a chef and friends with Chef Higgins. We were so glad he did.
This is most certainly fine dining, but the layout and decor was so comfortable. The kitchen was rather open so you get a nice glimpse at the people helping Chef Higgins with the magic.
Higgins is one of those wonderful places that supports local, organic, sustainable farming. I consider myself very fortunate to love great food and to actually be able to afford it from time to time. Thus, I have eaten in at least a fair share of top-end restaurants. Higgins is as good as any of them.
I looked at the beer list and I almost freaked out. I expected something decent, being in Portland, but their selection really floored me. It felt so nice to drink some world-class beer with a world-class meal.
The service was near perfect. If you are in Portland and are in the mood for fine dining, this is your place. Beer lovers rejoice! This is a fine example of what a restaurant can be with just a healthy respect for craft beer. It's expensive, but any restaurant that focuses on organics is going to be on the high side. That said, considering the amazing ingredients and the skill used to create each dish, I think you get what you pay for.
1,303 characters

4.45
/5
rDev
+6.7%
vibe: 4 | quality: 4.5 | service: 4.5 | selection: 4.5 | food: 4.5
My mother treated my fiancee and me to dinner here on a Saturday night during a visit to Portland in October.
Upon entering I realized I should have dressed better than a T-shirt: This is a fancy restaurant. Fortunately, I wasn't made to feel out of place. It's got dark wood and paintings on the walls through the multileveled place. Large glass windows let in views of the street.
Higgins is big on organic food. Mom and I both had their wild salmon. It was awesome. My fiancee had their steak, which she thought was too rich. I enjoyed the bit I had, though. She loved their tomato soup, however, and raved about it during the rest of our trip.
I was really impressed that they have a beer menu. It first lists on-tap beers. They have an organic beer brewed to their chef's specs. I had it and it was good. Sadly, their cask beer was kicked by the time we got there. The rest of the menu is bottled beer divided by place of origin. For dessert I couldn't resist having a Thomas Hardy's Ale, a beer I've read so much about here on BA but have never seen.
This is a very nice restaurant that happens to have a great beer selection. It's expensive, but I say worth it for a special occasion.
1,205 characters
Higgins Restaurant and Bar in Portland, OR
4.17
out of
5
based on
22
ratings.