Newport Avenue Market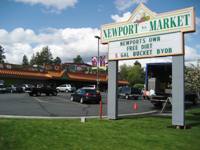 PLACE INFO
Type:
Store
1121 NW Newport Ave
Bend
,
Oregon
, 97703-1619
United States
(541) 382-3940 |
map
newportavemarket.com
Notes:
Open Daily 7am-10pm
Added by HiroProtagonist
Reviews: 11 | Ratings: 19

4.88
/5
rDev
+15.1%
vibe: 4 | quality: 5 | service: 5 | selection: 5
They have a new deal!
Buy 6 bombers (free bag with purchase of 6) and receive 10% off; and if you sign up for their 'membership card' you get cash towards your next purchase of beer (yes you can use it for beer). They have a really good local selection as well as some great west coast beers. They also have their own offering "Roller Bomber IPA" (not the best name) but Silver Moon is brewing it for them and it's pretty good!
Stop in, get a BIG sixer (sign up for the card if so inclined) and enjoy!!!
505 characters

4.66
/5
rDev
+9.9%
vibe: 4.5 | quality: 5 | service: 4.5 | selection: 4.5
This market has a very good beer selection with bottles ranging from European imports to local offerings.
All bottles are refrigerated under LED lights, so improper storage is not a concern. This is a huge/make-or-break issue for me, since I do not want to buy a nice bottle only to find it compromised due to improper storage once I open it.
Service was good.
Sign up for the free loyalty program to earn rewards.
Free beer tastings are also offered occasionally.
Will definitely go back, and would definitely recommend it.
529 characters
4.55
/5
rDev
+7.3%
Newport Market is a family-owned IGA supermarket franchise that has an extremly extensive selection of organic, ethnic, and hard to find foods. In addition they have a wide selection of microbrewed and imported beers. (Lots of wine too!)
The carry all the local stuff, including growlers from Bend Brewing, Deschutes, Cascade Lakes, Silvermoon, etc. Also wide selections from the rest of Oregon such as FullSail, Rogue, Bridgeport, Widmer, etc.
Other more known brands inclue Stone Brewery, Victory, Dogfishhead, SierraNevada, Lost Coast, etc. Including 22-240z bottles and such.
They sell singles or 6-packs, which is nice. Certainly the widest selection of beer in Bend (and they are open to requests too! so if you live in Bend, let them know and theres a good chance they can get other brands from their distributor)
832 characters
4.5
/5
rDev
+6.1%
Newport Market seems like a IGA grocery store from the outside, but inside it is much more. Besides being a high end supermarket full of great and sometimes hard to find products the beer selection is fantastic.
Besides having a small bmc area to cater to the average joe it has a very nice single, and a pretty good 6'r area. The brews range from the easy to find locals, so some rarities from the country and internationally.
Prices are decent, and compare usually to the other beer spots in the city, and the staff is very knowledgeable and helpful. Between newport market, whole foods and the brewshop you will find what you are looking for.
647 characters

4.5
/5
rDev
+6.1%
This bustling, high-end grocer on Bend's westside has an impressive selection of craft beers. They have a very knowledgable staff that is always present and I never worried about beer freshness when shopping here. You'll find Russian River, Great Divide, He'Brew, HotD, etc...here, but will get better deals on the 6 and 12 pack staple beers(Deschutes, Full Sail, Bridgeport) at the other westside chain grocery stores. Newport Market is always worth a stop, as the selection often changes, but is always top-notch.
515 characters

4.5
/5
rDev
+6.1%
Stopped in to pick up a ton of beer on my way home to Alberta. This is definitely a higher end food market, with a large beer selection. Lots of singles available as well as six packs and twelves. A large selection of Oregon micors. I thought I would find more of the Deschutes Reserve beers but I could only find Jubel 2010. There was also a good selection of western U.S micros, as well as beers from around the world. The beer manager came out and was very helpful as he could see I was going gangbusters pulling bottles off his shelves. There were a number of beers that had Beeradvocate rating tags attached to the shelf where the respective beer was sitting. It was slightly more then other places in town but I am not about to quibble about a few cents, If I find what I am looking for.
793 characters
4.38
/5
rDev
+3.3%
vibe: 3.5 | quality: 4.5 | service: 5 | selection: 4
Was guided here by our server at 10 barrel for wines and beer. The recommendation was a good one.
Atmosphere is glorified hippy organic grocery store.
Quality is very good. I am pretty sure they didn't carry any macros, (or very little) all craft and imported beers. Plus it was all refridgerated.
Service was very good. The checkout guy was very friendly and gave me a cool resuable bottle bag for free with my purchase.
Selection is good. All the locals are well represented, as are Portland and CA. Not a huge selection, but still very solid.
Prices were very fair.
Overall, a great place to pick up bottles in Bend.
625 characters

4.05
/5
rDev
-4.5%
This nondescript looking IGA store has a very impressive beer selection for a neighborhood grocer. When I was there in mid-April, they had Mirror Mirror, The Abyss, and Black Butte XXI bombers for $10.49, the lowest price for which I have ever seen these offered. Wide selection of PNW and Northern California breweries offerings and a very respectable import selection, especially Belgians. Prices seemed on par with specialty beer stores, and they usually have some beers on sale. Definitely worth a visit.
508 characters

4
/5
rDev
-5.7%
I stopped into the Newport Avenue Market on my way out of Bend earlier this week. I was hoping to pick up some Bend beers before leaving, and Newport Avenue Market was the only store open at the early hour I was leaving.
I was not disappointed, though. Not only was the selection good, with plenty of Bend and other Oregon beers, but also a decent selection of imports and other craft beers. Regular BMC type stuff was also available, but with a minimum of space devoted to them.
All the beers were kept in refrigerator cases, and everything was well-lit and handsomely displayed. Though this is a grocery store and not exactly a beer-centric business, the staff were very friendly and I even got a free six-bottle canvas wine/beer carrier out of the deal.
I will definitely head back here the next time I'm in town.
827 characters
3.85
/5
rDev
-9.2%
Bend Beer Sortie Summer 2010.
Located on bustling Newport Avenue, one of the primary East-West thoroughfares in Bend, Newport Avenue Market is a upper-end grocery store ala Whole Foods, though the prices are even higher than Whole Foods (I know that's hard to believe, but true). IMO, this is by far the best selection of beer in the area, about 60 feet of cooler space. The selection, while it certainly centers on the usual Pacific Northwest culprits, did feature a nice selection of imports, especially Belgians. Once again, the prices are on the high side, and if you are looking for the usual day to day beers, you may find better bargains at the big chain stores. While I didn't see any beer specific personnel, all the help was attentive and willing to help. Worth a visit if you are looking for something special to share. While not on the level of PDX best bottle shops re John's Marketplace or Belmont Station, this is a pretty nice selection for the outpost known as Bend. Worth a stop when in the area.
1,015 characters
3.7
/5
rDev
-12.7%
Newport Ave Market.
The coolest grocery in Bend, Newport Avenue Market carries a fine selcetion of high end grocery items, quality cookware and misc, and goodies, including a fine and fairly large selection of beer. Several countries are represented, with a nice emphasis on Belgians. I also found lots of quality bombers, and a large selection of 6 packs and cases from local and nation-wide microbreweries. This is probably the best selection in Bend, though I may have missed something. Also, a little rustic-style organic/fair-trade market lies across the street, and is worth stopping by as well. If your in Bend and need beer, go to Newport Avenue.
657 characters
Newport Avenue Market in Bend, OR
4.24
out of
5
based on
19
ratings.