Kingfisher Blue
| United Breweries - UB Group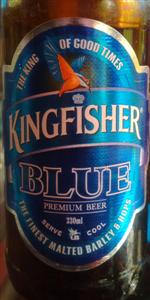 BEER INFO
Brewed by:
United Breweries - UB Group
India
Style:
American Adjunct Lager
Alcohol by volume (ABV):
5.00%
Availability:
Year-round
Notes / Commercial Description:
No notes at this time.
Added by Mebuzzard on 11-12-2008
Reviews: 3 | Ratings: 20

2.7
/5
rDev
+2.7%
look: 2.5 | smell: 2.5 | taste: 2.5 | feel: 2.5 | overall: 3.5
Kingfisher Blue has been around for a while now - though its presence is now bigger than ever. Bars, shops and pubs can't seem to keep enough of KF Blue. This one I poured into a pilsner glass, and predictably it poured the piss - yellow, bubbly self with a frothy head that was dead before you say the word "head". As expected, the beer seemed to be force carbonated with so much sodawork. Its not the yeast, but its the beast at work. The beer smelt of grains, a little malt and tin. Story was on script so far.
The taste was no headturner as well - little soapy, tad malty and bitter from the carbonation. The taste was far weaker than the KF Premium. I was not experiencing any rush - as the tagline suggests.
If you are in this part of the world, you will barely have options besides these adjuncts - so I suggest if you land this one, drink without prejudice.
★
865 characters
3.24
/5
rDev
+23.2%
look: 4 | smell: 2.5 | taste: 3.5 | feel: 3 | overall: 3.5
Had at Le Meridien in Pune, India 9/1/09
This beer pours a clear gold with a 2 finger of sudsy, rocky head to it. Head recedes rapidly leaving barely a film to the beer. Sheets of lacing coat the glass. Nose is of malts, grains, and a bit of hops - really had to look for it. Taste is much smoother than the Kingfisher, grains and pale malts not much of a bite to it. I think this is much better blended beer than the original King Fisher. Light to medium body, high carbonation, goes down smooth, some what silky/oily feel to the beer, clean finish. Not a bad beer to sit with, given the limited choices over here.
★
615 characters
1.91
/5
rDev
-27.4%
look: 2.5 | smell: 1.5 | taste: 2 | feel: 2 | overall: 2
"Xperience the Blue Rush" is the tag line for this new beer from the UB Group's Kingfisher line. "Meant for the young and adventurous who want something extra out of life"...ok. We'll try it.
Pours a clear, semi-golden straw color. Bubbles, looks carbonated beyond belief. Fizzy head. Looks no different than other KF stuff, except perhaps it's not as cloudy. Clean?...
Smells like stale malt and socks. Better than KF Strong, so it got 1.5 rating.
Taste is lack luster. But that's not bad considering the line. Very light. Carbonation tries to substitute for hops. It doesn't work. Malt characteristics develop then die a horrible death of uneven-ness and moldy.
Good thing is that the aftertaste isn't that long.
Avoid this new brew....unless you just have to try it...like me.
★
790 characters
Kingfisher Blue from United Breweries - UB Group
2.63
out of
5
based on
20
ratings.