Total Wine & More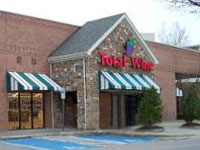 PLACE INFO
Type:
Store
333 Crossroads Blvd
Cary
,
North Carolina
, 27518-6895
United States
(919) 235-3322 |
map
totalwine.com
Notes:
No notes at this time.
Added by BeerAdvocate
Reviews: 14 | Ratings: 19

3.75
/5
rDev
-0.8%
vibe: 3.75 | quality: 3.75 | service: 3.75 | selection: 3.75
Stopped in here on the way back from Greensboro, found what I needed plus a few. IPA date issue was there, not horrific but an obstacle to say the least. Had a couple releases hanging around. All in all, it's a Total Wine, nothing wicked fantastic and nothing off-puttingly bad.
281 characters

3.25
/5
rDev
-14%
Large beer selection but you need to check the bottling dates. There is always some old product on the shelves. Don't even consider buying anything from Ballast Point from them ..... the age on those bottles is ridiculous. I go here only because it is on my way home and there is a lot to choose from. The singles and 22oz bomber section is always a disaster. Don't even bother asking the staff about when special releases are expected to be in stock ........ they have no clue. It's sad when I have more beer knowledge than the staff
This place used to be great when they had Todd P and Lisa L taking care of the beer section and customer mailings. However, Lisa left the company and Todd was moved to the Capital Blvd location. Of course, now the Capital Blvd location has a great beer section and service but it is a bit of a drive for me so I don't frequent it often.
872 characters
4.38
/5
rDev
+15.9%
vibe: 3.5 | quality: 4.5 | service: 4 | selection: 5
This place has a great beer selection. There are several different choices as well. There are individual bottles for make-your-own six packs (or any size really), a whole row of six-packs, several variety 12-packs and good deals on more widespread 12-packs (like Fat Tire and Sierra Nevada Pale Ale). There is also a small section of coolers with six-packs and big bottles.
The downside is that this store is a wine store, and the beer that I mentioned above is spread out throughout the store. Also, the staff seem to be less knowledgeable of beer and more geared toward wine. This is fine with me. However, sometimes beer (especially some of the six-packs sitting somewhere in a corner that are looked over) sits on the shelves for a long time. I have had at least one IPA that has gone bad from being on the shelves too long. Some beers do not have dates on them, so this could be a problem. Check dates whenever possible. Otherwise, I definitely recommend this place to try a lot of new beers. I'm sure other Total Wine locations are similar too.
1,052 characters
4.05
/5
rDev
+7.1%
A good place to go for beer in Cary. Cooler section on the right as you walk in, with some cases stacked in front.
They have moved all the beer recently. Sixers are in the back left corner of the store, but a vast selection of singles and bombers goes down the front middle aisle. A very nice selection here and a nice selection to mix a six from. They have really expanded their bombers and their import singles and it's worth a trip to check out.
Prices are fairly reasonable, and while there is a lot of beer to choose from here while I used to be underwhelmed by their choices they have done a much better job of stocking the shelves.
There are always a few hidden gems, though. Make sure to check out the endcaps down the center section of the store as well as the middle of the wine section. Some new beers get stored on the floor here.
848 characters
3.85
/5
rDev
+1.9%
My first time going here after hearing a lot about it. They had a good beer selection, and a good selection of singles although they were out of stock on a few beers. Good selection of both micro and macro brews. Everything from natty light to dogfish head, to Allagash, Victory, and more. Most singles ran $1.50 to $2, so a good way to try different beers but can get expensive depending on what you get. Case prices were good, same or cheaper than places like food lion on the same beers. No real service, but at this type of store I didn't really expect any. Set up like a warehouse style store full of beer and wine. Didn't check out the wine section, I hate the stuff, give me a beer, but they had a lot. Also a small cigar selection, as well as candies cracker, and gift sets by the registers.
799 characters

3.65
/5
rDev
-3.4%
I've been meaning to stop by this place for a while since I'm in the area on a regular basis but it's in the middle of that Crossroads nonsensical maze and I could never motivate myself to brave that parking nightmare to visit a self proclaimed wine store. So when I got a gift certificate from a friendly co-worker I finally had a good reason to check this place out.
As you come in there's a cooler case of sixers to the right and then a few small displays among the aisles upon aisles of wine. On the far side of the store they do devote some space to warm beer, including a respectable single area that I was able to fill a few sixers from. Lots of junk but stay the course. The variety is decent with some unusual international stuff and lots of microbrews I hadn't seen before. With the weather as cold as it's been, I was able to fill a six of just stouts I hadn't seen before so that's a plus. No service to speak of, but prices were pretty good overall. Worth a shot and I'll be back sporadically to see how they rotate and add new stock.
1,049 characters
4.05
/5
rDev
+7.1%
Stopped in this location for the first time this weekend. I was pleased with the selection of craft beers. There was an entire endcap filled with various summer seasonals in both sixers and singles. There was a whole shelf section with 750ml bottles and another with imports including several good German and Belgian breweries. The singles selection was quite good with several shelves holding a good variety of both styles and breweries both local and national. I did three DIY sixers with all different brands of hefe weizens and wheat beers. There was similiar variety with several other styles. I was also impressed by the full aisle of cases and six packs. Again Selection was pretty good featuring lots of breweries and styles. Not quite as varied as the singles section. I didn't have any trouble finding fresh bottles in either area. One thing that caught my eye in the cases section was that there were several "trail mixes" or sampler cases from several breweries and all were quite reasonably priced. If I hadn't already stocked up on sixers I would have grabbed a couple of those--definitely on my list for next trip.
Service was good at checkout. I literally didn't see another employee the entire 45 minutes I was there.
On a sidenote: I was disappointed in the "accessories" area. Lots of the expected wine accessories, but not a beer glass in sight. Also notably missing was bottle openers. There was ONE hanging forlornly amidst all the corkscrews, toppers, resealers, etc. and it was about $10. Really?
Those few things said, I had a really pleasant shopping experience here and will plan on returning for a quick weekend fix often. For more beer-geek attention though I'll plan on heading to Sam's in Durham.
Edit: Forgot to give props to this store--they have a list on their website that shows the stock in a specific store--easy to print off and mark my first and second picks to take with me--I tend to get overstimulated so having this little list kept me on track...for the most part.
2,016 characters

3.8
/5
rDev
+0.5%
One of the best places in Cary to stop for a quick beer purchase. The selection is quite extensive, however make sure you check the date on the bottles, as sometimes the single (or even 6-packs) will sit for long lenghts of time on the shelves.
TW&M always seems to bring in a decent seasonal selection (right now they have Hop Wallop, Old Horizontal, Duck Rabbit Barleywine, etc...) They also maintain an excellent variety of imports from all over the world.
Service is relatively friendly, they seem eager to try and acquire new beers if you ask, although we'll see if anything results from my Bell's HopSlam request. The one problem with the service is that the wine-afficionado's seem don't exactly hold us craft-beer drinkers in high regard. Case in point is thier advertised 2008 St. Patrick's Day beer tasting "Over Fifteen Beers, free appititzers, etc etc". Well, they had 7 beers from two different breweries (Fort Collins and Guinness) and the appitizers were nasty...it was all a ploy to get us to come in and buy beer. Nevertheless, it is a good spot to try new beers (mix & match 6-packs, although it can get pricey). The selection is good, but doesn't seem to vary a whole lot except for a few seasonal acquirings.
1,231 characters
3.85
/5
rDev
+1.9%
There's nothing like filling a grocery basket full of beer & wine! The Total Wine stores near me have the warehouse grocery store feel with bottles from end to end. There are coolers up front with some of the more popular items, including several beer selections but the bulk of the items there on are on sturdy shelving.
The beer selection is quite nice and most of the items they sell are available as singles with the exception of the more typical American macro brews (not sure why you would want a single of Bud anyway). One of my favorites is the Trappist style and they have a few of them (Chimay, Westmalle, Orval, and occasionally Rochefort), along with some of the similar abbey styles from Belgium and around the world. Additionally there are other ales from around the world with a good concentration on English and German offerings.
One whole section of shelving at this store is for the American craft brew market. They have a decent selection of both general American micros as well as some of the breweries in and around North Carolina. If you catch them when they stock, they sometimes have some of the special releases but they tend to go quickly.
Being located right in the heart of Crossroads Shopping Center makes this a pretty good location and it's not far out my way from work if I'm looking for something special or specific.
1,354 characters
4.3
/5
rDev
+13.8%
Like many have said before me, try and stick with recently released beers when visiting here. The selection is quite respectable and the staff is always helpful. If there is something they don't have, the manager is always willing to order it if their distributor carries it. Another perk I like is there is a slight discount if you purchase a whole case. Where many people have been carrying Hop Wallop for $10.99 a sixer, I was able to buy a case when it first hit the shelves for $37.99. They also have just about every beer they carry available in single bottles. Great for beers that you want to try but worry you might not like. While I don't come here regularly, the convenience factor is certainly a plus when I just want to grab a few beers to take home after work.
774 characters
3.5
/5
rDev
-7.4%
quality: It's best to catch beers here when you know that they have come in recently, as they tend to sit around on the shelves for awhile in my experience. Most of the beers I've purchased here have been just fine, but I've had a couple past their prime.
service: Good service. Someone usually asks me if I need help. They are more focused on the wine, but they are not beer-ignorant at least. Some employees have been less than knowlegeable, others have been pretty good (in discussions I've heard with other patrons).
selection: Nice selection. Many NC micros as well as from all over the US. They have a nice seasonal selection as well as quite a range of big beers. There's also a decent amount of Belgians to be had. Huge single selection, though I am always a little wary of their age. Many singles or rareish Belgians that you would be hard pressed to find elsewhere.
881 characters
3.35
/5
rDev
-11.4%
This is your typical sterile chain wine store, but they do have pretty good prices on most beer (fuller's 6 packs were 7.99 i think) and some interesting items that arent commonly available. They have a sam smith gift set thats pretty cool and reasonably priced (includes a very nice sam smith pint glass) and some fairly rare beers like Cantillion Rose de Gambrinus and a few others. Singles are a bit pricey but not out of line. Overall beer selection is descent with all the rogues, great divide and avery available in NC before the PTC law passed and some other american micros and british beers. A descent store but nothing out of the ordinary total wine.
660 characters

3.65
/5
rDev
-3.4%
Has a grocery store atmosphere. Sliding automatic front doors and shopping carts at the front. The selection of beer is pretty good. Most major brands and micro brews are available. Now that NC has Popped the cap, they now carry stronger beer too. The prices are very reasonable. I can pick up any six pack or Sam Adams and Sierra Nevada for $5.99 at all times. You will save at least a dollar or two on other famous brands too. The staff is very helpfull and friendly. All around a great store to get your fix for the essential micro brews. But! NC has raised their alcohol content on beer, so I believe their selection will continue to grow.
643 characters
3.25
/5
rDev
-14%
Total Wine and more carries many of the same beers from store to store in the Triangle area. The Cary store had an interesting layout of NC beers that most of the others do not. The beer section however seemed more crowded and compact that at some of the other locations. The selections were pretty good, but the Capital Boulevard and Raleigh locations are better places to go for selection.
This is the first TW location in NC where I was not asked if I needed assistance despite two managers repeatedly passing me as I checked out all the beer selections. Not a bad place to stop, but only if in the area and needing some beer.
632 characters
Total Wine & More in Cary, NC
3.78
out of
5
based on
19
ratings.