Andechser Spezial Hell
| Klosterbrauerei Andechs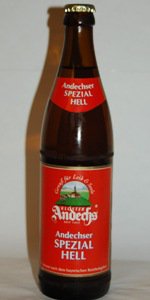 BEER INFO
Brewed by:
Klosterbrauerei Andechs
Germany
andechs.de
Style:
Munich Helles Lager
Alcohol by volume (ABV):
5.80%
Availability:
Year-round
Notes / Commercial Description:
Its clear gleaming look and firm, fine pored head goes hand in hand with its fresh and pure aroma. Malty nuances are the first impressions.
Spezial Hell is pleasantly tangy with a full, round malt body that cannot fail to fascinate. The soft flavour carries a distinctive balance of sweet accents and bitter hoppiness.
It concludes on equally soft malty nuances – a classical festival beer in the tradition of old Bavarian brewing.
Added by BeerAdvocate on 06-18-2002
Reviews: 61 | Ratings: 119
4.18
/5
rDev
+9.1%
look: 4.5 | smell: 4 | taste: 4.5 | feel: 3.5 | overall: 4
Ahh, Andechs! I was thrilled to see this appear on tap in a previously unremarkable German restaurant. Served in a logo glass better designed for a wheat beer, this pearl came out clear vibrant gold under a two finger white head with great retention and very nice lacing action. The aroma was nice and hoppy, with sweet malt to balance. The mouth was mildly carbonated and slightly cloying. The taste is what it should be: nice smooth sweet malt, chased by a mild but distinct hoppy bitterness. The aftertaste is pure Goldilocks: not too bitter, not too sweet. This is a good beer!
★
581 characters

4.18
/5
rDev
+9.1%
look: 4.25 | smell: 4.25 | taste: 4 | feel: 4.5 | overall: 4.25
A: Pours rich white head at first, then the liquid rises as the head settles. Clear golden color. Rich lacings. after a really long time.
S: Malt and bitterhops - nothing else, but a very nice balance. Modest but still rich. This is like "don't mend what's not broken".
T: Again this is a very "simple" beer - but man they've made the most of bitterhops (eventhough rather mild) and malt. No other tastes are present - and that makes me grateful!
M: A mild sour but more bitter aftertaste stays for a surprisingly long time - me like! Body is light while carbonation is rich but still modest.
O: A question comes to mind; can the brewer at Andechs brew a product that isn't top notch? In my opinoin; NO, not even in his sleep. Yet another fantastic Bavarian beer.
★
768 characters
4.23
/5
rDev
+10.4%
look: 4.5 | smell: 4 | taste: 4.5 | feel: 4 | overall: 4
On tap at Klosterbrauerei Andechs Bräustüberl. A visit here is indeed a special occasion worthy of the Spezial Hell. Yellow/gold colored clear brew, frothy off-white head. Malty, hints at sweetness...hopped gently. Balances back and forth between the two expertly. A refreshing and thoroughly enjoyable helles...one of the best.
★
330 characters
4.26
/5
rDev
+11.2%
look: 5 | smell: 4 | taste: 4 | feel: 4 | overall: 5
Bottle bought from the monastery about a month and a half ago. This review may not be accurate because I am a little choked up when drinking this. The Andechs monastery is a beautiful place and I miss it.
Appearance is perfect. Golden with a stunning white head that blankets the beer the whole way down in my pilsner glass. Smell is very hoppy. Grassy hops dominate and are backed up by a strong bready smell - this is a doughy, freshly baked bread smell. Taste is more of the same. Malt is pleasantly sweeter than you would expect but is balanced very well by the grassy hops which are a little bit spicy at the end. Mouthfeel is outstanding as with the other Andechs beers. Crisp and refreshing, yet velvety at the same time. At least until close to the end of the glass, when the carbonation fails, which makes it a bit too watery.
I'm drinking by bottle too quickly :o(.
★
881 characters

4.28
/5
rDev
+11.7%
look: 4.5 | smell: 4 | taste: 4.5 | feel: 4.5 | overall: 4
Thanks to Thirstybird for bringing this one back from Germany. 500ml bottle served at 48 degrees in a pilsener glass. 12 09 12 indicated on the back label. Pours a translucent gold with a loose, two inch, off-white head that sizzles and pops as it slowly recedes. Tiny bubbles effervesce from the base of the glass to the underside of the cap. Nose expresses cereal grains and a light grassiness - fairly clean. Taste consistent with nose - very clean and refreshing with a light, lingering German yeast character at the back without the skunk. There's also just a kiss of noble hops to keep it from coming off as overly sweet. Mouthfeel is light and lively with a fairly clean finish. Overall - wow. I'm not too familiar with the style but this beer really hits the spot. Light and refreshing with a great balance. Really easy drinking and although not really a session beer per se, I could see myself having a few of these in a sitting.
★
938 characters
4.29
/5
rDev
+12%
look: 4 | smell: 4.25 | taste: 4.5 | feel: 3.25 | overall: 4.5
appearance: crystal clear, a pleasant rich head but not doughy, effervescent without being over bubbly
smell: straw smell with a bit of fruit on the sides, nice mix
taste: nice where can I start. First its smooth flavor of great rich malty sweetness. On the end is a nice bight but not too much. Really loving this flavor.
mouthfeel: bit weak wish it hung out a bit longer, but it is more of just a bitter flavor not the full Monty
overall: A good brew they made this one so you would want one after another. I like it definitely recommend to anyone
★
556 characters
4.32
/5
rDev
+12.8%
look: 4 | smell: 4.5 | taste: 4 | feel: 4 | overall: 5
A - Very clear, crisp golden color with plenty of bubbles. Fairly large, thick, light, rocky, foamy white head with decent retention and a thin layer of bubbly lace.
S - Good grainy base with plenty of grassy, herbal, and floral hops. Slight sweet and bready malt is well balanced with that hop aroma. Hint of mineral aroma on the finish.
T - Similar to the nose. A nice grainy and bready malt base. Mid sip to the finish there is a nice floral and herbal hop flavor. Not too strong or overly bitter, but it provides a nice counter to the malt. A nice balance between the two, the malt is stronger, but the hops provide a nice little kick. A touch of mineral and spice flavors toward the end.
M - Medium body with a healthy amount of carbonation. Pretty smooth and refreshing with a bit of a spritzy feel. Quite refreshing.
D - Very easy to drink beer with a good amount of hops and carbonation to give it a bit of a kick with the malt. An easy and enjoyable drink.
Notes: Best before 18/10/10. A very nice, easy to drink beer. Well balanced with a good amount of flavor. Made for a great beer to sip on a sunny and warm day. Refreshing and has just the right amount of hops to keep it interesting. Definitely worth a try if you can get it.
★
1,245 characters
4.35
/5
rDev
+13.6%
look: 4 | smell: 4 | taste: 4.5 | feel: 4.5 | overall: 4.5
Pours out pale straw and sits bright light gold in the glass with a large creamy white head. Fades to a faint skim, some lacings present.
Crisp, crackery aroma with hints of caramel and diced almonds. Solid backing of grassy hops.
Tastes lightly sweet up front, maltiness portioned into saltine doses. Slightest protrusions of alcohol paired with mildly spicy, grassy hops. Finishes with a cleansing, low bitterness.
Crisp to to tongue, but immensly smooth beneath. Solid carbonation, and a light body.
Superb quality, second best helles sampled while in Germany (Augustiner on cask wins out). This bottle, brought back, conjures up many fond memories.
★
664 characters

4.37
/5
rDev
+14.1%
look: 4 | smell: 4.5 | taste: 4.5 | feel: 4.5 | overall: 4
Had this on-tap at the monastery last week.
Pours out a light,golden color, light active carbonation, makes a very nice effervescent head.
Smells a bit weak, but after warming, clear dicernable biscuty malts, light bitter hoppiness, unsmoked tobacco, the high mineral content of the water here comes through in the sharp tartness of the aroma. Light musty grains, citrusy lemon aromas, finishes with a hoppy-pilsner refreshing quality.
Flavors are clean, light, and another exibition of the perfectionistic execution and restrain´ment of a well made German beer. Begins light, bitter, malty, and ends with a lightly pungent hoppiness married with a citrusy malt note. light, highly drinkable, and clean, it is easy to see why this is such a popular summer beer. the overall bittering hop quality sets the flavor apart into a clarly dicernable catergory than a Pils. Would pair great with light seafood, or grainy bread. tasted pretty good with the monastery's cheese and freshly baked pretzels.
--As an edit: after several months, this beer truly is the best of the Munich Helles. Augustiner Pulls a close second, but the Andechs holds a slightly spicer peppery edge that really puts it out on top. The sweetness is in perfect check, and now after drinking a perfectly fresh bottle made 2 days ago, Im editing the review for top place.
★
1,336 characters

4.39
/5
rDev
+14.6%
look: 4.5 | smell: 3 | taste: 5 | feel: 4 | overall: 5
Poured on-tap at the Kloster Andechs...
Appearance: Pours a beautiful light and lively golden hue with a mouth wateringly inviting head.
Smell: Fairly middle-ground with a neutral kick of grassy, grainy, hoppy deliciousness. It leaves you to be surprised by it's delicious taste.
Taste: Utter beauty. This is by far the most drinkable and delicious of helles lagers I have tasted. My all-time favorite for this category. Worth a trip back just to get this beer alone.
Mouthfeel: Carbonation livens the palate along with the smooth highly drinkable consistency that is this oh so special beer.
Overall: A must have with a trip to the Holy Mountain! Alongside the plethora of beer that this monastery pumps out this is a good base for the magnificence that this place will bestow upon your taste buds. Gogogogo!!
★
815 characters
4.42
/5
rDev
+15.4%
look: 4 | smell: 4.5 | taste: 4 | feel: 5 | overall: 5
On my father's recommendation from his time in Munich many years ago, I visited the Andechs monastary and biergarten with a friend during a month-long tour of Europe this summer, and brought back a few half-liter bottles as a present for dad. He generously split this one with me.
It pours a straw yellow with an interesting mossy green tint, but the very small white head lasts only a few seconds and leaves behind hardly a trace. Warm and inviting, the sweet, hoppy, slightly sour aroma is evocative of pressed apples, oak, and cut grass. An uncomplicated taste of sour cider with a hint of malts refreshes perfectly, with a rich, satisfyingly hoppy finish and an ever-present fizz that never overpowers. It's all pretty subtle so make sure to drink it fairly warm if you want to catch any of the details.
An unassuming, really nice helles to relax with, if you can get your hands on it. I hope I can find another bottle before too long.
★
945 characters
Andechser Spezial Hell from Klosterbrauerei Andechs
3.83
out of
5
based on
119
ratings.