Andechser Bergbock Hell
| Klosterbrauerei Andechs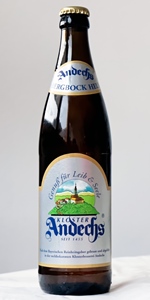 BEER INFO
Brewed by:
Klosterbrauerei Andechs
Germany
andechs.de
Style:
Maibock / Helles Bock
Alcohol by volume (ABV):
7.00%
Availability:
Year-round
Notes / Commercial Description:
With its firm, fine pored head, luminous gold and clear gleaming look, it cannot fail to awaken expectations of pure pleasure.
Strong malty nuances and floral hoppiness are imbued with accents of slight fruitiness. Despite its strength, Bergbock is pleasantly mouthcoating, with a powerful, but unobtrusive body. A highly discrete, finely bitter hoppiness transforms into a slight honey sweetness to conclude on a soft, harmonious aftertaste.
A harmonious light bock of character that cannot be put down after the first drink.
Added by NeroFiddled on 10-19-2002
Reviews: 65 | Ratings: 107
2.54
/5
rDev
-34.9%
look: 4 | smell: 2.5 | taste: 2 | feel: 4 | overall: 2.5
A: A golden colour with a nice finger's width head that sticks around a bit
S: It smells like corn. Corn out of a can or something weird. No hops really.
T: This tastes like canned corn to me. Extremely matly and not very tasty.
M: A bit creamy with a bit of carbonation
D: Sort of
Either this beer is off or it just sucks. I was hoping for more from Andescher.
368 characters

3.97
/5
rDev
+1.8%
look: 3.5 | smell: 4 | taste: 4 | feel: 4 | overall: 4
A - Pours a clear gold, with an inch of foaming white head. This falls to a thin island and ring. Low-medium looking carbonation and several streamers.
S - Honey, nuttiness, sourdough bread, light fruitiness, caramel/toffee.
T - Mouthful of honey at first, with a slightly sour/bitter edge and some background peppery spice. Bitterness builds towards the end and the finish is crisp. Alcohol warmth comes through a little in the aftertaste.
M - Light-medium body and soft carbonation.
D - Very easy drinker considering the strength. I'm not particularly familiar with the style, but this was very tasty.
615 characters

3.88
/5
rDev
-0.5%
look: 4 | smell: 3.5 | taste: 4 | feel: 4 | overall: 4
I brought this bottle back from a recent trip to Munich. It was one of five beers I purchased at a local off licence for a total cost of under €5 - sickening, isn't it?
Anyway, tasted this on 16.12.07, best by 02.04.08. It poured a nice clear light amber beer with a fine 2 inch white head. When the head subsided, it left clumps of activity on the surface.
The smell was a pleasent floral hops smell.
The taste was a fairly complex mix of sweetness and bitterness (hoppy finish). There was a nice warming alcohol feel.
Mouthfeel was smooth and slightly syrupy.
Not quite a session beer because of its ABV content, but this one feels very drinkable.
651 characters

3.5
/5
rDev
-10.3%
look: 3.5 | smell: 3.5 | taste: 3.5 | feel: 3.5 | overall: 3.5
500ml bottle
A- Golden colour with some orange hints if held through light. Medium and nicely tight head that shows scarce retention and leaves very litlle lacing on the glass
S- Very sweet bready malts, mixed with a fresh wet-grass feel from the hops. A slight hint of citrus on the back. Can't say how but the aroma has a syrup character to it
T- Can I just copy and past the smell part? Sweet bready malts, a fresh and almost not bitter at all herbal feel from the hops. Then some light hints of lemon and a faint spiciness from the esters. Still can't say how, this beer feels quite like syrup even in the taste
M- Smooth with a not so big body for the ABV. Carbonation is quite low, maybe this is why the beer feels oily
O- Highly refreshing for the ABV and an easy drinker. There is no complexity at all though
821 characters

4.45
/5
rDev
+14.1%
look: 4 | smell: 4 | taste: 4.5 | feel: 4.5 | overall: 5
Enjoyed from the tap at Der Andechser Ratskeller in Wiesbaden.
http://www.derandechser-wiesbaden.de/
Appearance - clear golden body with a white, pillowy head.
Smell - sweet malt with the smell of Spring in the background.
Taste - mellow bitterness with a slight sweetness that will accompany any meal.
Mouthfeel - tastefully light with no hints of alcohol.
Drinkability - I could drink this beer all day and double on Sunday. Although the alcohol content may be higher than some, you won't notice it because you'll be enjoying the taste so much. For a brewery that has existed since the Middle Ages, they have definitely kept up with the tastes and flavors of present day. If you can find anything from Andechs, buy it and enjoy it with zeal!
745 characters
4.2
/5
rDev
+7.7%
look: 4 | smell: 4 | taste: 4.5 | feel: 4 | overall: 4
OK, so I am biased...but this is one of my favourite beers, German or otherwise, along with anything else Andechs brews!
Rich strong flavours, almost take your breath away at first, with a sweetness at first sip that eases as you drink more. Bags of character and flavour that do make it dangerously easy to drink as others have said, but on a hot summers day...who cares?
Just waiting for the day I can visit the Andechs Monastery Brewery and have it - and all the others....could by my taste of heaven!
John W
Bham UK
527 characters
4.1
/5
rDev
+5.1%
look: 3.75 | smell: 3.75 | taste: 4.25 | feel: 4.25 | overall: 4.25
L: clean looking, light honey, lots of bubbles, good head
S: Hay, wet grass, notes of honey, sour water
T: Clean, honey, light, refreshing, a little sweet
F: Smooth, goes down nice, very nice feel
O: Normally I find all Helles to taste the same but this one is quite different with a more sweet taste that's great after a hike in the mountains or a bratwurst mit sauerkraut
374 characters
3.97
/5
rDev
+1.8%
look: 3.5 | smell: 4 | taste: 4 | feel: 4 | overall: 4
not much head on pour. Aroma nice and clean, malty, perhaps a tad of alcohol in addition to heavy malt. Flavor is good, again clean and malty, a touch spicy (maybe cinnamon, just a faint hint, from hops perhaps (some noble hop types are described as having a cinnamon note?). Overall quite nice!
295 characters

4.02
/5
rDev
+3.1%
look: 4.25 | smell: 4 | taste: 4 | feel: 4 | overall: 4
I would like to say a little upset data beer, not a weak expression of taste, smell is almost absent, the only thing that pleases is the appearance of the bottle and the color of the beer !!!
191 characters

4.35
/5
rDev
+11.5%
look: 4 | smell: 4 | taste: 4.5 | feel: 4.5 | overall: 4.5
Poured from a 0.5L bottle, expires Dec. 21st...
Appearance: Beautiful honey gold with a fluffy 2 finger head. Lacing is gradual but minimal.
Smell: Sweet bready malts are easily noticable with minor yeast and hop balance.
Taste: The ABV is slightly noticeable in the taste but the flavoring hides it well. Flavors of both bitter and sweet to balance it out with many pairings.
Mouthfeel: Clean and crisp carbonation leaves it refreshing while not overbearing or boring.
Overall: All around top notch beer for it's style. Having tried all of the Andechs beers I can guarantee you that any of their styles will not stray far from exemplary. I did not happen to see this one on tap when I was there though. Regardless, the Kloster Andechs is a beer connoisseurs Mecca!!! Prosit!!!
782 characters
4.2
/5
rDev
+7.7%
look: 4 | smell: 4 | taste: 4.5 | feel: 4 | overall: 4
Appearance is a shiny gold with a rather big but frail white head and some lace.
Smell is a thick, honey-like sweetness from the malt, combined with a grainy note, a gentle touch of hops, some fruitiness and an impression of roses. Yeast is a bit musty or peppery, but somehow 'funky' too. Great.
Juicy malt dominates the palate and suggests honey and fresh apples. Next, the taste becomes a bit salty and rather spicy, with a drier trace of wood in the finish. Hop presence is obvious and a bit minty, maybe somewhat subdued considering the style, but in great concord with an incredibly rich malt palette whatever the case. This beer moves towards the sweeter side of the spectrum, but it's very good at doing so. Alcohol is a presence as well.
Mouthfeel is very smooth with moderate carbonation and a medium-to-heavy body.
829 characters

3.6
/5
rDev
-7.7%
look: 3 | smell: 3 | taste: 4 | feel: 4 | overall: 3.5
Pours a golden yellow color. It is definitely helles! Very light indeed, but very full. Very clean and crystal clear. The head disintegrates and is rather poor. The smell is sweet carmel or honey and straw/grains with a very light floral hops aroma.
The taste is very good, making up for the poor showing with head. The mouthfeel is just right to drink many of these. I like this beer, and have had it after having their doppelbock. I would definitely go for the doppelbock over this, but this is nothing to scoff at. This is quite the treat! Light (not boozy tasting), but still a fairly heavy (boozy) beer.
609 characters
3.85
/5
rDev
-1.3%
look: 3.5 | smell: 3.5 | taste: 4 | feel: 4 | overall: 4
Pours a golden yellow with medium, long-lasting head. Aroma is moderate with hints of grassy hops, bread, and lemon. Taste is dominated by the sweet malts with a touch of citrus, bread, and a slight grassy hop on the end. Bitterness is minimal but noticable. Finishing is very sweet.
283 characters
4.6
/5
rDev
+17.9%
look: 4.5 | smell: 4.5 | taste: 4.5 | feel: 4.5 | overall: 5
My german wife's sister had sent another treat in her Christmas parcel, but as it came late (Jan 12), it was not until some days ago that we actually had it.
The Andechser Doppelbock Dunkel is my alltime favourite beer, so I was very curious to try this one.
I poured half of the bottle in each Andechser glass (yes, now we have 2, thanks to my german sister-in-law), and we were happily watching the strawblond filling it up, then being topped with a white thick head (which desolved within the next 2 minutes).
Nose: fresh, slightly fruity.
Taste is mildly hoppy, smooth and refreshing.
Mouthfeel is also smooth with mild carbonation.
It is so clean and refreshing, you are tempted to drink it quickly. But behind the light Maibock taste hides a 6.9% Vol. alcohol punch.
Then the glasses were empty, and we cried - again...
832 characters
3.93
/5
rDev
+0.8%
look: 4 | smell: 3.5 | taste: 4 | feel: 4.5 | overall: 4
Straw golden-yellow with a shimmering head that quickly dissipates. Strong lemon fragrance and a bouquet of meadow flower honey from the mountain. Sweet, crisp grains blend smoothly with the light bitterness of the hops. Lemon flavors take their turn at the end. yummm funny that the alcohol doesn't make its self more known - but i like it. a very good mouthfeel as always with bayern lagers. really good drink, probably going to taste really good with a boulette.
Prost!
472 characters
Andechser Bergbock Hell from Klosterbrauerei Andechs
3.9
out of
5
based on
107
ratings.