Widmer Gasthaus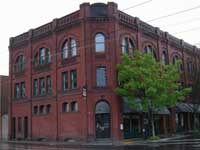 PLACE INFO
Type:
Bar, Eatery
955 N Russell St
Portland
,
Oregon
, 97227-1733
United States
(503) 281-3333 |
map
widmerbrothers.com
Notes:
Dining room hours:
Sunday - Thursday: 11:00am - 10:00pm
Friday - Saturday: 11:00am - 11:00pm
Bar hours:
Sunday - Thursday: 11:00am - 10:30pm
Friday - Saturday: 11:00am - 11:30pm
Added by weefisheads
Reviews: 23 | Ratings: 44
3.85
/5
rDev
-8.3%
vibe: 4 | quality: 3.5 | service: 4 | selection: 4 | food: 4
Widmer straddles both sides of North Russell Street brewing over 140,000 barrels of beer annually with the capacity for even more. This makes Widmer the largest brewery in Oregon and about the 18th largest in America. They brew in several old redbrick buildings in a quirky industrial nook under the Fremont Bridge. I really like the neighborhood. From the Gasthaus you can watch freight trains in their yard or the new Max light rail go zipping past. (Light rail is the best transportation option for visiting the Gasthaus.) The views of the bridge are inspiring and just a block away is McMenamins White Eagle Saloon if you crave live music or lodging.
The restaurant serves a full compliment of entrees, pastas, pub fare, and desserts. Outdoor seating is available seasonally and children are welcome throughout. The décor at the Gasthaus is comfortable, lively, and casual with lots of redbrick, polished brass and old wood. The tall, brassy tap spigots are especially artistic though they loom obtrusively at the bar. The usual line of T-shirts and the like are available and everywhere throughout the bar you see the ubiquitous letter "W". I like the Gasthaus and I like their beers. I'm not fond of "W".
Those who are only familiar with Widmer's line of ambers, blondes and flagship hefeweizen will be pleasantly surprised at the scope of Gasthaus beers. Stronger beers such as imperial stout or barley wine are often available, as are other inventive brews with only limited regional distribution. Widmer earns high praise for its Collaborator series. These are beers originally created by intrepid homebrewers that Widmer brings into full-scale production for seasonal release. They range from Irish stouts to bocks and saisons and are consistently quite good.
Widmer has maintained a "distribution and equity agreement" with Anheuser-Busch since 1997. Some would argue that the alliance between an early craft brewing pioneer and America's uncontested industrial beer mogul is unhealthy, if not unholy. I fully concur with this sentiment. A-B has a long sordid history of aggressive marketing practices that have curtailed the efforts of micro and craft brewers to compete fairly for even the most modest of customer bases. Their tremendous market dominance gives them an unfair political and economic edge over their competitors and A-B has used this advantage to unapologetically crush their opposition and silence contrary opinions. So think before you drink.
2,491 characters

4.22
/5
rDev
+0.5%
vibe: 4 | quality: 4 | service: 4.5 | selection: 4 | food: 5
I first visited this nearly 3 years ago when I moved to Portland and had a good time, enjoyed my beer, and really enjoyed the food. This time I hopped on the brewery tour before dropping by the bar.
The Brewery tour is interesting in that you get to see Widmer's rather attractive and shiny brewery. The hop room was my favorite, though the whole brewery is well designed. Plus, after the tour you get to try several of their beers - for free!
The Gasthaus is also an attractive building with a well kept look to it. The walls are decorated with interesting German brewery signs that give it a very classy charm. The abundance of wood creates a warm atmosphere, which is complimented by the stream of people moving through the place. It was quite popular on a Saturday afternoon.
The beer selection is pretty varied, including some spectacular beers I didn't even know were in Widmer's repertoire. There's also wine if you're in to that kind of thing.
The staff all seem quite competent, and the bartender I yammered with seemed to know beer intimately. He could have easily used another pair of arms as busy as it was.
I didn't have any food this time, despite the amazing looking reuben that seemed to be following me around. However, the last visit left me with a fondness for their food.
1,307 characters
4.25
/5
rDev
+1.2%
vibe: 4 | quality: 4.5 | service: 4 | selection: 4 | food: 5
Whether you know what a Gasthaus is before you enter or not, it's readily apparent when approach Widmer that this place is about beer. The facade of the building is what you'd expect from an oldtime bewery - all brick! - and the smell of brewing always permeates the surrounding neighborhood.
The decor of the Gasthaus is pretty minimal, but the open and wide layout of the restaurant and bar area create a really nice atmosphere.
Though I give the service pretty high marks, it's actually an average of both times I've been to the Gasthaus - the first time GREAT service, and the second time when getting service was a struggle. However, the place was really hopping the second time, and when we were helped the server was pretty nice, so I'm inclined to believe that overall the service is quite good.
But this is Widmer, and going to a brewery should be all about the beer. Despite the selection being mostly limited to Widmer beers, I still gave the selection a good rating because there are a few beers you can get here that you won't find anywhere else. As I usually do when I get the opportunity, I ordered the sampler and was thrilled that I got to choose the beers I wanted. Amoung the choices were a Dopplebock, Bourbon Barrel Imperial Stout, and a Barleywine, none of which are bottled or readily available. Although a few of Widmers mainstream beers are ho-hum, I still rated the quality as good because everything I tried was very fresh and the above mentioned hard-to-find drink were all fantastic.
Although the intent of going to Widmer was to have a few brews and food was but a second thought, the next time I go to Widmer it will be for the food first. Widmer has gone to great lengths to make their Gasthaus as German as possible, and though this isn't reflected in its decor, it certainly is in its food. Along with some more traditional options like steaks, seafood, and pasta, the menu also has some schnitzel, sauerbraten, and several sausage choices, all at very reasonable prices. I also loved the appetizer menu and opted for the Pretzel with Fondue dip for $2.50, though folks I was with raved about the Bourbon Bock wings and the artichoke brie dip. Yum!
All in all, Widmer is definitly a place I'll go back to. Like a few larger breweries in Portland (MacTarnahan's, Bridgeport), it's too bad that it's not in a more convenient location, but for a great dining and beer experience, it's worth the detour (especially if you take the tour as well - loads of freebies!)
dB
2,516 characters
Widmer Gasthaus in Portland, OR
4.2
out of
5
based on
44
ratings.