Sly Fox
| Feral Brewing Co.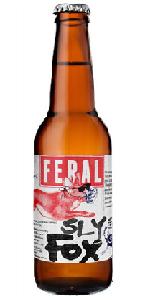 BEER INFO
Brewed by:
Feral Brewing Co.
Australia
Style:
American Blonde Ale
Alcohol by volume (ABV):
4.70%
Availability:
Year-round
Notes / Commercial Description:
No notes at this time.
Added by heygeebee on 11-30-2013
Reviews: 8 | Ratings: 27
3.61
/5
rDev
-1.1%
look: 4 | smell: 3.5 | taste: 3.5 | feel: 3.75 | overall: 3.75
Nice beer but lacks punch. The appearance is cloudy and the nose fruity. Mouthfeel is pleasant and the beer is quite refreshing. Hoppy finish that stays for a while.
165 characters

4.02
/5
rDev
+10.1%
look: 4.25 | smell: 4 | taste: 4 | feel: 4 | overall: 4
From bottle, The beer is lightly filtered for a vibrant hoppy, citrus and piney aroma with a clean bitterness that pairs perfectly with a hot summers day.
154 characters

3.75
/5
rDev
+2.7%
look: 3.75 | smell: 3.75 | taste: 3.75 | feel: 3.75 | overall: 3.75
I had a 330ml bottle. This beer won a bronze medal in the 2014 CBIA Craft beer awards in the 1E category English style Summer Ale.
Appearance: pours as a light bright colour, lighter than expected but it looks fresh and vibrant. Good white head. Some residual cloudiness which I purposely stirred up.
Aroma: very fresh citrus and pine hop aromas. Fantastic aroma for what appeared as a lighter style beer base on the colour.
Flavour: bang! Flavour is fresh and the aromas follow through on the palate. Excellent balance of bittering and good level of carbonation and medium body mouthfeel. One of the better beers I have tasted. This would be a very sessionable beer.
Overall: this is a great beer. I was pretty much blown away by it and cannot wait to have it again.
771 characters

3.44
/5
rDev
-5.8%
look: 3.25 | smell: 3.5 | taste: 3.5 | feel: 3.5 | overall: 3.25
Bottle: standard 330mL brown bottle, typical Feral Brewing label. So, okay.
Appearance: pours a clear pale straw yellow with fine carbonation. A small white head dissipates quickly to a thin ring.
Aroma: plenty of tropical fruits and some herbal and grassy hops. Not much malt or backbone.
Taste: pretty much follows the nose - plenty of fruit and grassy hops, without much malt. Refreshing to say the least, if a touch one-dimensional.
Aftertaste: some hop bitterness with tropical fruits still hanging about.
Mouth feel: light- to-moderate in body with a moderate carbonation to bring the flavour through.
Overall: another example of a decent but not overwhelming beer from Feral, with a price tag far too high. Quite a refreshing tropical fruit-based beer, but not good enough for the price of AU$88 for a case of 24 x 330mL.
836 characters
3.35
/5
rDev
-8.2%
look: 3 | smell: 3 | taste: 3.5 | feel: 4 | overall: 3.25
Pours gold with a small head.
Nose shows grassy and spicy hops, soft light malt and hay.
Similar flavours with the same spicy hop notes and some light sweet pilsner-like malt followed by an assertive bitterness.
Nice moderately light body, could use a bit more carbonation though.
280 characters

4.1
/5
rDev
+12.3%
look: 4 | smell: 4 | taste: 4 | feel: 4 | overall: 4.5
Pours an attractive filtered blonde yellow like a wheat-influenced beer should, with nice foamy head on top.
Nose is very grassy, hydroponic hops but also a lot of tropical notes, my guess would be something like Simcoe and Galaxy. Has what I'm fairly sure is a wheatiness too (based on the colour and flavours of this beer, I'm not 100% sure it's brewed with wheat though). Hoppy plastic. An interesting meatiness.
Taste is big, big passionfruit (which suggests NZ hops). Nice jelly-esque malt flavours to go with it. Finishing bitterness is present but kept in check with the decent malt presence.
Mouthfeel is about medium, certainly thicker than something like Stone & Wood Pacific and further suggests wheat has thickened it up a bit. Another nice component of the beer.
Seems like I'm drinking a different beer to the other reviewers as this beer had very strong and refreshing hop flavours to it. Not sure on the style categorisation here, I'd go either with Golden Ale as I believe the brewery calls it, or American Pale Wheat Ale as I suspect it's brewed with wheat and otherwise matches the style closely. Either way it's a very nicely made beer which combines both excellent hop flavours and a drinkable ABV. Actually reminds me a fair bit of Riverside's Inner City Wit. Only downside to this beer is it's a bit pricy.
1,333 characters

3.63
/5
rDev
-0.5%
look: 3.5 | smell: 3.5 | taste: 3.75 | feel: 3.75 | overall: 3.5
A - Pours a pale straw colour with white frothy head that dissipates slowly to a thin film
S - Lemonade (almost shandy like) on the nose. Light floral, grainy hoppy aromas with a some peach, lemon.
T - Light hoppy, grassy taste, lemon, grapefruit with a bitter finish
M - Light bodied with medium carbonation
O - Light well balanced hoppy beer with a nice slight bitter finish that is delightful on a hot summers day
421 characters

3.22
/5
rDev
-11.8%
look: 3.5 | smell: 2.75 | taste: 3.25 | feel: 3.5 | overall: 3.5
From Warner's no BB.
A - clear straw, one finger head, good lace.
S - husks, grains, a little malt.
T - light and summery indeed. A quaffer. Almost in macro territory, but saved by light hop presence on back palate. Some doughy malts.
M - very light, moderate carbonation, zingy.
O - easy drinking, not challenging, and as such an odd adder to the Feral range. A cynic might suggest this was added at the behest of the finance dept not the brewing dept.
458 characters
Sly Fox from Feral Brewing Co.
3.65
out of
5
based on
27
ratings.