Raging Flem
| Feral Brewing Co.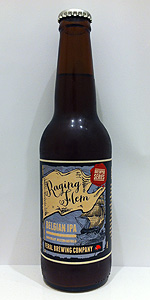 BEER INFO
Brewed by:
Feral Brewing Co.
Australia
Style:
Belgian IPA
Alcohol by volume (ABV):
7.20%
Availability:
Rotating
Notes / Commercial Description:
No notes at this time.
Added by brendan13 on 05-25-2010
Reviews: 11 | Ratings: 18
4.47
/5
rDev
+12%
look: 4 | smell: 4.5 | taste: 4.5 | feel: 4.5 | overall: 4.5
Brewed specially for Feral Ale Stars at The Local Taphouse St Kilda.
A - Orange coloured beer with a bit of haze. Dense few centimetres of white head that slowly falls away.
S - Piney & tropical fruit hop notes. Phenolic Belgian yeast aromas & a sweetish sugary touch.
T - Fairly much the same qualities as the smell. The phenolic yeast character is a bit more dominant in the taste.
M - Medium bodied, medium carbonation. Noticeable bitterness but still balanced.
D - Very much an American influenced Belgian IPA which works fine for me, one of my favourite styles of which there is not enough. Australian brewed anyway. Probably not one to session but I could and would drink this regularly if it was available.
720 characters

4.45
/5
rDev
+11.5%
look: 4.5 | smell: 4.5 | taste: 4.5 | feel: 4 | overall: 4.5
A - Bright orange amber capped by a glowing creamy white head. Great lace as with everything here at Feral.
S - Citrus and pine with Belgian yeasty backing. Nice balance of hop and malt.
T - This is a great example of what a Belgian IPA should provide. The fruity hop character of the IPA (tangerine, mandarin flavours) with the Belgian character from the yeast and spice.
M - Medium to full body and well carbonated. Slick and complex.
O - I really like this beer. It offers something for lovers of tangy, bitter IPAs, Belgian traditionalists, and particularly for lovers of both schools like me. The alcohol is effectively veiled.
636 characters

4.35
/5
rDev
+9%
look: 4 | smell: 4 | taste: 4.5 | feel: 4.5 | overall: 4.5
From iPhone notes at Pumphouse
Pours hazy amber, great looking clumpy lace, small off-white head
Hops on nose then the belgian yeast.
Taste is more hoppy, apricots and peach and mango yeast also there. Hop flavors are however completely integrated into the overall taste, rather than sharp or bitter or standout
Mouthfeel is smooth and creamy, almost coats tongue, and warmly alcoholic
Very, very, good beer on tap. Feral showing their class.
447 characters
4.11
/5
rDev
+3%
look: 3.75 | smell: 4 | taste: 4.25 | feel: 3.75 | overall: 4.25
Pours a cloudy marmalade hue with a one finger head and sporadic clingy lacing,the smell is pine,grapefruit,oranges and Belgian yeast,the mouthfeel is medium bodied with moderate carbonation and has tastes of pineapple,grapefruit,Belgian breast yeast and finished with a zesty lime bitterness and overall yeah it's a nice drop and I'm glad I got a four pack and can see myself drinking abit of this cheers.
406 characters
4.09
/5
rDev
+2.5%
look: 4 | smell: 3.75 | taste: 4.25 | feel: 4 | overall: 4.25
Conspicuously hazed amber orange with a cream head of modest size but good retention. Falls to a raised ring and film. Slow but healthy looking bead.
Very sherbety and candied nose with demure Belgian character. Lots of pineapple, orange and melons, with the latter more clearly linked to the yeast.
The yeast really comes to the fore to beef up the flavours. Juicy guava and fruit salad notes with subdued bitterness, which is again probably a consequence of the yeast.
Satisfyingly oily with benign carbonation. Finishes subtly dry.
Great beer with a striking resemblance to Bridge Road India Saison. Although not quite as classy for mine.
646 characters
4.04
/5
rDev
+1.3%
look: 3 | smell: 4 | taste: 4.5 | feel: 3 | overall: 4
Pours deep amber with a large fading head.
Very heavy phenols on the nose along with herbal and earthy hops and a funky Belgian doughy yeast note.
Very hoppy flavours but sticking to herbal, earthy and spicy varieties. Some subtle sweet malt and floral notes followed by an assertive but well-balanced bitterness.
Feels a bit syrupy.
333 characters

4
/5
rDev
+0.3%
look: 4 | smell: 4 | taste: 4 | feel: 4 | overall: 4
Pours golden bronze with nice white head and lacing.
Smell is straight off American hoppy goodness. Really fresh and pungent. Behind that and also quite prominent is a Belgian yeast character. Saison-esque funk, green apple, and a breadiness.
Taste has more of those tasty US hops and substantial green apple.
Mouthfeel is a little syrupy and sweet but also high on resin.
Feral has taken their cue from Green Flash in the marriage of Belgian and US styles, first with Golden Ace, and now this.
Fairly similar to Green Flash Le Freak, definitely a success though and I would say a bit better than the aforementioned as it drinks fresher and more pungent and the flavours are, well...nicer.
694 characters
3.85
/5
rDev
-3.5%
look: 4 | smell: 4 | taste: 4 | feel: 3.5 | overall: 3.5
Had on tap at the Local Taphouse in Sydney. Was very excited to see it.
Deep golden colour, almost tending towards coppery amber, with a very full head of creamy fine lacing. Mostly clear in the body, with a very slight haze. Lacing forms in sheets down the inside of the glass. Very decent - looks quite sophisticated.
Nice hybrid mixture of characters on the nose. On one hand we have round Belgian yeasty notes giving off characters of bubblegum and spice, but the hops give resin and a little citrus; a freshness that's almost like pine needles. It's a nice blend.
Veers towards the Belgian style of things on the palate. Round, a little meaty, but cleansed with the mild hop characters, which are less pronounced in flavour. More bubblegum that gets bitten with phenols at the end. Mouthfeel is quite sharp with booze.
Smooth enough to drink, but with a bite that keeps it very interesting. Nice.
905 characters

3.79
/5
rDev
-5%
look: 4 | smell: 3.75 | taste: 3.75 | feel: 4 | overall: 3.75
Bottle: standard 330mL brown bottle with a decent micro label.
Appearance: pours a slightly hazy copper amber with fine carbonation throughout the profile. A great looking two-finger head pops up and slowly dissipates to a creamy ring. Plenty of thick lacing.
Aroma: plenty of floral and citrus hops with some spice and caramel. The Belgian yeasts take a back seat, which is a bit disappointing. Plenty inviting however.
Taste: pretty much follows the nose - the caramel flavour is still a bit too sweet, but otherwise everything is pretty well-rounded.
Update: the flavour profile was much better once it warmed some more - the hops come through more strongly to make a fuller profile.
Aftertaste: the saccharin sweetness is met by a hop bitterness on the finish, slightly drier also.
Mouth feel: a reasonably heavy mouth feel with just enough carbonation to bring the flavours through fantastically. Gets better as it warms slightly.
Overall: a pretty decent, well-rounded IPA. I can't say that I would pay AU$75 for a case of 16 x 330mL (2013), but hey. Probably worth a 6-pack every now and then.
1,106 characters

3.68
/5
rDev
-7.8%
look: 3.5 | smell: 3.5 | taste: 3.75 | feel: 3.75 | overall: 3.75
A: Pours a cloudy orange colour with a small head that fades to nothing.
S: Lots of Belgian yeast, banana, spicy floral and a hint of orange.
T: Same as smell but with lots of candied sweetness. Some bready/doughy. A little bitterness. Not very much hop character.
M: Nice. Good carbonation.
O: Pretty nice for the style. Maybe a bit sweet. Would be great if there was more hop character.
388 characters
3.36
/5
rDev
-15.8%
look: 4 | smell: 3.5 | taste: 3 | feel: 3.75 | overall: 3.5
drank from my Duvel tulip
A - Pours a nice cloudy marmalade colour with a one fingered head that reduces to a film that laces.
S - Plenty of hop, grapefruit and pine and malt background.
T - Up front some nice hoppy flavours followed by some malt with a bitter aftertaste. No hint of anything Nelgian here.
M - Medium body and low carbonation that makes for a smooth drop.
O - Although this is a nice beer, it does not say Belgian IPA to me. I think of Poperinge Hommel and Houblon Chouff when I think of this style. This beer misses that by a long way. You could call it an American IPA or even American Barley Wine and get away with it. Belgian IPA's are supposed to have a candied sugar balance to the hop.
714 characters
Raging Flem from Feral Brewing Co.
3.99
out of
5
based on
18
ratings.