Karma Citra
| Feral Brewing Co.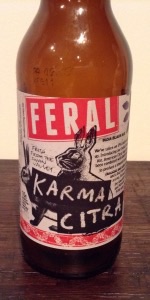 BEER INFO
Brewed by:
Feral Brewing Co.
Australia
Style:
American Black Ale
Alcohol by volume (ABV):
5.90%
Availability:
Rotating
Notes / Commercial Description:
No notes at this time.
Added by brendan13 on 02-15-2011
Reviews: 14 | Ratings: 39
4.16
/5
rDev 0%
look: 5 | smell: 4 | taste: 4 | feel: 4 | overall: 4.5
On-tap as part of the Great Australian Beer SpecTapular at the Local Taphouse in February.
Pours a deep amber-brown colour, very clear, but certainly dark enough for an India Black Ale. Head is beautiful--gorgeous, even, a full bodied and creamy mesh on the top. Lacing leaves solid sheets down the inside of the glass. Looks phantastic with a 'ph'.
Nose is round and balanced--not the huge hop aroma I expected, but a very pleasant balance of citric spice and brown slightly toasted grains. Bit of carob aroma comes out of the confluence. Nice.
Taste is pleasantly nutty on the front, with a prominent bitterness that sharpens it to a refreshing point. Smooth body with length flavours. Lemon leaf organics noticeable, light astringency on the back. The hop bitterness is certainly pronounced here, but the dark body gives is a basis. Awesome.
Great brew, and a great example of the style. Shows what this style can be and what Feral can do. Great work.
958 characters
4.35
/5
rDev
+4.6%
look: 4.5 | smell: 4.5 | taste: 4.5 | feel: 4 | overall: 4
Not quite black colopur with a large, light tan head. Great lacing and head retention.
Huge passionfruit and lemon hop aroma. No real malt presence.
Solid hop flavour with notes of lemon, passionfruit and mango. Very little malt and just the barest wisp of dark malt character.
Nice medium-light body with moderately low carbonation. Good.
A really nice Black IPA and the best of them that I have had so far with the dark malts being chosen perfectly.
455 characters

4.18
/5
rDev
+0.5%
look: 4.5 | smell: 4 | taste: 4 | feel: 4.5 | overall: 4.5
Pours a murky brown colour, but translucent and clear. Head is a wonderfully dense, beige affair, tight, small bubbles providing some great lace. Cracking look.
Smells surprisingly dark, with big roasty notes as well as dark cocoa-rich chocolate. Lovely floral smell though from the hops, slightly spicy but a big load of nectar as well. Dark, spicy, hoppy. Pretty darn beautiful.
Taste is an interesting IBA one. Plenty of sweetish dark malt with plenty of chocolate and a touch of dark caramel as well. Hops come through midway, floral and piney with a touch of light cumin spice as well. They stick around to provide some bitterness for the back, but that roasty grain is still there making for a nice dark/light balance. Not hugely hoppy though and I'd like more. Very pleasant beer though.
Nice body, very slick and smooth as it goes down. Not quite seamless, there is a slight kick towards the back, but nonetheless a beautiful feel.
Cracking drop, and a good idea by the impossibly loud beer geeks at Feral ale stars a few months back.
1,046 characters

3.95
/5
rDev
-5%
look: 3.5 | smell: 3.5 | taste: 4 | feel: 4 | overall: 4.5
From iPad notes.
On-tap at Pumphouse as part of Feral Takeover
Pours black, with a one finger head. Moderate lacing.
Aromas of roast malts, a little choc. Some hops, not too much.
Taste is definitely a black IPA, not a hoppy stout. Good hop balance drives a full bodied palate. Hops to the fore, then grapefruit, then choc then a little coffee.
Mouthfeel is appropriate for style.
The whole is greater than the sum of the parts. Good beer, well made, well balanced. A way in front of MG Before The Dawn in drinkability - comparison done same night. Sometimes Big Black Beasts of this style lose drinkability across a schooner, this one does not.
651 characters

4.25
/5
rDev
+2.2%
look: 4.25 | smell: 4.25 | taste: 4.25 | feel: 4.25 | overall: 4.25
From bottle! Pours a dark brown with a small tan head. Aroma passionfruit, mango, citrus, fruity hops. Taste citrus and passionfruit up front with a mix of chocolate, coffee, toffee and roast to finish. Very nice.
213 characters

4.22
/5
rDev
+1.4%
look: 4 | smell: 4.5 | taste: 4 | feel: 4 | overall: 4.5
A - Dark red-brown with some ruby highlights. One finger of creamy, dense white head with great retention and webs of lace.
S - Tropical and citra hops, supported by sweet tiramisu and sponge cake. Beautiful nose.
T - Orange, chocolate and coffee. Great mix of fruity and roasted flavours.
M - Moderate slick body with medium carbonation.
O - A great example of this style. Highly recommended.
397 characters
4.45
/5
rDev
+7%
look: 4.5 | smell: 4.5 | taste: 4.5 | feel: 4 | overall: 4.5
Drank on Tap at Sail and Anchor, Fremantle.
A - Pours a nice Mahogany colour witha nice Ivory cocloured head that retains and laces.
S - Nice balance pof Hop and malt
T - Nice and nutty up front before somne major hops kick in that is very well balanced my some caramel malt and smokey roast.
M - Medium body and carbonation
O - The best Black IPA that I havbe tried
371 characters
4.03
/5
rDev
-3.1%
look: 4.5 | smell: 4 | taste: 4 | feel: 4 | overall: 4
A - Not quite black but pretty damn close. A 3cm beige coloured head slowly falls away leaving LOTS of lacing.
S - Light pine & plenty of citrus, grapefruit hop character. Roasted malt character balances the hops, almost too much so.
M - Medium bodied with a low to medium carbonation. Fairly high bitterness.
D - First Black IPA/American Black Ale from Feral is a winner. But most beers from them are. Well worth seeking out.
429 characters

4
/5
rDev
-3.8%
look: 4.5 | smell: 4.5 | taste: 4 | feel: 3.5 | overall: 3.5
Feral's latest offing (which to me is just a shortened version of the word "offering" because, you know, I'm lazy and all that) appears to be a Cascadian Dark Ale in a similar vein as their most superb (and so far my favourite of the style) Karma Chameleon, only that was 10% ABV and this one is 5.9% which begs the question: Why didn't they bottle the awesome sauce that is Karma Chameleon? Over to you Feral.
Poured from a 330ml bottle into a nonic pint.
A: Pitch brown/black body with a rather boisterous fluffy 1 inch khaki head that soon drops back to a respectable 1 cm. Some light spider webbing on the side of the glass. Pretty spot on looks-wise. 9/10.
S: Pineapple and guava hop notes stamp their authority on my olfactory senses like that biker in Terminator 2 extinguishing a cigar on Arnie's chest. Like the beer-drinking Terminator that I am I whiff on unabated. Hints of toffee and chocolate linger on in the background but damn are those hops sexy, too bad malt, another time perhaps. 9/10.
T: The flavour was always going to be a let-down after that superlative hop aroma - those tropical pineapple/guava characters step back from the palate and let espresso malts and sharp herbal hops battle it out over my taste buds, which is a bit of a shame because I was looking forward to more pineapple/guava. Ultimately the herbal hop bitter note carries through to the after taste and slays the dragon that is espresso. 8/10.
M: Mid to light, almost medium, bodied with a sharp, dense carbonation. That carbonation really brings out the bitter notes somewhat. 7/10.
D: Compared to Karma Chameleon this is definitely the lessor brew of the two, however compared to other Black IPAs the balance is almost there but the tropical hop notes were lost from the aroma to the taste, and there needed to be a bit more hop flavours rather than hop bitterness (which all comes down to when the hops were added during the whole fermentation process - my money is on during the boil of the wort rather than a dry hop addition, but unless someone from Feral reads my blog we may never know). Still I did enjoy this and would seek it again on tap. 7/10.
Food match: The Korean classic that is Bulgogi would go a treat with this brew don't forget a side dish of pajeori ;-)
2,289 characters
4.27
/5
rDev
+2.6%
look: 4 | smell: 4.5 | taste: 4 | feel: 4.5 | overall: 4.5
Reviewed from a 60mL tasting sample, so likely to be a bit off the mark.
Black, but certainly not light-swallowing. Resilient off-white head.
Smell is multi-layered and quirky. Musty aromas of used coffee grounds and supermarket bought iced coffee first (which despite the description are not at all offensive), followed by demure citrus hop tones which gradually become pungent. Mild sweet and smoky tobacco notes round things off nicely.
Taste is dominated by strong brewed coffee, cocoa and coconut. Don't pick up much flavour from the hops - but certainly detect the bitterness.
Medium mouthfeel with a beautiful ethereal sweet finish.
Tremendously drinkable, a pity about that one small problem of supply. Come on Feral, you know you want to make this a fixture...
774 characters

3.88
/5
rDev
-6.7%
look: 4 | smell: 3.5 | taste: 4 | feel: 4 | overall: 4
To me, this is session version of a black IPA - and I'm not saying that in a bad way. Not a truckload of hops, but still plenty (the interesting citra variety) in a smooth, mega drinkable, sort of way. Minimal roasty chocolate flavours, but the dark colour brings the hops out in a different way - which I love. What a wonderful beer style!
340 characters
4.35
/5
rDev
+4.6%
look: 5 | smell: 3.75 | taste: 4.75 | feel: 4 | overall: 4.25
Pours jet black with a nice fluffy slightly tanned coloured head. Nice lacing on the glass.
Smell - citra hops upfront, definite malt presence, slight coffee undertones. Smells of a nice balance between hops and malt.
Taste - Nice balance as the nose indicated. Starts off like a nice IPA, and finishes like a porter. To, me it's exactly what the beer advertises. A smooth brew with big tropical and citrus notes, with chocolate and toffee undertones. Very enjoyable.
469 characters
4.83
/5
rDev
+16.1%
look: 4.75 | smell: 4.75 | taste: 5 | feel: 4.5 | overall: 4.75
On tap at Feral Brewery, Perth.
Love those dark stouts. This is listed as a Black American IPA, and it does poor black with a cream head that is rather thin, yet laces the pint as you drink.
It is Citra for a reason, great citrus f smells pour out of the glass, along with strong hop and malts. The smell lasts as well and compliments the taste.
Taste is malty, hops, and lemon, maybe a bit of peach or mango. definitely there.
The mouth feel is good, just the right amount of carbonation, a little bite of bitterness that compliments the citrus. A taste a feel that makes you want more.
I wish this was available bottled, or more widely via keg. Keg distribution has been very limited, and the best drink is right out of the brewery tap!
One of the best beers I've had.
779 characters

3.51
/5
rDev
-15.6%
look: 4.5 | smell: 3.5 | taste: 3.5 | feel: 3 | overall: 3.5
Feral's version of the American Black Ale pours cola brown with a single finger cream coloured head which really sticks to the wall of the glass.
The Karma Citra does not disappoint on the aroma front with a pleasing notes of citrusy hops and tropical fruits including passionfruit and mango, there is a definite organic, earthy character which grants the nose some depth and also a trace of fresh, unroasted coffee beans.
The flavour begins with delicate fruit notes, citrus and passionfruit, before transitioning to a roasty mid palate, the passionfruit of the citra hops weaving in and out of the dark malts up to the finish which is dry and earthy with a mild ground coffee bitterness.
The mouthfeel is fairly light with a medium carbonation. Goes down smoothly, although the beer develops a slightly ashy consistency on the finish. All in all, a very competent ABA, easily sessionable, not quite as heavy as others I've tried.
941 characters
Karma Citra from Feral Brewing Co.
4.16
out of
5
based on
39
ratings.