Miner's Gold Hefeweizen
| Lewis & Clark Brewing Company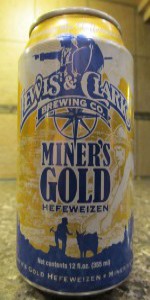 BEER INFO
Brewed by:
Lewis & Clark Brewing Company
Montana
,
United States
lewisandclarkbrewing.com
Style:
Hefeweizen
Alcohol by volume (ABV):
5.50%
Availability:
Year-round
Notes / Commercial Description:
No notes at this time.
Added by beernut7 on 08-18-2002
Reviews: 6 | Ratings: 24
3.42
/5
rDev
-0.6%
look: 3.5 | smell: 4 | taste: 3 | feel: 3.5 | overall: 3.5
Sleeping Giant's take on a German weis beer is unique. There is a light ester quality to the aroma, but the esters do not come out as strongly in the flavors. Instead, the same cereal (Corn Pops) grain flavor dominates the malt profile. The hops are a little more aggressive than usual in a spicy way. Not bad, but not my favorite.
★
341 characters

2.49
/5
rDev
-27.6%
look: 4 | smell: 2.5 | taste: 2.5 | feel: 2.5 | overall: 2
Looks pretty decent for a hefe although somehow I think it will end up tasting more like a wheat ale...Pale straw yellow, slight hazy so it passes the unfiltered test. Nice thick head, good rentention and lacing. So far so good.
Hmmmm...smells a lot like apple juice with just a hint of wheat malt thrown in.
Not that good I am afraid. An attempt @ some hefe snap @ the beginning downgrades to a watery sweetness very quickly. Citrus-like rind bitterness permeates throughout the entire flavor profile. Mouthfeel after the initial swig is watery and weak.
IMO another homebrew/craftbrew that I can do without.
★
613 characters

3.61
/5
rDev
+4.9%
look: 4 | smell: 3 | taste: 3.75 | feel: 4 | overall: 3.75
Poured from a 12oz can into a weizen glass in high elevation Kalispell, Mont. Reviewed live.
A- Three-finger white head, creamy with small bubbles. Long retention and nice firm look. Body is a clear golden color. Beautiful lacing when the head subsides. Fine looking beer.
S- European smelling hops, cloves and active yeast character.
T- Banana and creamy malt with European-style yeasts. Tastes fairly authentic for a hefeweizen. Very nice flavoring, if a bit muted.
M- Creamy, thick feel. Pleasant mouthfeel.
O- Above average for an American hefe. I liked the feel and taste. Smell is alright.
★
600 characters
4.02
/5
rDev
+16.9%
look: 3 | smell: 3.5 | taste: 4 | feel: 4 | overall: 5
Ordered this on tap Nov 12/10....review from memory and help from my wife....lost my notes :(
A- This is a slightly hazy golden color....I actually expected not to be able to see at all through it but I could. The carbonation looked to be not super fizzy but there was a nice head that settled to about a quarter inch thick once poured into our glasses. Also, there was moderate lacing that stuck to the glass....not a bad looking hefe but different.
S- I thought this had a fairly typical aroma profile for a wheat beer, being primarily that of citrus fruits, and in particular, lemon zest and grapefruit, with a bit of tangerine mixed in there. The main difference was in the finish. It was much more hop like than spicy, which caught me off guard a bit...it smells like it's a mix between a German and Belgian Hefeweizen.
T- More of the same in this department, with a decent amount of citrus flavor and a noticeable hop finish that resembles an American Pale Ale more than a Hefe. There was some biscuit like flavors in here as well, which helped balance this beer out.
M- This was thinner than I was expecting but still comes in leaning towards the medium bodied side of things. Being on tap, the carbonation was acceptable for this style and didn't offend on the palate. It was refreshing, yet slightly creamy at the same time.
D- Well this area gets full marks, as I got really happy on this beer over the course of our evening! It's not an overpowering flavor and goes down really smooth, providing a great session beer. The alcohol is not noticeable at all, as I experienced first hand and I now know why this is Lewis & Clark's best selling beer!
★
1,661 characters

3
/5
rDev
-12.8%
look: 3 | smell: 3 | taste: 3 | feel: 3 | overall: 3
Longtime staple in Lewis & Clark lineup that I usually bypass for reasons below.
A: Cloudy golden blonde with a modest white head. Not much retention.
S: I'm a little taken aback at how bad the aroma is at first, but after a few minutes sitting in the glass, it comes around a bit. Apple, a little banana, and some of that musty old smell I associate with old canned adjunct lagers.
T: Similar to smell, there isn't a whole lot to write about here. Other than the obvious wheat character, it's slightly sweet, with a touch of fruit esters and some off-putting vegetal character. Just a light touch of hops round out the finish. This can in particular has some off flavors, but I've had better versions in the past and will rate cumulatively.
M: Light-bodied with medium carbonation. I'd prefer a bit fuller body and not as sharp carbonation, but this is obviously intended to be a "crisp refresher" type beer and hits pretty close to that.
Can't say I've ever liked this one, but it's an alright beer as long as you're not expecting a real hefeweizen. Whatever yeast they use doesn't offer much in the way of complexity and this is really just a simple wheat beer. Not bad if you're out at the lake and want something refreshing, but Lewis and Clark definitely has much better beers in their lineup for anyone really looking.
★
1,358 characters

3.81
/5
rDev
+10.8%
look: 3.75 | smell: 4 | taste: 3.75 | feel: 3.75 | overall: 3.75
An aggressive pour from a 12 ounce can into a nonic pint glass produces about 1.5 inches of creamy froth that proves quite sticky. The beer is quite hazy, and of a medium-dark yellowish-amber color, with low carbonation.
The aroma provides a good whiff of DMS suggesting central European malts along with some light floral notes and a hint of musk melon. The flavor is mildly tart, with notes of orange and melon, and with a mild earthy bitterness that lingers for a bit. Pleasantly burpy, with a light sweet citrus aroma wafting through the nose. The mouth feel is frothy.
This is a very refreshing beer and well worth a try. I like that they sell this beer in cans- much better for outdoor activities.
★
710 characters
Miner's Gold Hefeweizen from Lewis & Clark Brewing Company
3.44
out of
5
based on
24
ratings.