Faust Hefeweizen Dunkel
| Brauhaus Faust-Miltenberger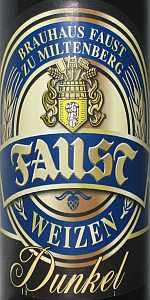 BEER INFO
Brewed by:
Brauhaus Faust-Miltenberger
Germany
faust.de
Style:
Dunkelweizen
Alcohol by volume (ABV):
5.20%
Availability:
Year-round
Notes / Commercial Description:
No notes at this time.
Added by Jason on 08-11-2007
Reviews: 11 | Ratings: 19
4.01
/5
rDev
-3.1%
look: 3.75 | smell: 4 | taste: 4 | feel: 3.75 | overall: 4.25
A: The beer is hazy brownish amber in color. It poured with a quarter finger high beige colored head that died down, leaving a collar around the edge of the glass and some streaks of bubbles on the surface.
S: Moderate aromas of banana and other fruity esters such as apples are present in the nose; these become stronger as the beer warms up.
T: The taste follows the smell, having flavors of bananas and apples, and also has additional notes of malty sweetness. There are also some bits of nutty flavors.
M: It feels light- to medium-bodied on the palate and has a moderate amount of carbonation.
O: This beer goes down easily and is very drinkable. It seems like it could use some more in the way of carbonation both in the appearance and mouthfeel.
Serving type: bottle
776 characters
4.32
/5
rDev
+4.3%
look: 4 | smell: 4.5 | taste: 4.5 | feel: 4 | overall: 4
500 ml bottle into weizen glass, no bottle dating. Pours hazy/cloudy reddish brown color with a 1 finger dense off white head with good retention, that reduces to a small cap that lingers. Spotty foamy lacing clings down the glass, with a moderate amount of streaming carbonation retaining the head. Aromas of big banana, plum, pear, apple, clove, caramel, toast, brown bread, light nuttiness, herbal, and yeast earthiness. Fantastic aromas with great complexity and balance of fruity/earthy yeast and dark/bready malt notes; with great strength. Taste of big banana, plum, pear, apple, clove, caramel, toast, brown bread, light nuttiness, herbal, and yeast earthiness. Light bready tartness and yeast spice on the finish; with lingering notes of raisin, plum, pear, apple, banana, clove, caramel, toast, brown bread, light nuttiness, and yeast earthiness on the finish for a while. Fantastic robustness and complexity of fruity/earthy yeast and dark/bready malt sweetness; with zero cloying flavors after the finish. Medium carbonation and body; with a very smooth and moderately creamy/bready mouthfeel that is great. Alcohol is very well hidden with minimal warming present after the finish. Overall this is a fantastic dunkelweizen! All around awesome complexity and balance of fruity/earthy yeast and dark/bready malt sweetness; and extremely smooth to drink. A highly enjoyable offering.
1,393 characters
4.04
/5
rDev
-2.4%
look: 3.5 | smell: 4.5 | taste: 4 | feel: 3.5 | overall: 4
Cool flip-top from PEBKAC ... sent as part of a 14 bottle Christmas present!! Poured into my smaller weizen glass.
Big 2" head... atop a hazy chesnut brew.. not much light escaping through the yeast haze... head drops pretty quickly for a weizen.
Aroma is lite caramel bananas and some pink bubblegum... spicy yeast notes... Man I wish I knew more about German weizens.. this one is complex for sure.
Flavor is creamy bananas and significant cloves ... earthy hop notes with more bubblegum and bananas on the close.. more than enough caramel sweetness to keep everything cohesive... low cocoa.. and an interesting and unexpected dry wheat finish.
Very drinkable and bursting lite/medium viscosity... pretty creamy.
Crap, I corked this one not knowing how rare it was!! Now I wish I would have saved it to share with some friends that really appreciate German wheats; that being said, I am also very happy that I savored this one by myself... HUGE props to Adam... we will do business again.
995 characters

4.25
/5
rDev
+2.7%
look: 3.75 | smell: 4.25 | taste: 4.25 | feel: 4.5 | overall: 4.25
I picked up a bottle of Brauhaus Faust-Miltenberger's Faust Hefeweizen Dunkel last week for $3.99 at The Lager Mill. I had their Doppelbock recently, I thought it was solid and I'm interested to see how this one turns out, so lets see how it goes. No visible bottling date. Poured from a brown pop top 500ml bottle into a Weizen glass.
A- The label looks ok, it's got a clean classic look to it, but I don't think it's too eye catching. It poured a murky brown color that took on a caramel like hue when held to the light with almost three fingers worth of very creamy very light tan head that died down to a thick ring that stayed till the end and it left some patchy lacing behind. This was a pretty nice looking beer, but I wish the color wasn't so murky.
S- The aroma starts off with a higher amount of medium sweetness with the yeast being the first to show up and it imparts a banana and light clove like aroma. Up next comes the wheat which impart a dark wheat, wheat, light caramel, light toffee, slightly grainy and very bready like aroma with just a little bit of sweet malts showing up in the background. This beer had a very nice aroma that was very true to style.
T- The taste seems to be very similar to the aroma and it starts off with a slightly higher amount of medium sweetness that leads right into the yeast which imparts some banana and light clove like flavors. Up next comes the wheat which imparts the exact same aspects that it did int he aroma with no single aspect seeming to stick out the most. On the finish there's very light amount of bitterness with just a little sweetness and it had banana, very light clove and dark wheat like aftertaste. This was a very nice tasting beer, it was just what I expect from the style.
M- Smooth, a little crisp, fairly creamy, a little velvety, on the thicker side of being medium bodied with a slightly lower amount of medium carbonation. This beer had a very nice mouthfeel that worked very nicely with it.
Overall I thought this was a good beer and a good example of the style, it had all the nice aspects that I look for in a Dunkel Hefeweizen without having anything that was uncharacteristic for the style and I thought it was an easy drinking and nice tasting beer. This beer had good drinkability, it was smooth, a little crisp, fairly creamy, a little velvety, a little filling and the taste did a good job at holding my attention, I think one is the perfect amount for me, but I wouldn't rule out drinking two pints of it if I was really in the mood for the style, but I think that would be my limit. What I like the most about this beer was the mouthfeel and how true to style it is, to me those were the highlights of this beer. What I like the least about this beer aws the color, it was just a little too murky looking. I would buy this beer again when in the mood for the style and I would recommend it to anyone who enjoys the style. All in all I was happy and a little impressed with this beer, it just what I look for in a good Dunkel Hefeweizen and I'm glad I took a chance on this beer. So far this is my favorite beer from this brewery, I enjoy this one a little more than their Doppelbock. This is now my favorite Dunkel Hefeweizen. Good job guys, this was one good tasting beer, keep up the hard work.
3,318 characters
4.2
/5
rDev
+1.4%
look: 4 | smell: 4 | taste: 4.5 | feel: 4 | overall: 4
Beer review from BA Mag Dec 2007.
Germany is so much more than mass-produced pilsners and Oktoberfest. Why focus on only a handful when there are over 1,200 German breweries to explore? Faust is one of those breweries that should be explored.
Mild haze in a brownish amber-colored brew. Good foaming from a stiff pour, head retention is remarkable. A whole nose full of bready aromas, toasted grain, fresh-cut hay and some stock feed with a very slight ripe banana and even fainter clove note. Medium body with a sublime crispness. A tad fruity with pear and very faint banana flavors. Nutty yeast and watery clove have a very thin layer of complexity over the stodgy bready malt character. Sizeable twang of fermented wheat hits right in the middle and wakes up the palate. Minimal hops, nutty yeast. The finish drops in at semidry with a long path of dry malt flavor and slightly expressive fruitiness.
This beer is so damn pleasing, complex but easy on the palate. Drinkable as well. An amazing beer all around, just goes to show you that not every hefeweizen has to be a clove and banana bomb.
1,100 characters

4.21
/5
rDev
+1.7%
look: 4 | smell: 4.25 | taste: 4.25 | feel: 4 | overall: 4.25
Poured from swing-top pint bottle into a weizen glass. It pours a cloudy, nearly opaque brown with a one-finger, ecru-colored head and lacing that did not dissipate during the pour. It smells of roasted malt, molasses, banana, cloves, and pumpernickel bread. The tastes are rather subdued and earthy with lots of wheat, pumpernickel bread, nuts, and spice accompanying the malt and yeast. There are faint hints of banana and caramel. It finishes fairly dry and with a slight bitterness. As the glass warmed, the flavors became increasingly evident. This beer is light in body, well-carbonated, and its 5.2% ABV makes for easy drinking. Overall, it is a good example of Dunkelweizen. It's flavorful, crisp, and very easy to drink. I could envision a nice session with several weizen glasses and good conversation.
824 characters

3.59
/5
rDev
-13.3%
look: 3.25 | smell: 3.5 | taste: 3.75 | feel: 3.5 | overall: 3.5
Taste is crispy bready with roasted malt. Amber brown and unfiltered, Nose is nutty with yeast. Medium body, some lace to head. Would pair well with many meals
159 characters

4.3
/5
rDev
+3.9%
look: 4 | smell: 4 | taste: 4.5 | feel: 4 | overall: 4.5
Very dark and murky brown, with thin wispy head.
Smell is clove, and dark fruit. Bit of yeast.
The taste is malty sweet. Hop bite is slight. Fruit flavor, banana is present, and gets stronger as you drink, and let sit.
Finishes very clean, and doesn't stick in the mouth. This makes the ale very drinkable.
Mt favorite thus far from Faust.
345 characters
4.57
/5
rDev
+10.4%
look: 4.5 | smell: 5 | taste: 4.5 | feel: 4 | overall: 4.5
Received this swing-top bottle following Beeradvocate.com's German Beer Festival. I poured this for the Speaker Session and loved it. I was very lucky to score a few bottles after the Fest. Shared one with my Father-in-law, who is of German descent and I'm drinking this one on my own.
"Brauhaus Faust Zu Miltenberg 1654 Weizen Dunken" 1654, man the US is so young.
Enjoyed this brew from the oldest Sunset Grill Glass in my collection, "So many beers, so little time" in small, red lettering boasting "115 Taps" on the back.
Appearance: Frothy, bubbly white head. We hardly knew ye, it didn't last very long. Apple cider hued body
Smell: I'm a huge fan of Hefe Weizen, and when I poured this beauty I was immediately knocked over by the aroma, fruity, malt...quite enticing.
Taste: Malt, banana, clove, fruity goodness
Mouthfeel: Full and clean
Drinkability: A very special beer to be savored and drank on special occaisions.
Can't say enough about how much I enjoy this beer. Absolutely fantastic.
1,008 characters
4.05
/5
rDev
-2.2%
look: 3.75 | smell: 3.75 | taste: 4.25 | feel: 3.75 | overall: 4.25
L: Pours a dark murky brown with a large head.
S: Unripened plantains, sweet doughy bread, a bit yeasty with lots of clove and similar spices. This beer actually has a sort of cidery quality found in some homebrews made with extract.
T: Bready and bisquity, Christmas spices, banana nut muffin and banana cream pie. This is a beer that definitely takes awhile to open up.
F: Medium body, on the lighter side, with crisp fizzy carbonation and slightly slick mouthfeel.
Overall: While I don't find this to be the most remarkable representation of the style, and I don't think I love it quite as much as some of the other reviewers, it is very drinkable and clean with some nice spice flavors and I'd probably buy it again.
Edit: Bumping this up a few points. I've been drinking more of this and it now strikes me as a more complex and impressive beer than I initially gave it credit for.
896 characters
4.85
/5
rDev
+17.1%
look: 4.75 | smell: 4.75 | taste: 5 | feel: 4.75 | overall: 4.75
I found this new at my local beer store and tried the dunkel before trying the hefe and dopplebock which were in the same case. Swing top bottle and poured nicely with a dark creamy head. Slight notes of banana and creamy mouthfeel with mild carbonation. Would rate Miltenberger dunkel as one of my favorites.
309 characters
Faust Hefeweizen Dunkel from Brauhaus Faust-Miltenberger
4.14
out of
5
based on
19
ratings.