The Beer Hunter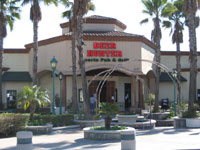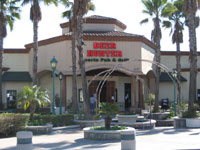 PLACE INFO
Type:
Bar, Eatery
12809 Foothill Blvd
Rancho Cucamonga
,
California
, 91739
United States
(909) 463-6999
// CLOSED //
Notes:
No notes at this time.
Added by Boilermaker88
PLACE STATS
Reviews:

6

Ratings:

pDev:

8.19%
HISTOGRAM
Ratings: 6 | Reviews: 6
Reviews by Boilermaker88:
3.58
/5
rDev
+1.1%
vibe: 4 | quality: 3 | service: 4 | selection: 3.5 | food: 4
Getting the Beer Hunter included in the BeerFly took a bit of advocating. I'll recap the points I made for the inclusion of a place that, on the surface, might seem like a place that doesn't really focus on beer.
First off, the place is BIG. Befitting its role as a sportsbar, it has lots of tables and seats with a wide open feel. Televisions are everywhere. The bar is along the left side once you enter and there are numeous fridges holding the large selection of bottled beers.
Okay, the beers. There are close to forty taps, mostly offering macros. Some of the better brews on tap are SNPA, Pilsner Urquell, Guinness Stout, Harp, Lost Coast Downtown Brown & Great White, and Anchor Steam. Yeah, nothing very impressive. Where the good stuff can be found is in bottled form. The list of bottled beers is long, nearly 200 in all. Out of those, I was able to pick out over 80 I'd be happy to order. Some of the most noteable were: Affligem dubbel, Ayinger Ur-Weisse, Arrogant Bastard, Celebrator, Samichlaus, Chimay Grand Reserve & Premiere, Fullers London Porter & London Pride, Youngs Double Chocolate Stout, Oatmeal Stout, Ram Rod Ale & Winter Warmer, Sam Smith's Imperial stout, Oatmeal Stout & Taddy Porter, North Coast Old Rasputin & Pranqster, St. Peters Cream Stout, Hacker-Pschorr Munich Lager & hefeweizen, Rogue Shakespeare Stout & Dead Guy Ale, Spaten Optimator, O-fest & Pils, Belhaven Wee Heavy & Scottish Ale and Unibroue Blanche de Chambley, Trois Pistoles, & Maudite. Up to a month ago, they were carrying Unibroue's Raftman but traded out for Maudite. The Beer Hunter has a wide range of styles available and a decent number of offerings for the styles.
The service was quite good. Brooke, the waitress, was pleasant and attentive. She made frequent checks at our table and too time out to talk with the three of us. When confronted with not having the Raftman I had ordered, she brought out a couple other Unibroues for me to choose from.
The food was pretty good, too. The menu is large and has a good variety of salads, burgers, chicken, pasta, fish, etc. The prices were reasonable too, considering the size of the meals.
All in all, The Beer Hunter is the kind of place where I'd opt to go if I was with a decent-sized group of people having diverse tastes in beer. The place has an (over)abundance of macros and "alco-pops" for the less discerning and some quality brews for the real beer enthusiast. This is a good "cross-over" place that caters to everyone.
2,490 characters
More User Reviews:
3.08
/5
rDev
-13%
vibe: 2.5 | quality: 3 | service: 3 | selection: 3.5
The inside of the Beer Hunter is huge! Thee is a lot of room inside, the tables insdie are really spread out. It was Sunday, which means football time. Unfortuntely for me, I felt left out when I was wearing my Brazilian football shirt while the rest were in NFL gear. I sat at a fold-up table near the table, which has a little leftover red residue, probably someone's salsa. Also, is there a need for all those TV's inside?I didn't feel totally comfortable there, but I suppose I would have felt better sitting at the bar.
Fifty taps are made into four groups. The more interesting taps are from Stone, Delirium Tremens, Belhaven Stout, Rogue Hazelnut Brown, Young's Double Chocolate Stout, Lost Coast, Maudite, Double Barrel Ale, and Franziskaner. Despite 9 refrigerator doors behind the bar, maybe a third of them were not being used. Those that were being used housed perhaps 30 varieties of beer, plus shaker pint glasses, 32 ounce mugs, and pitchers. Lots of what a geek might call "crap" or "common", but there are a few interesting finds, such as Sam Adams Imperial Series.
My server took a little time to get attention. I asked for a Belhaven Stout....turns out she wasn't familiar with the name, so I pointed to the tap handle for her. She returned with the correct beer. She was nice about it though. $5 for the pint.
Worth a trip? I think it's worth one. There are some rare-ish draft beers, and it's not expensive. One question I must ask is "what glass do they use when they pour Delirium from tap?".
1,521 characters
3.3
/5
rDev
-6.8%
vibe: 3 | quality: 3.5 | service: 2.5 | selection: 4
We stopped here last night on the way home. I didn't know what to expect. The place was packed (saturday night) and incredibly noisy. There were a whole bunch of tvs playing various sports channels and a ton of people crowded around the bar trying to get a drink. There was also a dj playing at the other end of the building. The majority of the customers were drinking bud light and coors light. I would say that most of the patrons were of the Raider Nation. Lots and lots of raider jerseys and sweatshirts. Not really my kind of atmosphere.
There were lots of beers to pick from but overall the selection wasn't that interesting. There were a couple of beers that I hadn't tried before but most of them were the run of the mill "microbrews" (like Sierra Nevada, Rogue, and Sam Adams). I'm not saying that these beers are bad, just that they can be found at any decent liquor store. I also paid $6.75 for a bottle of english beer.
The girls working the bar were sorta nice but there was only 2 of them serving a hundred people or so. It took about 15 minutes for all 3 of us to get a beer. The only good part was that the girl forgot how many drinks I had ordered so I paid $6.75 total for 3 drinks + $1 tip. Didn't try the food, didn't want to stick around. Maybe during the week when its not so crowded and if I have some reason to be out that way I'll stop in for a beer but for now theres plenty of better places out there to spend my time and money at.
1,462 characters
3.58
/5
rDev
+1.1%
vibe: 3 | quality: 3.5 | service: 3.5 | selection: 4
After knowing of its existance for a long time, my wife and I finally stopped off on a lazy Saturday afternoon in between shopping stops for a quick beer. The place was deserted- this is a rather large sports bar with about 50 TVs, pool tables, foosball, jukebox, basketball free throw machines, and the like. A long bar with about 50 taps and a bunch of cooler doors with many many bottled beers awaited. The bar and beer looked like heaven, although the rest was very sterile and post-modern industrial (leaving all the HVAC ducts, etc. exposed in the ceiling) that was very unattractive. Lots of BMC and a few craft neon signs, banners and the like on the walls, hanging from the ductwork.
Why was it deserted on a huge college basketball/NASCAR day? Their DirectTV wasn't working. All those 50 TVs turned off. Kind of ironic- a sports bar with no sports.
But I digress- 50 or so taps, with a 50-50 mix (maybe 60-40) of decent craft beers and the expected BMC macros, and about 200 bottles, probably 75% craft or interesting imports, and the remainder Corona, Smirnov Ice, etc. Between the two there is a lot of good beer here. However, it was almost exclusively the safe lines of beers. Good beers, but not unusual/hard to find beers. Several Stones on tap, Chimay in bottles, but not beer heaven. A good place to have a craft beer on tap (or a good German hefe or London Pride in the bottle), but nothing that made my heart go flutter. I hope I'm not getting jaded!
Overall, I can't fault them for the TVs going south, that happens. I'm not a fan of the atmosphere, but it is what it is. A decent beer selection makes it a worthy spot to frequent if I were a local.
Note: close to the BevMo and Yard House at the Victoria Gardens mall/complex in Rancho Cucamonga.
1,772 characters

4.01
/5
rDev
+13.3%
vibe: 3 | quality: 4 | service: 4 | selection: 4.5
Although this place does have a huge bottle selection (basically looks like the same offerings as BevMo), I wouldn't say stay away from the taps. I forget a lot of the stuff they have but there are a few Stone taps (Pale Ale, IPA and others), and I know there is Alesmith IPA as well. I'm sure there are more that are good but it will take another trip to find out.
As for the atmosphere, it isn't the greatest, although I haven't been there during big sports days. However, I think overall this is an ok place to go grab something on draft that you may not see a whole lot of other places.
593 characters
3.7
/5
rDev
+4.5%
vibe: 3 | quality: 3.5 | service: 4 | selection: 4 | food: 3.5
well it's a toughy trying to describe this place. First off, the place is huge and has TV's in place wherever an eye may happen to roam. I am more of a comfy pub type of guy so I was a bit put off by the sheer enomrmity of the place. But, if sports bar extrodinaire is your thing, this is your place. It is, in effect, the exact type of place I would assume would not have a good beer list. Although the namesake does tout otherwise. Tap selection has some goodies like Alse smith IPA and stone IPA. Bottle selection is pretty worthy. I happend to have a DD and so I can vouch for myself when I say that I could order many different beers there that made me a very happy pappy. A bit out of the way for me but if I chance to be in the area I will giver 'er a go.
762 characters
The Beer Hunter in Rancho Cucamonga, CA
Place rating:
3.54
out of
5
with
6
ratings