Arriba Importada
| Cerveceria La Constancia S.A. / BevCo Ltd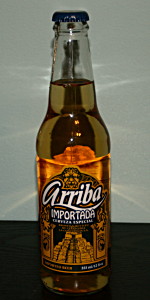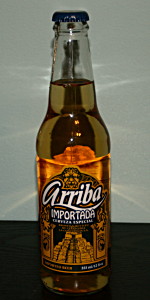 BEER INFO
Brewed by:
Cerveceria La Constancia S.A. / BevCo Ltd
El Salvador
laconstancia.com
Style:
American Adjunct Lager
Alcohol by volume (ABV):
not listed
Availability:
Year-round
Notes / Commercial Description:
No notes at this time.
Added by mickeymac on 06-06-2003
HISTOGRAM
Ratings: 9 | Reviews: 7
Reviews by genaro:
1.8
/5
rDev
-10%
look: 2 | smell: 2 | taste: 1.5 | feel: 2 | overall: 2
I'm always looking for good Mexican beers, but Arriba is not one of them. It came in a clear bottle and poured to a very light gold color. The aroma was skunky and the head was ephemeral. There was no lace. The taste was indistinctive - a little hop bite with some slight sweetness. The finish was slightly dry, grainy and meek. The overall mouthfeel was watery. The best things about this beer were its cap and label.
418 characters
More User Reviews:
1.09
/5
rDev
-45.5%
look: 2.5 | smell: 1 | taste: 1 | feel: 1 | overall: 1
Appearance – Clear, yellow body with a nice head that stuck around for a while and left its mark on the inside of the glass. I'm impressed.
Smell – The smell . . . not so impressed. The pungent aroma announces, quite boldly in fact, that skunk will not be the worst thing you taste from this bottle. Behind that putrid stench is something that I fear, because I have never sensed it before. Its sweetness lures the inexperienced drinker to plunge in head first with a show-stopping bar-roaring chug, but the Heiniken-wary cervesa-swilling BA knows better. I go to the restroom and come back with a pack of Tums, four pieces Dentyne "Fire" gum, and dial 9-1 on my cell phone. Finger poised over the 1 again, I take a sip.
Taste – This tastes like a skunk ate a four-year-old can of creamed corned with the seal broken then chased it with a lime-watermelon Pixie Stick and you ate the skunk before it could swallow. This is truly perverse.
Mouthfeel – No carbonation, no smoothness, and no thirst-quenching sensation.
Drinkability – Drinking this beer was like pulling teeth.
1,091 characters

2.77
/5
rDev
+38.5%
look: 2.5 | smell: 3 | taste: 2.5 | feel: 3 | overall: 3
From a clear 12 oz. bottle and poured into a pint glass, this beer pours clear straw with a light carbonation and a fleeting half inch of head. A bit more effervescent than the light version yet showing a touch less of surface carbonation. Very clear nonetheless.
Touch of Euro. hops on the nose blend with some slightly sweet adjuncts, nothing to overwhelm or dismay. Notably richer in malts than the light but still light bodied. Moderate in feel, not bad, not good.
469 characters


2.56
/5
rDev
+28%
look: 3 | smell: 2 | taste: 3 | feel: 2 | overall: 2.5
Strange that I have a beer like this in my possession. This came to me as a floating orphan from a BBQ. Question is was this lost or abandoned by its parents?
Pours a very light colored clear yellow beer with a good tall white head on it.
Smell well once again I have a tropical beer that has been shipped in clear glass in the room and my nose knows it, lots of skunk butt aroma. A vigorous pour helped flush most of the skunk away but there is some left with a trace of sulfur. Beyond the skunk this has a decent sweetish all malt aroma to it and no real trace of adjuncts in the scent. Herbal but really more grassy hop aroma. Would have scored higher minus the clear glass skunk.
Taste is sweet and rather grassy in flavor. Flavor is quite close to the taste of a regular Heineken. Low bitterness level this is mostly grassy.
Mouthfeel is watery.
Well better than I expected which was a Corona light clone. Pretty much a Euro lager in a clear bottle. If you have any impulse to be seeking a beer like this opt for the Heineken in a can instead.
1,063 characters

1.61
/5
rDev
-19.5%
look: 2 | smell: 1 | taste: 2 | feel: 1.5 | overall: 1.5
Bought on impulse at Safeway store.
12 oz clear screen printed bottle.
Dont know why I bothered pouring it into a glass..but its a habit..well it looked like any other Mexican/Latin beer..pale yellow watery urine colour. Small sickly head, that lasts seconds and then is gone.
Terrible aroma.. like burnt plastic..is skunked probably.
The taste while not quite as bad as the aroma is bad..just a mouthful of carbonation and a acrid taste on the back of the tongue.
Very carbonated..like soda on the tongue.
Not very drinkable,,I have had worse..but not many!
564 characters
2.67
/5
rDev
+33.5%
look: 2 | smell: 2.5 | taste: 3 | feel: 2.5 | overall: 2.5
A - Very clear pale colour with half a finger of head on top at first but quickly subsiding.
S - Wheat/rice kind of aroma. Touch of some sweet citrus as well.
T - Very light on the palate with a malty texture. Sweet rice flavour with some sharp citric bite and just a dash of actual citrus taste.
M - Carbonation is noticeable but still quite mild.. given some other beers of this nature that may be a good thing.
O - To be honest this isn't probably as bad as Corona and miles ahead of Sol. Very much in the same category though - a decent enough mild lager to knock back on a hot summer day.
599 characters

2.03
/5
rDev
+1.5%
look: 2.5 | smell: 2 | taste: 2 | feel: 2 | overall: 2
It comes in a clear bottle with an imprinted label, making it look a bit like a Salvadoran knock-off of Corona. It pours a clear yellow with a light and foamy white head, leaving what frankly looks like a glass full of piss. The one I tried was skunked, and I would imagine that most if not all end up that way after making the trip from El Salvador to the States in clear bottles. That skunkiness is also pronounced in the taste, with soapy/dishwater taste being the only other noticeable characteristic. I supposed they'd be better than nothing on a hot day at the beach, but just barely. Pass on this one.
608 characters

Arriba Importada from Cerveceria La Constancia S.A. / BevCo Ltd
Beer rating:
2
out of
5
with
9
ratings