Dismiss Notice
Extreme Beer Fest:Los Angeles
Join us December 9th in Los Angeles for the ultimate throwdown of craft beer creativity!
Learn more...
Dismiss Notice
Wheel Sucker Wheat
| Ska Brewing Co.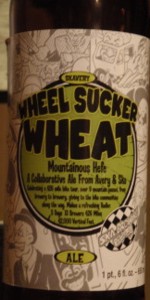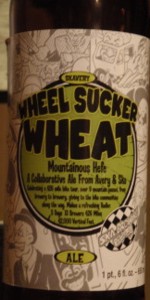 BEER INFO
Brewed by:
Ska Brewing Co.
Colorado
,
United States
skabrewing.com
Style:
Wheatwine
Alcohol by volume (ABV):
not listed
Availability:
Limited (brewed once)
Notes / Commercial Description:
No notes at this time.
Added by BradLikesBrew on 08-14-2009
This beer is retired; no longer brewed.
HISTOGRAM
Ratings: 12 | Reviews: 9
Reviews by satowns:
3.2
/5
rDev
-16.7%
look: 4 | smell: 4 | taste: 3 | feel: 2 | overall: 3
pours with dense layer of creamy white bubbles. hazy deep golden color. Looks wonderful! Long lasting foam, down to the last of the glass.
pleasant earthy aroma with hints of chamomile and black pepper.
more hints of pepper in the flavor, starts spicy with some clove followed by a little corriander in the finish. Needs more flavor...a distinguishing character. Im left kinda puzzled; wondering what the definition of wheat
drying and mildly astringent. Tingly carbonation.
My first impression is that overall its fairly singular. Thin and watery on the tongue; not what i would expect from a wheat wine. I really expected a beer with a ton of more legs. but my second pour was much more enjoyable once I got over my preconcieved notions. The intense carbonation dances with the crisp flavor and light body similarly to a belgian saison.
These guys know how to brew killer beer and Im an avid supporter of them both. But I know that sometimes beers are brewed and stuck in the closest category. I would love to taste this brewed with a Dupont yeast!!
1,058 characters
More User Reviews:
3.88
/5
rDev
+1%
look: 4 | smell: 3.5 | taste: 4 | feel: 4 | overall: 4
Nice hefe, with citrus orange and lemon, other spices including cloves, red and black pepper, above average mouthfeel.WHeat fresh aroma. Good drinkability. Would seek out again. 7.2% a.b.v. Cloudy yellow with generous white mushroom head. Sweetish. Nice.
254 characters


3.74
/5
rDev
-2.6%
look: 4 | smell: 3.75 | taste: 3.75 | feel: 4 | overall: 3.5
On tap in Denver. Pours a hazy golden color. Some fruity bubble gum character. Medium body and a touch of bread.
112 characters

3.58
/5
rDev
-6.8%
look: 4 | smell: 3.5 | taste: 3.5 | feel: 4 | overall: 3.5
On tap at Avery's tap room in Boulder, CO. Pours deep hazy-golden with white, foamy, long lasting head. Nose is of banana, cloves, wheat malt, hints of apple. Body is light and smooth. Taste is similar to aroma. Finish is medium and very fruity. Nice wheat.
259 characters

3.78
/5
rDev
-1.6%
look: 4.5 | smell: 4 | taste: 3.5 | feel: 3.5 | overall: 4
This bee pours an overly large white fluffy had with good retention that becomes rocky/multitextured as it begins to dissipate. The beer itself is a hazy lemon-aid color. This beer is largely spicy in the nose, ginger, cinnamon and black pepper. Hints of lemon, banana, and clove as well. This is a nicely spiced beer black pepper ginger and lemon in the flavor also banana, light piney hops, hint of ripe peach and clove. Light bodied and highly carbonated with a dry finish. This is a pretty good beer though I like other wheatwines better.
542 characters
3.88
/5
rDev
+1%
look: 4 | smell: 3.5 | taste: 4 | feel: 4 | overall: 4
Poured from a 22oz bomber into a pislner glass. Poured a hazy, somewhat cloudy golden color with one big, white, fluffy head that lasted quite awhile. Aroma of citrus and malt. Taste was sweet malt, lemon, and just a bit of tartness. Even though this bottle was about a year old, it has held up quite well. A very nice summer beer that I could do again.
353 characters
3.78
/5
rDev
-1.6%
look: 4 | smell: 3.5 | taste: 4 | feel: 4 | overall: 3.5
I had this one on tap at Avery recently. Poured a hazy, cloudy, golden yellow color, with a nice fluffy white head. Aromas of lemon, dark spices and lots of wheat. Nicely balanced and drinkable, with more of the Belgian spiciness, citrus and bubblegum.
252 characters

4.15
/5
rDev
+8.1%
look: 4 | smell: 4 | taste: 4 | feel: 4.5 | overall: 4.5
A collaboration between Ska and Avery or Skavery as the bottle says.
A "mountainous hefe" named for the long bike trip from Boulder to Durango.
Pours a hazy pale yellow body with plenty of yeast. The aroma is spicy with notes of clove, mace, banana and bubblegum. the palate is pretty typical of a hefe. Crackery wheat, a honey/lemon/orange thing going on, less spice here than on the nose. Balanced flavors mask the abv.
The body is incredibly creamy. I don't know how much booze is in this thing, no clue. I think that is a testament to how well it was brewed (and the need for beer labeling standards). Could be as high as 8% and if it is, this is a real feat.
Cheers to Avery, Ska, and beer collaborators everywhere, a most welcome of trends.
752 characters
4.01
/5
rDev
+4.4%
look: 4 | smell: 3 | taste: 4.5 | feel: 4.5 | overall: 4
Poured hazy lemony yellow color, with white 3 finger head. A= nice wheat aroma, but there is also some funky almost like Brett smell in there, not for sure what it is though. T= a really light wheat flavor to this one, sweeter than expected, but it's nice here. Getting just a touch of lemon, even the slightest bit of grapes or something just a bit tart in the finish. Having a hard time pinpointing the exact flavor, but it's a little fruity. I actually like this the more I drink it. Getting some spices out of this now, clove is pretty easy to detect, the finish reminds me of fall. Finishes pretty dry. If there were/is such thing as a Belgian wheat, this is what I would expect it to taste like. Not noticing any alcohol although I know it had to be around 7-8% + abv. Nice
M= medium
overall - this is a good beer actually, this one REALLY Suprised me!
859 characters
4.05
/5
rDev
+5.5%
look: 4 | smell: 4 | taste: 4 | feel: 4.5 | overall: 4
Collaboration between Ska Brewing and Avery. Poured from a 22 oz. bomber into a snifter. Thanks again Dan sending this to me.
A- Pours a dark, straw yellow. Very hazy. Produced a solid three fingers with of white, foamy head. Reduced to a ring over time.
S- Heavy scent of cloves and maybe a scintilla of banana. Slight sweetness in the nose. Big wheat presence. I gave originally gave the aroma a 3.5, but as the beer warmed, the aroma really blossomed and became more pungent.
T- This beer was sweeter than the nose led to believe. Cloves and spices are at the forefront. Like the nose there was a pronounced wheat flavor along with a hint of citrus.
M- The best component of the beer. Lots of carbonation produce a creamy, vibrant mouthfeel...imagine a thousand CO2 bubbles exploding on the palate revealing a unique texture.
D- I'm really not a big fan of wheat beers, but the mouthfeel and taste really made this a joy to drink.
Overall, as I said above, not my favorite style of beer. However, this beer was very well balanced and had one of the better mouthfeels I have experienced in a wheat beer. Highly recommended.
1,134 characters

Wheel Sucker Wheat from Ska Brewing Co.
Beer rating:
3.84
out of
5
with
12
ratings