Oak Aged Orange Cream Stout #14
| Ska Brewing Co.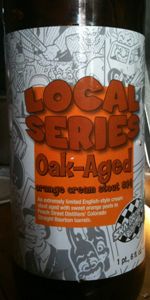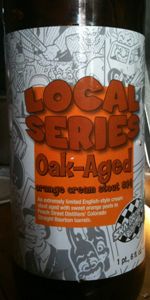 BEER INFO
Brewed by:
Ska Brewing Co.
Colorado
,
United States
skabrewing.com
Style:
Milk / Sweet Stout
Alcohol by volume (ABV):
not listed
Availability:
Limited (brewed once)
Notes / Commercial Description:
No notes at this time.
Added by SpruceFish on 01-20-2010
This beer is retired; no longer brewed.
HISTOGRAM
Ratings: 10 | Reviews: 9
Reviews by drseamus:
4.29
/5
rDev
-1.4%
look: 3.5 | smell: 4.5 | taste: 4.5 | feel: 4 | overall: 4
Thanks to dmeadows for sharing this crazy bottle.
A: Very dark but brownish red when held to the light. Not much head but some visible carbonation. 
S: Definite orange in the nose with some sweetness; almost like a creamsicle.  Definite oak as well. 
T: Chocolate covered oak creamsicle. That basically sums it all up. The aftertaste is almost all orange. The brewer should be commended for his insanity. 
M: Pretty light. Very smooth. 
D: Wow. This blows my mind. It is very interesting. A truly unique beer.     
528 characters
More User Reviews:

4.3
/5
rDev
-1.1%
look: 4 | smell: 4 | taste: 4.5 | feel: 4 | overall: 4.5
the ska barrel aged orange cream what do i say this is the 1st barrel aged stout ska has put out to my knowledge so here it goes
it looks that way any good stout should look very dark, brown to of white head no lacing smells of dark roasted malts with some charred oak and vanilla there is really not much orange in the smell but it opens up in the taste well at least the orange does the dark malts and oak are pretty standard for the stile but nothing to over the top the oak is there but not to ridiculous its nice all the other flavors come though the mouth feel and drink are right where they should be ill have no problem drinking the whole bomber
over all a damn good beer for ska i think in the years coming they could really improve this beer and im sure this could cellar pretty well there is a hint of booze but it nothing to deter me from this fine brew
873 characters

4.34
/5
rDev
-0.2%
look: 3.5 | smell: 4.5 | taste: 4.5 | feel: 4.5 | overall: 4
Big thanks to unknown, yet very generous, BA who gave me a nice pour of this at one of the Captain Lawrence releases. Reviewed from notes.
Pours a nice dark brown color with a bit of a head and some slight lacing. Nose is really nice with a good orange creamsicle touch as well as some oak and chocolate. Really nicely done. The taste is excellent with orange, oak, chocolate, and cream all coming together quite well. Nice creamy mouthfeel with good carbonation. This is a really unique and quite tasty brew.
510 characters

4.19
/5
rDev
-3.7%
look: 3.5 | smell: 4.5 | taste: 4 | feel: 4 | overall: 4.5
A - A very light looking stout, really reminicent of flat coke.
S - Smells very much like a wild ale. Citrusy orange comes through nicely, nice tart smell. A blind smell of this would make me guess it was a sour. Don't really get tons of stout smell on this.
T - Nice orange, only get any type of stout influence with this on the end. There is just a slight tartness. Decent oak presense, I gotta give credit for this being something truly unique here. Kind of just blue the sout ot of the stout on this one. Slight chocolate notes.
M - Very light for a stout, effervesent, decent carbonation bite.
D - Highly drinkable because it's so light for a stout. Not sure what the ABV is, but assuming it's 9+ it's super drinkable.
727 characters

4.49
/5
rDev
+3.2%
look: 3.5 | smell: 5 | taste: 4.5 | feel: 4.25 | overall: 4.25
HAHA, I've been holding out on this one since I had it three years ago...
Very fast caramel colored soapy head rises from the thin black brew. Head reduces quickly.
Lots of smooth oaky caramel, vanilla, orange, chocolate, molasses, roasty.
Smooth, way orange, high (too much) carbonation, elegantly smooth and delicious, no bite, not overly sweet yet still well-done sweet, milky, roasty, chocolate, dry, lingering goodness.
A bit too long in the cellar, but not too much past due..maybe 6mos?? HIGHLY recommended! I hope SKA puts this one out again. Reminds me of SKAwork Orange...
588 characters
4.14
/5
rDev
-4.8%
look: 3 | smell: 4 | taste: 4.5 | feel: 4 | overall: 4
Purchased at Telluride Bottleworks on the recommendation of one of the staff. I was skeptical about the orange-stout combo, but I like supporting experimental brews, and I'd never see this bottle again (Colorado-release only), so what the hey?
Poured into a snifter I got at my hotel's bar. Dark brown with light tan head - no real retention, and the head quickly faded away. Fine bubbles visible.
In my opinion, the nose was dominated by bourbon (can't believe the other reviewers didn't mention this). Sweet orange creeps in -- not really much in terms of roastiness. The palate is well balanced as the oak nicely offsets the sweet orange and roasted malt. Smooth mouthfeel for a big, sweet beer, but it's still a bit of a sipper. Definitely an experimental batch, but a quite a good one! So far, this is by far the best beer I've had from Ska (though I still have a few more bottles to work through).
905 characters
4.32
/5
rDev
-0.7%
look: 4 | smell: 4.5 | taste: 4.5 | feel: 4 | overall: 4
Got this from a Durango buddy. 22 oz bomber poured into my Boulder Sourfest snifter. Pours a deep chocolate brown with thin off-white head which quickly disappears. Smells of sweet orange, cocoa and scotch whiskey. Coats the mouth with a blast of chocolate, bourbon and orange sorbet ice cream. Pretty well balanced between the wood, malts, bourbon and sweet orange flavor. Another interesting brew from the folks at Ska. Much better representation for the style (is there such a thing?) than the Sour they came out with (way too hoppy) but is something to keep working at. I have liked a number of their Local Series beers, but it's too bad it had very limited distribution (Durango and SW Colorado only). Can still find on tap at the brewery I'm told. Stop by and try some if you are in the area.
798 characters

4.64
/5
rDev
+6.7%
look: 4 | smell: 5 | taste: 4.5 | feel: 4 | overall: 5
Thanks to dmeadows for the bottle.
A: Brown with a little bit of red when held up to light. A little bit of brown head with a touch of lacing.
S: Like an orange popsicle. Check that oaked aged popsicle. Really great nose. Just a touch of chocolate in there. Excellent nose.
T: Oak aged Popsicle. This beer is gonzo. Little bit of orange. Oak. Sweetness. Little bit of chocolate.
M: Very dry mouthfeel. It is even a little bit creamy.
D: This is an extreme beer. I really liked this beer. Totally different. This one needs some hype. This should be at EBF. Wow.
565 characters
3.84
/5
rDev
-11.7%
look: 3 | smell: 4 | taste: 4 | feel: 4 | overall: 3.5
I drank this from a 22oz bottle into my Orval glass.
The beer pours a light watery brown, very soda popish. The head is light white, doesn't really rise at all, no lacing.
The aroma is pretty strong and dominated by a nice combination of orangey funk. Definetly smells tart but has a great orange tint to it.
The tatse is super funky to start, with lots of oak. I wish it was sweeter, not a lot of orange, that's what I was looking for. Its mostly a oaky stout.
The feel is super light and watery, not much of a finish.
525 characters
Oak Aged Orange Cream Stout #14 from Ska Brewing Co.
Beer rating:
4.35
out of
5
with
10
ratings