Hibernal Vinifera Stout
| Ska Brewing Co.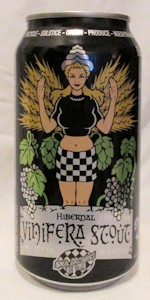 BEER INFO
Brewed by:
Ska Brewing Co.
Colorado
,
United States
|
website
Style:
Foreign / Export Stout
Alcohol by volume (ABV):
8.00%
Availability:
Winter
Notes / Commercial Description:
Oak Aged Foreign-style stout brewed with Malbec grape juice.
Added by JMBSH on 12-29-2012
Reviews: 57 | Ratings: 276
3.68
/5
rDev
-7.1%
look: 4.25 | smell: 3.75 | taste: 3.5 | feel: 3.75 | overall: 3.75
an interesting take on a stout.
Pours dark grape juice, dark purple. Nice looking head on it, rocky, foamy, good lacing.
Aroma is a touch odd. Some oak and vanilla. Vinous. Hints of cocoa and caramel. Dark plum
Flavor is thin for an export stout. The malbec juice shows the fruitiness of the beer. Dark plum is there, without much sweetness. Oak a bit. Chocolate a bit. Some toffee. Booze is well hidden.
Feels a bit dry, but also smooth. This is an easy drinking stout.
★
476 characters
3.62
/5
rDev
-8.6%
look: 4 | smell: 3.75 | taste: 3.5 | feel: 3.75 | overall: 3.5
Another beer from the creator of the canquest, woodychandler. Poured from a 12 oz. can. Has a very dark brown color with a 1/2 inch head. Smell is of grapes, roasted malts, a bit of coffee. Taste is lots of roasted malts, some coffee, a bit of grapes, a touch of hops, somewhat complex. Feels medium bodied in the mouth and overall is a solid beer.
★
348 characters
3.53
/5
rDev
-10.9%
look: 4 | smell: 3.5 | taste: 3.5 | feel: 3.5 | overall: 3.5
a real strange installment of the stout series. aged in oak with malbec grape juice added. the pour looks alright, jet black and thicker, with an inch of tan head with nice retention. maybe im seeing what i want to see here, but there appears to be a faint purple color to it when held to the light. the smell is of a sweet stout, maybe not quite a milk stout, but there is plenty of residual sugar in this one, as well as a sturdy but not too black roasty malt base. the grape juice can hardly be smelled or tasted. it just tastes like a sweet stout to me, i dont even get much oak. i get a hint of grapey acidity towards the end, but thats about it. its got a strange aftertaste of fruit, which i think clashes with the large dark malt profile rather than adding anything desirable. full body and a very funny feeling beer in the stomach. im glad i got a single instead of a 6pack, as this is not as easy beer to put down. i dont dislike it, but i dont think it came together quite the way it was intended to. maybe more time in oak would bring the flavors together in a more congruent way, or maybe they should just scrap this and go back to the mole stout, because that was darn good.
★
1,188 characters
3.46
/5
rDev
-12.6%
look: 5 | smell: 4 | taste: 3 | feel: 3 | overall: 3.5
Appearance- Motor oil, dark tan 1 finger head
Smell- Chocolate, some roastiness, vanilla
Taste- Huge hop flavor at the front of the tongue, middle dark bitter chocolate, coffee, caramel, bourbon notes, finish is bitter, roasty, dry coffee
Mouthfeel- Full-bodied, motor oil thickness
Overall- Overall, this is an excellent imperial stout. I don't pick up any of the malbec grape juice, but I think that's a good thing. I would definitely buy it again.
★
454 characters
3.38
/5
rDev
-14.6%
look: 4 | smell: 3.5 | taste: 3.5 | feel: 2 | overall: 3.5
12 oz can, best by 4/13/13. Pours dark brown black with a medium creamy light brown head that goes to a thin film and leaves some lacing.
The aroma is roasted chocolate malts and some vinous dark fruit.
The flavor is acidic roasted grains, some sweet dark fruits and chocolate, a little oak, and some vinous alcohol leading to a bitter roast finish. The mouthfeel is medium bodied and a little thin and watery.
Overall, an interesting fruity roasty foreign export stout.
★
473 characters
3.34
/5
rDev
-15.7%
look: 3 | smell: 3.25 | taste: 3.5 | feel: 2.75 | overall: 3.5
12 fl oz can served in a Pilsner glass, reviewed live:
A - pours a non translucent midnight black color with four fingers of light tan, bubbly head. Retentions is awful, but somewhat excusable given the high ABV. Appealing but generic.
S - Roasted malt is the star. Artificial grape and light bitter chocolates. Strangely, it works well. Seems sweet. Cream and light caramel are buried in there. Mild in strength. I'm curious....
T - The grape is surprisingly restrained. It's a little welch's like, but it counters the bold roasted malts and coffee. The malt overshadows the grape throughout. Bitter near the finish. Really well balanced . I like it. It'd work better, though, if it had red wine notes instead of artificial juice. No alcohol comes through.
M - Too thin and over carbonated for the style. Missing the full body and creamy mouthfeel.
D -Hides its ABV well and is built well. I'm surprised at this one. With some work, it could be great.
★
961 characters
3.31
/5
rDev
-16.4%
look: 3.25 | smell: 3.5 | taste: 3.25 | feel: 3.25 | overall: 3.25
Smell is sweet, mildly roast chocolate malt, smells somewhat of lactose though I don't know if there's actually any lactose here. Not really noticing the grapes.
Taste is a little more subdued, I get the lactose flavor again, grapes are present here but only a little, typical range of stout flavors, nothing extraodrinary.
Carbonation is good but the feel is a little thin, fine but not great.
Pretty good beer, nothing special, not as unique as I hoped given the fruit addition.
6.6/10
★
491 characters
Hibernal Vinifera Stout from Ska Brewing Co.
88
out of
100
based on
57
ratings.