Hibernal Vinifera Stout
| Ska Brewing Co.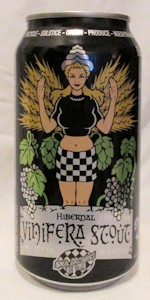 BEER INFO
Brewed by:
Ska Brewing Co.
Colorado
,
United States
skabrewing.com
Style:
Foreign / Export Stout
Alcohol by volume (ABV):
8.00%
Availability:
Winter
Notes / Commercial Description:
Oak Aged Foreign-style stout brewed with Malbec grape juice.
Added by JMBSH on 12-29-2012
Reviews: 59 | Ratings: 276
4.25
/5
rDev
+7.3%
look: 4.25 | smell: 4.25 | taste: 4.25 | feel: 4.25 | overall: 4.25
A creamy, sweet stout. I wasn't sure what to expect with this, but the grape juice wasn't overpowering. It complemented the roasted notes quite well. Worth checking out.
169 characters

4.28
/5
rDev
+8.1%
look: 4.5 | smell: 4 | taste: 4.5 | feel: 4 | overall: 4.25
This came to me in a box from BigBry which I just opened today, despite its having arrived a couple of months ago. I am seriously behind in my CANQuest (TM) reviews, but I am getting caught up pretty quickly.
From the CAN: "Recycle -Solstice - Origin - Produce - Hgeshtin-Ana - Recycle - Brother - Divine - Wrath - Irrigate - Cultivate - Balance"; "Hand-Crafted"; "Seasonal Stout"; "Oak-Aged Foreign-style stout brewed with Malbec grape juice".
The Crack was followed by an inverted Glug which produced both a pseudo-cascading action as well as two-plus fingers of dense, deep-tan head with great retention. As the head began to fall, lacing began to form almost immediately. In pouring it, I could see that the color was a purplish-brown, like a really bad bruise. once in the glass, however, it was allowing ZERO light penetration. Nose smelled of raisins and chocolate and I was instantly reminded of a Cadbury Fruit & Nut chocolate bar! Wild. Mouthfeel was medium and I am going to go out on a limb here and declare the taste as "vinous". Call me crazy ... All joking aside, the grapiness was immediately evident with a kind of sour/tart flavor, followed by a smoky chocolatiness.The finish was semi-dry and I was reminded of the homemade wine that my uncle makes, especially the Zinfandel in 1989. Wow! What won't they think of next? This was totally unexpected and quite the drink. One would be plenty for me, but for the vino crowd, this could be a bridge.
1,465 characters
4.36
/5
rDev
+10.1%
look: 3.75 | smell: 4 | taste: 4.5 | feel: 4.75 | overall: 4.5
12oz can poured into a nonic pint glass.
S - Coffee, cocoa powder, little fruitiness, mild sweetness.
A - Opaque black. Medium sized brown head holds a nice cap of tight foam. Nice bit of lacing.
T - Tons of complex caramel and chocolate maltiness, smooth/velvety texture. Vinous/ Special B red fruit on the later half. Finishes with a delicious roastiness. Little bit of bitterness near the end. The aftertaste has a lingering sweetness along with all those big caramel malts.
M - Medium to medium-full bodied, ultra smooth, light to medium-light carbonation, semi-sweet.
O - Quite a delicious brew. All the qualities of a good stout with an added wine-like flavor/feel twist. Very skillfully employed. Smell really popped and flavor had many dimensions.
760 characters

4.39
/5
rDev
+10.9%
look: 4.5 | smell: 4.25 | taste: 4.5 | feel: 4 | overall: 4.5
A- Pitch black. Poured an awesome 1 finger, creamy, khaki colored head. Great lacing.
S- Roasted malts, caramel, chocolate, toffee, grape, slight coffee, and light vanilla. Seems like there might be some oats, too. Oak gets stronger as it warms.
T- Very nice. Caramel, chocolate, coffee, and oak hits first. Midway, these flavors are met by the grapes, which ties the flavors together wonderfully. Finish is a mix of coffee, rich chocolate, and roasted malts. Beautiful balance and an awesome mix of flavors. As refreshing as a stout could be.
M- Medium light body, which works well to compliment the flavors. Slightly drying with a light, charred aftertaste. Good crisp carbonation.
O- I enjoyed this much more than I thought I would. I'm typically not a fan of grapey tasting stouts, so I wasn't expecting much. But here, the grape adds a wonderful accent and acts more as a binding agent than anything else. I would definitely have this again.
954 characters

4.53
/5
rDev
+14.4%
look: 4.25 | smell: 4.25 | taste: 4.75 | feel: 4.5 | overall: 4.5
Poured into a Jester King glass. Appearance had a deep purplish color when pouring, but was black once all settled in the glass. A very nice two-finger head appeared with tight bubbles.
The aroma was roasted chocolate notes and caramel upfront with a slight grape/plum sweetness in the background. I didn't get much oak, but the roasted notes were dominant in the nose.
The taste was truly fantastic. Starting with a sweetness, possibly from the Malbec grapes, that transitioned into a roasted coffee flavor. The finish was semi-sweet but still had the nice roasted coffee/baker's chocolate flavors intermingling with the grape sweetness. Very nice indeed. It really made for a nice balance of flavors and nothing ever became cloying.
The mouth feel was actually creamy and the carbonation was a little below moderate.
Overall, this was one of the best "Foreign/Export" stouts that I've had. I will definitely be stocking the fridge.
939 characters
4.6
/5
rDev
+16.2%
look: 4.75 | smell: 4 | taste: 5 | feel: 4.5 | overall: 4.5
From a 12oz can to a miniature snifter.
Look: Deep dark black with a tan head that retains quite well while leaving a sexy lacing down the glass. Looks inviting!
Smell: Roasted malt, phenolic fruit, sweet grape and sharp oak. nice!
Taste: Sweet back note to a nice bitter roasted malt. Acidic wine and dry oak flavor on the back end. Very well balanced. This is by far the best wine/stout I've had, well done Ska!
Feel: Great full body and little carbonation. The oak and wine help dry out the finish but leave your taste buds tantalized!
Overall: One of my favorites. Great format, great price, and perfectly what it is suppose to be!
641 characters

4.6
/5
rDev
+16.2%
look: 4 | smell: 4.5 | taste: 4.75 | feel: 4.75 | overall: 4.5
Small one-finger straw colored foamy head rises from the deep black brew. Lacing is inconsistent.
Oaky grapes, both are buried in chocolate and molasses.. Roasty, fresh, crisp, sweet, lactic...
Awesome milky smoothness, sweetness is subtle and dry. Grape notes are very light and slightly tart, but complement the body brew greatly.. Oaky, milky, smooth, crisp, dry, and earthy notes are great too. Carbonation is light, as it should be. Nice balance and complexity.
A great brew. For those that say it's boring and undefined, compare it side-by-side to SKA's Milk Stout, you'll see. This brew is a Home Run!! A must try. Well done, SKA..
643 characters
4.75
/5
rDev
+19.9%
look: 4.75 | smell: 4.75 | taste: 4.75 | feel: 4.75 | overall: 4.75
Dark brown color with a slight off white head and decent lacing. Fruit, most noticeably the grapes, are prevalent in the nose. For me, the taste is great. Coffee and grapes; a strange combo for sure but it works. Medium bodied and some carbonation too. I thoroughly enjoyed this brew and would happily pick it up again!
325 characters
4.93
/5
rDev
+24.5%
look: 4.75 | smell: 4.75 | taste: 5 | feel: 5 | overall: 5
Yumm. Didn't really realize exactly what I was ordering...I only knew it was the rotating Ska stout on tap. My companions went with pilsners and lighter beers on a fairly hot end of August afternoon, but I have never been disappointed in any Ska beverages in my glass and was not disappointed. As I mentioned, all I knew was that this Ska was a stout and nothing else about it, not even the whole name. Under the circumstances, a late lunch on the restaurant patio in late summer, I feel like it was the perfect stout to have. Not as heavy, creamy, or bitter as many stouts, I found it refreshing. The dominant flavor to me being a sweet, carmel-ly, coffee, with none of those three adjectives being dominant or overwhelming. A hint of carbonation made me wonder if it was on nitro, but it was not. I imagine it would be wonderful if it was on a nitro tap!
About 2/3rds through my pint, our Bavarian pretzel appetizer came with both slightly spicy mustard and beer cheese that seemed to pair really well. That was when I also began to question the ABV. I'm not a big fan of many high ABV beers that I feel like I can taste the alcohol, if that makes sense. So when I asked our server about it and he told us he thought it was only 5 to 6%, I figured it must have been my empty stomach making me feel the effects.
The misinformation about ABV also gave me less inhibition about joining in for a second round with my meal and my fellow companions. Although plenty flavorful, my tastebuds did not get overwhelmed by the second glass. It also paired nicely with my blackened salmon sandwich.
Looking back, after looking up the details of what I drank, I'm sure some of the sweetness was from the grapes....makes sense....though I'm glad I was able to try it without preconceived expectations. The complexity of the flavors gives the beverage just a taste of fruitiness.
1,867 characters
Hibernal Vinifera Stout from Ska Brewing Co.
3.96
out of
5
based on
276
ratings.