Virgil's Real Barbecue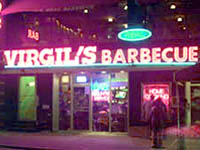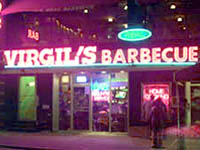 Bar, Eatery
152 W. 44th Street
New York
,
New York
, 10036
United States
(212) 921-9494 |
map
Notes:
Reviews by TheLongBeachBum:
TheLongBeachBum from California
4
/5
rDev
-2.9%
vibe: 4 | quality: 4 | service: 4 | selection: 4 | food: 4
Stop #3 on my lone Tuesday afternoon Pub-crawl of NYC. After having taken in the shockingly disappointing Times Square Brewery and then the much nicer and St. Andrews Tavern, as this was only a few doors down on the way back to Times Square it seemed a logical stop.
Yet again, a large neon lettered sign advertises the joint and it fits in well with the surroundings. Open glass frontage with an unassuming presentation.
Once inside the floor opens downwards and outwards in front of the C-shaped bar which runs from your left hand side around 90 degrees clockwise in front of you. Above the back section of the bar facing you there is an upstairs floor which covers half of the floor space and looks to be a cool space to hang out.
First impressions were…well, "strange sort of place this, like Red Neck Dixie Land meets small town specialist bar". My standard trouser belt buckle felt completely inadequate here. Great atmosphere nonetheless, its not falsely projected one but genuine. Around 6 taps which served nothing outstanding, I noted as a House Brew, I managed a free taster of it, and suffice to say that it didn't impress me at all, tasted like a Big3 brew, but thanks to the bar tender for getting me a sample though and sparing my wretches beyond the one mouthful I had. Limited tap selection aside, the Bottled beer range is much better, and impressive. Lots of English, Scottish, Belgians, Germans, local US craft brews all interspersed with some South American and European wanna-be's.
I was disappointed with draft so I instead opted for a serious perusal of the Beer Menu which listed all the bottles in great details, Country, Names, Strength, Bottle Size & Price. Overall a nice range and a superb selection, even moreso given that is primarily a BBQ joint. It's a long time since I tried a De Koninck so I opted for a good old Antwerp Ale which was fresh and in good nick. I wasn't hungry enough to hit the full BBQ Cow stuff sadly, so I went for Stuffed Peppers, which were OK. I couldn't manage anything more substantial than an Appetizer though, shame because I could have gone for some Kansas City style Ribs if I had the appetite, and they BBQ fare looked and smelled damn good I can tell you. Nevertheless the Stuffed Peppers were solid fare and accompanied my bottle beer adequately.
Service was good enough, the taster of the House Brew alone saved me a crappy Pint and a few Bucks so I was happy to leave a good tip, though it did seem quiet during my visit – perhaps with Garth Brooks playing literally just round the corner in nearby Times Square, maybe all the Cowboys were elsewhere.
This really is more of a great place to eat some top-notch BBQ (unless yer mates are Veggies that is) with the added benefit of a great bottled beer selection. But even if you're not eating or hungry, you should definitely hit this place up for a brew when doing the nearby St. Andrews Tavern, it's only a few doors East and at least worthy of a brew or two. Yeeehhaaaahh.
Last Visit: Tuesday 15th November, 2005.
Nov 26, 2005
More User Reviews:

benzalman from California
4.15
/5
rDev
+0.7%
vibe: 4.5 | quality: 4.5 | service: 4.5 | selection: 3 | food: 4.75
Mar 02, 2015

Gavage from Nevada
4.2
/5
rDev
+1.9%
vibe: 4 | quality: 4.5 | service: 4 | selection: 4 | food: 4.5
After hearing this place was one of NYC's best BBQ places, we had to give it a shot. Arrived around 6:45 and there was a 30 minute wait. We hung out at the bar that seated about 20 people. We were pleasantly surprised they had a decent beer selection on draft. Nothing earth shattering, but SNPA, Magic Hat, Brooklyn, Stella, Guiness, Sam Adams and a house beer called Virgil's Ale were available. I also saw a nice bottled beer list that had to have about 50 or so beers like Sam Smith, Sam Adams, Lagunitas, Brooklyn, Ayinger Celebrator, Anchor Steam, Chimay, and Duvel. There were also plenty of macros in the bottle selection.
The place looks like a southern BBQ joint. Upstairs there were loads of tables and a second bar tucked away in the back. The place was loud and boisterous which kind of fit the food being served.
The food was well worth the wait. We had ribs and beef brisket and they were both very tasty and well prepared. The service was prompt despite the crowds. We just stuck with some SNPAs for the meal.
If you are winging a meal like we were doing that night and don't mind getting some BBQ sauce under your nails, stop by this place. Beer is secondary here, but you at least have a nice selection to choose from.
Jun 27, 2007
EPseja from New Jersey
3.55
/5
rDev
-13.8%
vibe: 4 | quality: 4 | service: 3 | selection: 3 | food: 4.5
Went to Virgil's for some dinner with BAs Ego and Yelterdow after having pints at The Collins Bar, and before seeing King's X in concert at BB King's.
The atmosphere is much like that of a Ruby Tuesday's of a Bennegan's - family friendly, a bit loud, and not overly bright. The one exception that made all the difference, however, was the scent of BBQ smoke and real wood fire wafting though the air. Yum. Upstairs we went, and were seated on the second level (yep, it's a big place). Your napkin roll-up is actually a hand towel... guess it's going to be messy! After the meal, you're given hot washcloths to clean up. Cool.
On the beer front, there was nothing extraordinary. Samuel Adams and Brooklyn Lager were the best taps, although there were some other decent beers in bottles.
Appetizers were hush-puppies (awesome) and jalapeno poppers (unimpressive). I had ribs and brisket for my main meal, and both were absolutely delectable. The collared greens that came with the meal were also delicious! The food is definitley what this place is all about.
Conclusion? Definitely eat here. Drink somewhere else.
Apr 13, 2006
ChowHound from New York
4.25
/5
rDev
+3.2%
vibe: 4 | quality: 4.5 | service: 4 | selection: 4 | food: 5
This is a real tourist trap right in Times Square, but nevertheless it kicks serious ass. Tap selection is pretty good with Brooklyn Lager and Anchor Steam, and the bottle selection is even more exanded. At the bar its a bustling atmosphere, but the service keeps up in spite of the fact that the place is always packed to the walls. Food is really good, some of the best home made barbecue and fixings on the east coast. If you are a tourist visiting NYC, get your arses up to Virgil's Real Barbecue.
Mar 06, 2005
sraimondi from Connecticut
4.2
/5
rDev
+1.9%
vibe: 4 | quality: 4.5 | service: 4.5 | selection: 3.5 | food: 4.5
I have not yet been to Blue Smoke, but I don't know how its BBQ could be measurably better than Virgils. I have been there many times during frequent biz excursions to NYC, and I have NEVER been disappointed in the food or the beer selection. While the tap selection is a bit limited, usually pretty high quality choices. Real good bottle selection, and the bartenders actually seem to know a bit about beer! The ribs and pulled pork are to die for, and the BBQ sauce (which you can buy, when it is not sold out) is amongst the best I have ever had, including stuff I have sampled during trips to Kansas City, Oklahoma and Austin, TX! Keep up the good work--I really love this place!
Oct 11, 2004

Billolick from New York
4.22
/5
rDev
+2.4%
vibe: 4.5 | quality: 4 | service: 4.5 | selection: 4 | food: 4.5
Virgils is the Bomb for BBQ in the heart of NYC. This is the real thing, smoky, tasty, slow cooked etc. I believe Zagats gave it over 20 pts for the tasty grub. Very nice room, location is about 1/2 block from Times square, so this place is ALLWAYS busy, but they handle the crowds well and service is very good. Beer wise I was happily surprised, see below reviews for the details, but you will find a very tasty,craft brew of your liking to compliment/wash down your meal. If you like BBQ this is a great place to visit. Heartland brewery is around the block and the Gingerman is about a 10 min walk downtown. Now that would be a smokin' threesome to do on a summer night!
Apr 11, 2004
slander from New York
4.25
/5
rDev
+3.2%
vibe: 4 | quality: 4.5 | service: 4 | selection: 4 | food: 5
Bar.
Buh.
Cue.
3.
It's said that Virgil's is the top barbecue joint in NYC. Having already taken in Blue Smoke, it was due time to revisit Virgil's. The bar seats roughly a dozen and a half and there's a decent amount of seating in the back room and the large upper dining room which overlooks the bar. The decor is mostly red walls and wood paneling, with many pictures and posters, big and small, all sizes and shapes, of barbecues, festival events, smokers, cook offs, etc.
Whereas Blue Smoke does a variety of rib types, Virgil's does a larger variety of entree types. Memphis pork ribs, barbecue chicken, Texas sausage links, Owensboro lamb, smoked Maryland ham, Texas beef brisket, pulled California pork, etc. Also, the accompanying sides, collared greens, Georgia pecan rice, Memphis barbecue beans, cheese grits, slaw, pot salad and the buttermilk biscuits are the deal. Good variety, excellent barbecue. The combo platters are the best way to go. Some of this, some of that.
Thirsty? Yeah, I hear that. 6 taps, Brooklyn Pilsner, Stella, Anchor Steam, Magic Hat Humble Patience, the Virgil's Ale (a house beer made by Magic Hat), and the evil AB World Select. I believe they rotate in the Magic Hat #9. They've got a bottled beer menu which houses about 65 beers, sorted out by beer style and type. Stouts, lagers, pale ales, porters, brown ales, etc. Nothing crazy but some nice choices to compliment your meal. Some nice darks, Anderson Valley Barney Flats Oatmeal Stout, Ayinger Celebrator Dopplebock, Samuel Smith Taddy Porter & Oatmeal Stout, Rogue Dead Guy, Brooklyn Brown Ale, Blackened Voodoo or maybe something a little lighter, Paulaner Hefe, Stoudts Scarlet Lady ESB, Magic Hat Blind Faith, Warsteiner Pils, Hacker Pschorr Weisse, Lindeman's Peche, DeKoninck, Chimay, Brooklyn East IPA, etc. You can get a "Bucket of Hats", an assortment of Magic Hat #9's, Heart of Darkness, Humble Patience and Blind Faith. Nice deal with a meal. Service was good and attentative, but PJP's right,... "Don't push your AB Select on me".
I think Virgil's sits a good notch above Blue Smoke. There, I said it, I don't care who knows.
Apr 11, 2004
PopeJonPaul from Oregon
4.25
/5
rDev
+3.2%
vibe: 4 | quality: 4.5 | service: 4 | selection: 4 | food: 5
Virgil's BBQ is one of the top BBQ joints in NY city. Only Brothers in Tribeca and Biscuit in Brooklyn can give it a run for its money. The food here is fantastic, as good as BBQ I've had in Texas and almost as good as BBQ I've had in Kansas City (now all the Texans will kill me...)
Now for the beer: the place hands you a BBQ menu and a Beer Menu when you sit down. 3 rotating taps, one static: currently Humble Patience, Anchor, Magic Hat #9 and Virgil's Special Brew (which is also brewed by Magic Hat according to the waiter. Hmmm....) Also pretty thorough bottle menu with a wide variety: Blackened Voodoo, DeKonick, a few Brooklyns and Samuel Smiths, Warsteiner Pilsner, Rogue Dead Guy, Anderson Valley Oatmeal Stout, Chimay, even a couple lambics. You'll find the old standby macros too but hey, this is a BBQ joint. Sometimes that BBQ just calls for a Rheingold, you know... though we had to forgive the waiter for recommending World Select...
Mar 22, 2004
Virgil's Real Barbecue in New York, NY
Place rating:
4.12
out of
5
with
9
ratings