Mulligan's Hyde Park Pub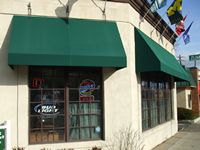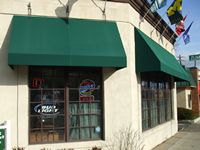 PLACE INFO
Type:
Bar, Eatery
2680 Madison Rd.
Cincinnati
,
Ohio
, 45208
United States
(513) 321-8141
// CLOSED //
Notes:
No notes at this time.
Added by BeerAdvocate
Ratings: 7 | Reviews: 7
Reviews by brewdlyhooked13:

3.6
/5
rDev
+6.2%
vibe: 3.5 | quality: 3.5 | service: 3.5 | selection: 3.5 | food: 4.5
Thursday night shouldn't be too bad for a trip to Mulligans. It can be known as a yuppie-type establishment, but it's really just a decent place to go have some good chow and some good brews. There was the post-college crowd, but also some sports teams showed up, grungy and sweaty, no problem. The food, Montgomery Inn barbecue (sandwich) is a no-miss pick. Extensive menu beyond that, full 2 pages worth of options, 3 or 4 desserts. They have about 25 taps or so, I sampled the Sawtooth, Dead Guy, Young's Double Chocolate, and the Bastard. They also feature Hoegaarden, Weihenstephan, Boddington, and some more mainstreamers like Sierra PA, Bass, plus a few unmentionables. They had Saison Dupont on the beer menu at 9 bucks a pint (is that too expensive?), but they had removed it due to low demand. Some pool tables are available in another area, the tables are roomy and comfortable. A relaxing atmosphere with enough good taps to satisfy the BA in us all.
1/28/06 Update: Sadly, there was a shooting fatality in Mulligans' parking lot a few weeks ago. The area has been hit with a half dozen crimes in the past few months. I have no idea if their business has suffered as a result, but generally speaking, going inside is safer and a cleaner environment to enjoy your beer. Places with 20+ taps are few and far between so I hope they ramp up security, increase parking lot lighting, *whatever* it takes to make the place the BA haven it ought to be. Go with a few friends, you'll be fine.
1,498 characters
More User Reviews:

3.68
/5
rDev
+8.6%
vibe: 3.5 | quality: 3.5 | service: 4 | selection: 3.5 | food: 4
I believe Ftownthrowdown said it best - lots of potential, but it really does kind of go to waste for those looking for a great beer bar. I'm not saying it's their fault or that it's necessarily being poorly ran as it's a business and they need to do what's best for them, but as a BA and a consumer, it's not a place I would necessarily frequent for good beer. However...
Atmosphere: Not too bad overall - plenty of room in here with lots of TVs and a great outdoor area for the warm spring through cooler autumn with cornhole (if you're not from the area - it's bean bag toss... it through me for a loop when I first moved here too), pool tables, and fresh(er) air. Lots of potential, but it does draw in a bit of a college crowd and it sseems like a sausage party meat market there with a bunch of dudes and really no one else in terms of clientele.
Quality: A few great offerings on tap (some Goose Island, Stone, Rogue, etc.) but a much larger set of BMC products.
Service: I give this a 4 for one specific reason - I tried a Leinenkugel Sunset Wheat and the bartender actually ASKED first if I wanted an orange slice rather than just plopping one in my beer and essentially ruining my drink. Beyond that, pretty standard service and they do well to get your orders to you.
Selection: As mentioned above, a few really good offerings surrounded by not-so-good offerings.
They do have a wall of taps (literally) and it looks more impressive that it ultimately is when one factors in the BMCs. Again, not so much a fault of the business since I'm sure that's what a bulk of the people buy and they do need to make money - kind of the point.
Food: Solid! Great fish and chips, and their saratoga chips and bbq sauce kick ass! IMHO, there is no need to even look at their menu beyond those items as they're damn good.
Value: Like most places in the greater Cincinnati area, you really get what you pay for. I'm OK going there on the random occasion with some buds to drink a few beers and play cornhole, but it wouldn't be a place I'd want to frequent for a great craft beer selection.
2,093 characters
3
/5
rDev
-11.5%
vibe: 3 | quality: 3 | service: 3 | selection: 3 | food: 3
Lot's of potential, but floundering out of control. Beer bar and restaurant in a somewhat nice part of town. Very big place that is great to gather at to watch a game or two. Wall of taps. They must have 30-40+ taps on the wall behind the bar. Unfortunately they believe in quantity over quality, because with the potential to be a beer haven, they have every offering from Bud, Miller and Coors. Bud, Bud Light, American Ale, Miller, Miller Lite, Mich Ultra, Coors, Coors Light, etc. You can see how having that many taps it's possible to not have anything on of interest. The food is decent, and the atmosphere is great for the big game. It just saddens me that this would have so much potential to be a beer destination and it's wasted on catering to the swill drinking college crowd. I stop in every now and then, but it is far from a regular stop.
852 characters
2.38
/5
rDev
-29.8%
vibe: 1 | quality: 1 | service: 3 | selection: 3.5 | food: 3.5
A massive sports bar with plenty of projection televisions. The sound on the TV's was turned up to ridiculous levels, and the patrons were equally as obnoxious. The service was merely adequate. Although the food was pretty decent (ESPECIALLY the beer cheese burger, which is worth a trip by itself), the draft beer was awful. They've got a decent selection, and the wall of taps that requires the bartenders to use a sliding ladder to pour those at the top is entertaining, yet it's clear that their tap lines haven't been cleaned in an extremely long time. My party ordered three different draft beers, and all tasted musty and substantially different (read: worse) than bottled versions of the same beers. Fortunately, there is a decent bottle selection offered as well. Overall, the experience was not a good one, and I probably won't go back again unless it is for a burger.
878 characters
3.36
/5
rDev
-0.9%
vibe: 3.5 | quality: 3.5 | service: 3.5 | selection: 3
Stop in here after I went to Hyde Park wine and thought it was ok. It seemed to me to be just the average kinda of bar. Nothing really striking me as out of the normal range and it was just your typical average fare here. They had about 20 on tap, with about half being macro, or macro owned. What they did have micro was nothing spectacular, with the exception of Bell's two hearted. I did not have anything to eat, and to be honest did not hang around too long. Its right on a busy street and pretty out in the open with a big shopping center behind it, so I would imagine it gets quite busy during the course of a day. Overall not a terrible place, but I don't think I would go back as it really is just pretty average to be honest.
737 characters
4.03
/5
rDev
+18.9%
vibe: 4 | quality: 4.5 | service: 3 | selection: 4.5
Mulligan's is a neighborhood bar on the north end of Hyde Park. I've been here twice now and have gained two different opinions.
The atmosphere is good overall, here. Music is a little bit too loud, but some nice tables to sit at with friends over some good draft beer make it nice. This place is big. There's two rooms inside to sit at and a large outdoor patio open in the summer. The outdoor patio is really nice except that the music is still blasting out there. Second, I have been impressed with the quality here. Both times I've had beer here, it's tasted good, and the bartenders always fill your glass to the top. Next, I've had two different experiences with the service. The first time I was here, my friends and I came in rather late. We were served, but quickly some of the workers started hastleing us about leaving. That didn't impress me too much. However, the second time I was here, despite it being very crowded, the bartender served us immediately and was friendly. The selection of beers is great here. They have all their drafts on a wall with some of the taps high enough that the bartenders need to use ladders to fill up your beer. Some of the beers here are: Stone Arrogant Bastard, Blue Moon, something from Left Hand Brewing, some macros, and a good selection of import drafts. I can't remember all the draft beers, but there's about 20. I've never had the food here so I can't rate that. Overall, the prices seem reasonable for the area of town you're in though. I will be back at Mulligan's the next time I visit Cincy.
1,553 characters
3.68
/5
rDev
+8.6%
vibe: 2 | quality: 3.5 | service: 4.5 | selection: 4 | food: 3
Let's start by saying I don't have cable TV. I refuse to pay for commercial television. That's what commercials are for, to pay for the free broadcasting. Usually that's no problem except when your favorite team is the Chicago White Sox and you live in Cincinnati. So I turned into the first TV bar I saw as I was driving and realized the first game of the playoffs between the White Sox and Red Sox had just begun and was only being broadcast on the FX channel. That bar happened to be Mulligan's on Madision Road in what is officially Norwood, Ohio and not Hyde Park but it sure looks like Hyde Park in there. Anyway my jaw dropped when I strolled inside to see if they even had taps let alone taps with actual beers on them and caught a glimpse of the wall of taps of micro and craft brewed beers. There were almost as many taps as there were TVs and there were a lot of TVs. So I bellied up to the bar grabbed an Ed Fitzgerald and headed out to the patio to watch the game in absolute solitude with the exception of my own personal waiter who was very willing to make runs to the bar for me. It was a great place to watch the White Sox beat the sox off of the Red Sox. I'm sure the ambiance is more like a perpetual Monday Night Football crowd the rest of the time but the beer selection is wide and fresh and the food is reasonably priced and decent to eat. Na na na na, Na na na na, Hey hey hey, Good Bye.
1,411 characters
Mulligan's Hyde Park Pub in Cincinnati, OH
Place rating:
0
out of
100
with
7
ratings