Bali Hai Draft Beer
| PT Bali Hai Brewery Indonesia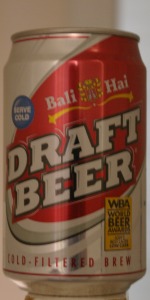 BEER INFO
Brewed by:
PT Bali Hai Brewery Indonesia
Indonesia
Style:
American Adjunct Lager
Alcohol by volume (ABV):
5.00%
Availability:
Year-round
Notes / Commercial Description:
No notes at this time.
Added by DrJay on 09-03-2008
Reviews: 4 | Ratings: 9

1.87
/5
rDev
-23.7%
look: 2.5 | smell: 1.75 | taste: 1.75 | feel: 2 | overall: 2
500ml can. +/- 4.85% ABV.
Surges out if the can upon opening; very fizzy.
Very much a "fizzy yellow lager" albeit with a bit of an artificial lime flavour. Possibly some glutinous rice adjunct.
Syrupy and sticky, with a light body and obvious overcarbonation.
I'd sooner drink Bintang than this.
D- / AVOID
★
312 characters

2.5
/5
rDev
+2%
look: 3.5 | smell: 2.75 | taste: 2.25 | feel: 2.25 | overall: 2.5
A Pitt classmate of mine and frequent drinking partner, David Atkinson, brought this CAN (among others) back for me during a recent Far Eastern excursion. I hit the hurdle of not having an approved picture in place, but I got that corrected and I am curious to try this beer.
From the CAN: "Serve Cold"; "Cold-Filtered Brew"; "WBA World Beer Awards Asia's Best Lager Low Carb"; "Bali Hai Draft Beer brewed from hand selected malts and hops."
Following the Crack!, I CANducted an inverted Glug, producing a finger of fizzy, bone-white with low retention. Color was Yellow-Gold (SRM = 4 -5) with NE-quality clarity and this signaled the return of the Gelt Gang of Midas, Mammon and Croesus, whom I had not seen for a while. Nose had a smell that I had not experienced since the early days of The CANQuest (tm), when AALs were the norm and not an anomaly. I got smoked tobacco, light cloves, a sugary sweetness and a musty yeastiness, all of which added up to my gag reflex kicking in. Mouthfeel was thin and watery. The taste was really sharp, like it might have been underfermented. Oof! I felt like I had just taken a blow to my solar plexus. It was not helped by letting it warm to room temperature, either. The finish was almost bland, but that would have been welcome in comparison to the lingering flavor that coated my tongue and throat. Minhas would be proud of this one.
★
1,379 characters

2.5
/5
rDev
+2%
Experienced in : Manila
Appealing to me : normal beer look and smooth texture
Less appealing to me : its kind of bitterness and smell
I am neutral on this beer.
★
180 characters
2.78
/5
rDev
+13.5%
look: 3 | smell: 2.5 | taste: 2.5 | feel: 3 | overall: 3.5
This beer was a very pale yellow, not much colour really, and very clear. It was topped by a fizzy white head that disappeared quite quickly after the pour. The aroma was mild, but had some crackery and sulfury notes to it. The same characters were found in the flavour, along with low bitterness and some sweetness. It finished quickly, with no real lingering flavours. Light in body with fizzy carbonation, quite dry. This beer was pretty close to flavourless, but it was really inoffensive and was a great thirst quencher in the heat and humidity of Bali.
★
558 characters
Bali Hai Draft Beer from PT Bali Hai Brewery Indonesia
-
out of
100
based on
4
ratings.