Cedar Bluff Discount Wine & Spirits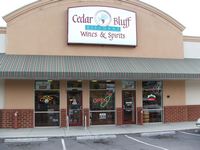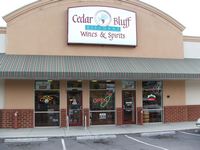 Store
9149 Cross Park Dr
Ste 101
Knoxville
,
Tennessee
, 37923-4505
United States
(865) 690-0690 |
map
cedarbluffwines.com
Notes:
Reviews: 9 | Ratings: 12
4.5
/5
rDev
+26.1%
I don't know about all of the other comments below but I do know that since July 1st of 2014 they have been able to sell a TON of new beers. They boast over 400 SKU including high gravs. They also just opened an 8 tap beer growler station! I love this store so I suggest anyone who has had a bad experience on the beer side, give it another shot. you most definitely will be impressed! Cheers!
398 characters
3.65
/5
rDev
+2.2%
So after I finally found it, after driving past a couple of times I managed to find the side street and came up through the back of the store. This was a decent place I have to say. Very clean and organized. Once I managed to find the beer selection I noticed it was gone, well not totally but there was literally like 10 different beers and none of what I was looking for. A couple DFH, a great divide yeti, and some Chimay…I am not really sure what to say of all that. It had a decent selection of liquor and wine, but unfortunately the beer selection is not really worth a trip in. May want to spend your time elsewhere.
624 characters
2.7
/5
rDev
-24.4%
Found the place easy enough, but finding the beer was another matter. A pretty big store with tons of hard liquor and wines. The beer selection is hiding on the very corner of a shelf next to Kahlua and crap like that. Maybe 12 different beers; seriously, 12. The only way I found the beers at all were due to the white Delirium Tremens bottles on the top shelf. I was looking for Stone since I cant find that in NC and good thing they had that. Otherwise, I may give this a 1 for selection. One good thing, it didnt smell like cigar smoke! Not worth anyones time.
564 characters
3.35
/5
rDev
-6.2%
Wow. What a kick in the NUTS.
Usually when you see a place with Discount beer, it ends up being awesome. Not this place. The beer was just dog-fish head beer some chimay and I think Yeti stout. I was shocked. The beer wall was even smaller than any other place. It wasn't exactly discount either. Totally lame. This is one of the few times I've walked out of a liqour store disappointed. That never happened. FU Cedar Bluff Discount Wine and Spririts.
You may want to stop by just for the Dog Fish head beer if you like that cause it's the only place I've seen that has it right now though.
593 characters

2.4
/5
rDev
-32.8%
I read about this place on here and had to check it out because it was near my hotel. It took me a few trips around the store to find the beer selection; it occupied four shelves about 4 feet wide next to the sugar water mixers. The selection was very thin: bombers of 3 stone varieties, some Titan IPA, 4 varieties of Mendocino, red, blue, and white Chimay, and Celebrator Double Bock. I thought living in PA was bad, but this high alcohol beer rule in Tenn is just silly. The prices were in line with PA, DE, and MD bottle shops. The store was very nice and clean with a good wine selection. The staff was on his cell phone so he couldn't answer any questions.
662 characters
3.85
/5
rDev
+7.8%
I was much happier with the selection here than the near-by McScrooges. One section near the center of the store is dedicated to what they label as "Super Beers". Being that this is a liqour store all beers here are over 6% ABV. They have all the standard stuff from Stone, a nice selection of DFH (including seasonals and limited offerings), belgians (St. Bernardus, Orval, etc.). I thought the staff was pretty friendly, we chatted about the Brewer's Jam we were in town to attend and I think they got a chuckle over me and my friends giddiness seeing beers we've never tried before. The beers I've tried from the stash I picked up there seem to have been handled decently.
675 characters
3.1
/5
rDev
-13.2%
Stopped by here on 8/20/04, hoping to find a decent selection of Stone brews. As pointed out by other reviewers, this is a wine/liquor store, and beer is an afterthought. Most of the beers were on a center shelf where they were exposed to sunlight, as well as the store's bright lighting. The Stone selection was limited to one bomber of IPA, two bottles of Old Guardian, and a half dozen of Arrogant Bastard. Not bad, but I was hoping find the Russian Imperial Stout. A few Belgians were stocked, including St Bernardus and Chimay. I bought a bottle of DeDolle Bos Keun, which I hadn't seen before. Four packs of Celebrator were also on the shelves. A couple of Mendocino Brewing sixers completed the American selection. Traquir House and Jacobite, comprised the selection from the British Isles. Not much here for the beer lover in search of the higher abv ales that are only available in liquor stores under Tennessee law. Service was nonexistent. The clerk acted as if I wasn't there, when he noticed I was examining the contents of the small, beer section.
The store is convenient to Interstate 40, but I would seek out another liquor store for any legitimate attempt at offering a decent selection of the 6%+ beers and ales.
1,232 characters

4
/5
rDev
+12%
Cedar Bluff is just a minute off I-40 at exit 378. As you turn on Cross Park Drive look North and the store will be up the hill.
The selection is small, much like everywhere else in the area. The cold case had two bottles of beer in it. The store is mainly a Wine and Liquor store as evidenced by the aroma of Peppermint Snapps throughout the store.
The selection is decent and the nicest thing is everything is priced by both the bottle and the six or four pack so you can grab a bottle out of a sixer and go with it. There are no lower alcohol beers in the store, so you would have to go elsewhere for those beers.
There still must be some better place in Knoxville for purchasing higher alcohol beers.
713 characters

4
/5
rDev
+12%
Cedar Bluff Discount has become my one-stop beer shop in Knoxville. Their selection only occupies a small area in the store, but man, is it ever packed with quality imports (Rodenbach, Traquair House, Unibroue, Schneider Weiss and Aventinus, Chimay, and several less famous Belgian brews) as well as top North American products like Stone, Dogfish Head, Mendocino, and others.
The staff is friendly, relatively knowledgeable, and eager to help. It has definitely earned a special place in my heart, and I don't make a trip home without stopping by to see what's new.
569 characters
Cedar Bluff Discount Wine & Spirits in Knoxville, TN
Place rating:
3.57
out of
5
with
12
ratings