Klosterbräu Braunbier
| Brauerei-Gaststätte Klosterbräu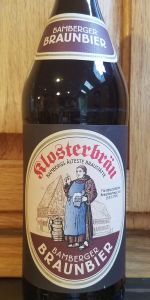 BEER INFO
Brewed by:
Brauerei-Gaststätte Klosterbräu
Germany
klosterbraeu.de
Style:
Märzen / Oktoberfest
Alcohol by volume (ABV):
5.70%
Availability:
Year-round
Notes / Commercial Description:
Eine Art Festbier und für besondere Anlässe. Der Name bezieht sich auf das "Fürstbischöfliche Braunbierhaus" zu Bam- berg (1533 - 1790). Bernsteinfarbenes, leicht malzaromatisches Bier. Süffig, weicher, vollmundiger Geschmack. Sehr gute Schaum bildung.
Added by UncleJimbo on 12-10-2003
Reviews: 15 | Ratings: 29
4.27
/5
rDev
+10.1%
look: 3.5 | smell: 4 | taste: 4.5 | feel: 4 | overall: 4.5
A- Bright with a light amber hue; adequate head, though somewhat low for a German beer.
S- Malty aroma of sweet molasses with a slight floral fragrance.
T- Sweet up front with a slight hop bite; malt profile of sweet bread with slight caramel notes; finishes with a nice, spicy noble hop bite--not too much but just enough to keep the beer from being cloying. Maybe even a hint of mint from the hops?
M- Well carbonated but not overcarbonated.
D- Light and refreshing; very drinkable.
Overall: This beer was a wonderful surprise. It seemed somewhere in between a Vienna lager and an Oktoberfest/Maerzen, only instead of toasted notes there are caramel notes. Don't know if they're trying to resurrect the historical "Braunbier" style (which I believe was more a general category of beers than a specific style, though I might be wrong) but this was wonderfully flavorful. A great beer for both geeks and newbies alike.
919 characters
4.13
/5
rDev
+6.4%
look: 4.5 | smell: 4 | taste: 4 | feel: 4 | overall: 4.5
Was unsure what style this was, but their web says "Eine Art Festbier und für besondere Anlässe" which roughly means "A festival type beer and for special occasions". Had a 0.5l glass vom Faß for EU2.50 at the Gastätte on 25Sep06.
Poured into my Stange a light copper color, clear with steady carbo. Head was fluffy and light beige, starting at 1.5" yet slowly ebbing. Left good lace in the glass as I quaffed, with about a 1/3" head near the finish. Aroma has somewhat sharp and spicy hop character, with toasty malt notes as well. Medium-bodied, the Braun had a light bit of prickliness on the tongue, though not a detriment at all. Leans more to the hoppy side, flavor-wise, imo. Has a light sweetness soon overcome by hops which are both a bit earthy and also a tad spicy. This hop trait lasts well on the palate. Must also mention a soft hit of caramel coming through. Quite a good bier; easily sessionable.
Prosit!
overall: 4.15
appearance: 4.5 | smell: 4 | taste: 4 | mouthfeel: 4 | drinkability: 4.5
929
1,020 characters

4.12
/5
rDev
+6.2%
look: 4 | smell: 4.5 | taste: 4 | feel: 4 | overall: 4
Bottle purchased at Kaufmanns in Bamberg.
.5L bottle served in a tall lager glass.
A- clear, Deep Brown with a two finger head. Long retention. Lots of lacing.
S- Toasted malt, earthly tones with scents of freshly ground coffee.
T- Deep toasted malt, complex herb flavors with coffee and earthiness, hints of honey, toffee and fresh picked mushrooms; mellows to distinct bitter hops.
M- medium boy, mild carbonation, crisp finish.
D- This is a fantastic beer.
465 characters

4.08
/5
rDev
+5.2%
look: 4.5 | smell: 4 | taste: 4 | feel: 3.5 | overall: 4.5
I had this (vom fass) at the brewery.
A: Caramel colour; white head, great retention, some lace.
S: Bread & caramel malt, some hops (slightly earthy).
T: Caramel, toffee, earth & grass. It starts sweet and finishes slightly bitter (but with a little toffee in the aftertaste).
M: Moderate body is slightly syrupy, carbonation is moderately-high.
D: Approachable, balanced, wonderful.
398 characters
4.03
/5
rDev
+3.9%
look: 4.5 | smell: 4 | taste: 4 | feel: 4 | overall: 4
Had this on tap at Klosterbrau in Bamberg.
Rich toasted almond in color, slightly cloudy, with a creamy head.
Really nice dark malt on the nose, hints of cloves, and mild hops.
Rich caramel and strong malt on the taste, minor elements of baking spices. Balanced start to finish.
Medium to full bodied in texture. Velvety on th the tongue with moderate carbonation that evenly spreads the flavors around the mouth.
Very drinkable. Full bodied but smooth. Easy to put down and easy to order another.
505 characters

4.03
/5
rDev
+3.9%
look: 4.5 | smell: 4 | taste: 4 | feel: 4 | overall: 4
Sampled on tap at the brewery.
This braun bier poured a clear, dark amber color with good, fizzy bubbling and pillowy, slightly off-white foam that left some lace. The smell was a nice clean, grainy, malty aroma. The taste was malty with grain and some floral and bitter hops and a touch of barley. The mouthfeel was smooth with medium body and good carbonation. The floral and bitter hops flavors lingered. This was an enjoyable beer.
2007 Review
This beer poured a clear, deep amber color with white foam that settled but clung to the glass a bit. The smell was modest, but some malt and a hint of caramel were present. The taste was nicely malty with a touch of caramelization. The hops were present but were very mild. Overall a very nice flavor. The mouthfeel was smooth with medium body and low carbonation feel. The pleasant malty flavors lingered lightly. This was a very good beer, very easy drinking.
4.0, 3.5, 4.5, 4.0, 4.5
938 characters
4.03
/5
rDev
+3.9%
look: 4.5 | smell: 4 | taste: 4 | feel: 4 | overall: 4
500ml swingtop. dated for "11.12.08", but i was assured that this was kept in the fridge the whole time.
almost clear copper color with amber tones. (lots of sediment in the bottle, so needs to decant properly.) moderate, fluffy head soon fades to thin layer. delicate lacing, with lots more further down the glass.
toasted and caramelized bread aromas with whiff of grassy noble hop. some faint metallic, "flinty" notes
more toasted bread and caramelized malts in the aroma, with quick counterpoint of grassy, almost spicy noble hops, with a moderate to bold flash of bitterness. malty finish with alcohol and phenols peeking through momentarily.
almost thin, but manages to be quite smooth but for a moment of astringency in the finish. crisp carbonation for refreshment and body.
786 characters

4.01
/5
rDev
+3.4%
look: 4.5 | smell: 3.5 | taste: 4 | feel: 5 | overall: 4
Had a few 1/2L glasses of this at the brewery. The BA style listing of Märzen is probably a good placement although it's apparently a remnant from a category of beer that's no longer really used.
Arrives a copper/brown color with a 1/2" head at the top. Not as brown as most dunkels. I'd say the coloration makes it unique to begin with.
The nose is pretty hoppy - probably the hoppiest non-pils I've had in the area. In addition, there's a definite bready note as well.
The flavor is also a bit unexpected. It reminds me a lot of an altbier, only with fewer fruity notes due to the lager yeast. Hops and caramel malts blend well and are truly equals in this case.
The finish is dry, with floral hops only lightly interspersed with whole grain bread.
Like pretty much everything in the region, you can drink it 'til the places closes if you like. In a fairly quick tour of Bamberg, it was a beer I felt compelled to go back to for a second round.
Unlike anything else I've had (beyond some well lagered altbiers) this stands out in an area with literally dozens of world class beers.
EDIT: Looking back to this beer a few months later makes me think that some of the US craft lagers like Boston Lager and Brooklyn Lager have some similarities to this type of beer. Since both have roots going back to old recipes, they might have more in common than we realize.
1,364 characters

3.92
/5
rDev
+1%
look: 3.5 | smell: 4 | taste: 4 | feel: 3.5 | overall: 4
Nice, brownish-copper color with a respectable - but small - white head. The aroma is great...lots of bread and caramelized malt smells. It smells like the brown crust of a multi-grain bread, with a little DME sprinkled on top. Pretty good. The taste is centered around a serious malt sweetness, although some hop bitterness comes forward as well. Nice balance. The mouthfeel is lighter than I expected. All in all, this one is quite drinkable.
444 characters

3.91
/5
rDev
+0.8%
look: 2.5 | smell: 4 | taste: 4 | feel: 4 | overall: 4
50cl serving in willibecher at Klosterbrau, Bamberg
A - Copper clear body with no head retention whatsover. Served far too cold
S - Strong toffee malt with light raisin
T - Toffee malt sweetness turns to toast malt in clean lager finish. A minimal hop note lingering
M - Medium carbonation and body
T - Shame it was served teeth chitteringly cold. Everyone in the pub drinking this beer were holding there glasses trying to warm it up. Otherwise a tasty marzen.
463 characters
3.86
/5
rDev
-0.5%
look: 4.5 | smell: 3.5 | taste: 4 | feel: 3.5 | overall: 4
Best before 08-08-05. Poors in perfectly with nice, thick, white, and lasting head. Beautifull and totally clear amber beer make presance great. Nose is sweet malty and remembers me of germinating barley. Further estery and litle oxidised. Taste is full malty too, sweetish and litle caramellic. Goes then into sweet aftertaste that also show some bitterness. To bad mine wasn't 100% fresh but nice and decent brew.
415 characters
3.75
/5
rDev
-3.4%
look: 4 | smell: 4 | taste: 3.5 | feel: 3.5 | overall: 4
On tap at Klosterbräu.
Clear brown, orange, gold melange with a fluffy white cap.
Grain and hop at first but I get some sweetness as well. Light alcohol and fruit notes.
Grain and noble hops with a light alcohol kick at the end.
Active carbonation with a light-medium body.
Enjoyable as all hell.
302 characters

3.58
/5
rDev
-7.7%
look: 4 | smell: 3.5 | taste: 3.5 | feel: 4 | overall: 3.5
Half litre flip-top bottle, dark brown colour, hints of ruby, clear with a large, slightly tanned head. Malty aroma with notes of farmyard, straw, manure. Tasted caramel, unroasted malts, hints of smoke and raspberry. Had a Märzen like sweetness. Smooth texture, body on the heavy side of medium, light caronation. Overall it defies classification, a Dunkel/Märzen hybrid, interesting and very drinkable.
406 characters
3.38
/5
rDev
-12.9%
look: 3.5 | smell: 3 | taste: 3.5 | feel: 3.5 | overall: 3.5
Great head, dense and lasting on a transparent and highly carbonated light brown body. The smell shows sweet caramel malts, but is a little weak. The taste shows roasted malts, caramel and wood with toasted notes, slightly citric and sour, but not overly sweet. Hoppiness is low. Simple, drinkable, but not amazing.
315 characters

3.19
/5
rDev
-17.8%
look: 2 | smell: 3 | taste: 3.5 | feel: 3.5 | overall: 3
Served on-draught into a .5L Klosterbrau stein in Bamberg, Germany. Reviewed from notes.
A: Pours a half finger head of okay thickness, no cream, and poor retention. It's hard to see the colour in the stein, but it seems to be light caramel-gold.
Sm: Caramel, nuts, and maybe amber hops. A mild strength aroma.
T: Hoppy body with notes from the nose throughout. Tastes like a festbier: simple and easily drinkable, but not bold or exciting. Lots of caramel, or at least caramelized malt. No hop layering is present; the balance is not fantastic, but the hops do mesh well together. Built well for the style.
Mf: Smooth and wet with nice coarseness on the climax. Pretty complementary of the style.
Dr: Easy to drink with an average ABV and not a whole lot of flavour. Worth a go for any beer fanatic, but far from exemplary.
834 characters
Klosterbräu Braunbier from Brauerei-Gaststätte Klosterbräu
3.88
out of
5
based on
29
ratings.