El Jefe Weizen Ale
| Hale's Ales Brewery & Pub
BA SCORE
82
good
52
Reviews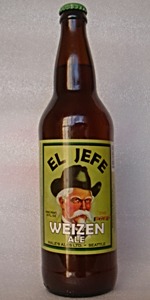 BEER INFO
Brewed by:
Hale's Ales Brewery & Pub
Washington
,
United States
halesbrewery.com
Style:
Hefeweizen
Alcohol by volume (ABV):
4.50%
Availability:
Year-round
Notes / Commercial Description:
No notes at this time.
Added by cvschaller on 03-12-2005
Reviews: 52 | Ratings: 103
3.85
/5
rDev
+7.8%
look: 4 | smell: 4 | taste: 4 | feel: 3.5 | overall: 3.5
Slightly hazy pale golden color. Decent fluffy little head.
Smell is pretty inviting. Lots of lemon zest, pepper, clove, white grape, and some earthy aromas present.
Starts a bit sweet with lemon and banana flavors. Pepper and hop flavors are pronounced. Hop flavors are spicy. Tartness comes in towards the finish. Ends bitter. Tastes pretty good.
Mouthfeel is really light and a bit prickly.
This is a pretty good beer. I wouldn't call it a Hefeweizen but El Jefe sounds so cool. I think if this was a tad less bitter I could drink a whole lot more of it. Still a good brew.
★
583 characters
3.6
/5
rDev
+0.8%
look: 3.5 | smell: 3.5 | taste: 3.5 | feel: 3.5 | overall: 4
A - Into a tall Paulaner glass: cloudy pale apple cider-like appearance with a modest but dense white cap and lacing.
S - Corriander, some banana, white pepper, and clove.
T - Pretty much as it smells, with the white pepper up front that fades to the spice, green apple and bannana hints. Finishes a bit sour.
M - Light carbonation and a bit creamy.
D - Nice drinkability - would be decent for warmer weather.
★
413 characters
3.79
/5
rDev
+6.2%
look: 4.25 | smell: 4 | taste: 3.5 | feel: 3.75 | overall: 4
A really good hefeweizen.
Pretty tan-gold color, a bit cloudy. Very fine in the head, barely off-white.
Smells nice, mild, hints of citrus.
Taste is clean: wheat, smallest bit of mild hops, lemon/tangerine. Some odd notes of sweet, soapy, bubble gum.
Mouthfeel is light to moderate.
Overall a fine beer, easy to drink, good with food. A go-to-beer when a heavier beer isn't indicated. Perhaps a shade less good than Pyramid, but I've not had them side-by-side.
★
466 characters
2.9
/5
rDev
-18.8%
look: 3 | smell: 3 | taste: 3 | feel: 4 | overall: 2
I got this in Colorado, no telling how old it might be.
Pours almost flat. very light bubbling from the bottom of the sam adam's glass. Good color, nice orange peel color. Smells sour, citrus, good impresion.
Unfortunately it's pretty much dead flat.
Nice taste, sweet, light with some gentle bitterness. I like it, except that there isn't any bubbles. Beer without bubbles is like mac & cheese without the mac. Cheese is good by itself but something important is missing.
★
478 characters
4.29
/5
rDev
+20.2%
look: 4 | smell: 5 | taste: 4 | feel: 3.5 | overall: 4.5
My wife brought this back from a trip to Seattle:
Pours a murky golden straw little in the way of a white head. Smells awesome- definite notes of banana and yeast; in a word, I would describe it as inviting and delicious.
Tastes also of bananas, with a little bit of bitter (though not hop bitter) at the end.
My only wish is that it were a little more carbonated, but this is an awesome brew. Many thanks to my wife for procuring it for me
★
441 characters
2.92
/5
rDev
-18.2%
look: 3 | smell: 3.5 | taste: 3 | feel: 3 | overall: 2
It was surprisingly clear for a Hefeweizen. The head was fizzy and dissipated quickly. The smell was quite yeasty and a bit alcoholic--reminded me a bit of La Fin du Monde. Taste was a bit odd. Some banana came through, most clearly in the aftertaste. It was not bad, but it was not good enough for me to really enjoy drinking it; so I had to mark it down for drinkability.
★
373 characters

3.23
/5
rDev
-9.5%
look: 3.5 | smell: 3 | taste: 3.25 | feel: 3.5 | overall: 3.25
Whoa! , First taste and I though mighty German but the finish was weak. It did remind me of a fine German Weizen I had several years ago introduced by a German Soccer player. A summer weizen perhaps, not sure where El Jefe is perhaps in Argentina?, No this one somehow is in the PNW.
★
283 characters
4.22
/5
rDev
+18.2%
look: 3.75 | smell: 4.25 | taste: 4.25 | feel: 4.25 | overall: 4.25
From a can into a stein. Hazy yellow with a tenacious dense head of foam. Wonderful aroma of yeast sweetness and hints of citrus. Slightly astringent and quite effervescent. Peppery, a little bit of citrus. This is a really nice hefeweizen!
★
246 characters
4.08
/5
rDev
+14.3%
look: 4.5 | smell: 4 | taste: 4 | feel: 4 | overall: 4.25
Smell out of bottle is primarily malty with subtle hops.
Nice yeasty, unfiltered look. Head that settles but never dies, floats on top.
Nice milky first feel, malty but zesty citric taste, but not too overpowering or too sour. Not too bitter.
Smell out of glass is more lemony.
Even though it's winter time now, I can tell this would be a spectacular summertime beer.
Subtle apple, but smooth and no bad aftertastes.
★
421 characters
3.18
/5
rDev
-10.9%
look: 4 | smell: 3.5 | taste: 3 | feel: 3 | overall: 3
22 ounce bottle. Pours a hazed light amber color with a buttery head that leaves a lacey ring. Aroma is aromatic and pleasant with a balance of banana and citrus. The appearance is somewhat hazy golden-colored body with a large. Fizzy with a slightly acidic tang that contains mild fruit flavors. Finishes with a dry taste and more hopped than a typical Hefe. A full bodied version of an American wheat with a mild banana and clove essence.
★
440 characters
2.06
/5
rDev
-42.3%
look: 3 | smell: 2 | taste: 2 | feel: 2 | overall: 2
22 oz bomber poured into a weisbierglas. Big frothy white head of at least 1.5 inches fills to the top. I don't really pick up much nose, maybe some hops.
First pull tastes faintly lemony or fruity in some way. Next I start smelling bathroom cleaner and, by goodness, I think I'm drinking the 'scrubbing bubbles'.
I poured out the remaining 2/3 of the bottle. This offering from Hale's falls far short of Widmer or Pyramid for sure. It's not even on the same scale as the Bavarians.
When I studied in Seattle in the early 1990's, Hale's Pale Ale was the first micro that I really, really liked. Bummer, El Jefe tastes like the boss of the janitors!
★
652 characters
2.23
/5
rDev
-37.5%
look: 3.5 | smell: 3 | taste: 2 | feel: 1 | overall: 2
Serving: Poured from a 22 oz bottle into a pint glass.
Color: Dark yellow/orange with a medium haze.
Smell: Some citrus and banana.
Taste: Sour with a slight citrus. The after taste reminds of what my mouth felt like after eating Sour Straws as a kid.
★
254 characters
El Jefe Weizen Ale from Hale's Ales Brewery & Pub
3.57
out of
5
based on
103
ratings.