El Jefe Weizen Ale
| Hale's Ales Brewery & Pub
BA SCORE
82
good
53
Reviews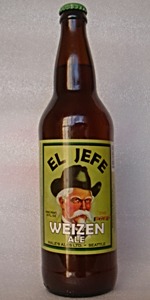 BEER INFO
Brewed by:
Hale's Ales Brewery & Pub
Washington
,
United States
halesbrewery.com
Style:
Hefeweizen
Alcohol by volume (ABV):
4.50%
Availability:
Year-round
Notes / Commercial Description:
No notes at this time.
Added by cvschaller on 03-12-2005
Reviews: 53 | Ratings: 105
2.6
/5
rDev
-27.2%
look: 2.5 | smell: 2.5 | taste: 2.5 | feel: 2.5 | overall: 3
22 oz bomber w/ no bottled on or best before date.
Hazy golden straw, smallish head for a hefe, only two fingers high and rapidly dissipating.
Aroma is mildly banana and very light clove.
Flavor is mostly lemony with a slight spice finish.
I bought this because el jefe is my nickname, that's what I get for going for the gimmick. Probably wouldn't buy again.
373 characters
3.4
/5
rDev
-4.8%
look: 3 | smell: 3 | taste: 3.5 | feel: 4 | overall: 3.5
Appearance- Reasonably cloudy gold/yellow with a decent, but not great white head. Head settles out VERY quickly, leaving no lace.
Aroma- Good, clean, failry sour aroma. Smells of fresh lemons. Not much in the way of banana or clove. Smells very tart. Hmmm...
Taste- Tastes fare more interesting than it smells. Fairly sour and tart with a bite at the back of the throat. Lots of green apple in the aft-taste. Hint of banana and clove. Not as much as some hefes. Kind of spicey for a hefe, but it's not unpleasant. Missing some things I expect in a hefe, but it's interesting enough to where I wouldn't mind trying another one.
Mouthfeel- Medium body for hefe, but not as chewy as you might expect. Good carbonation level. Nice CO2 bite.
Drinkability- Very refreshing. Still lacks something I expect in a hefe, including the clove and banana. But I would definately give this a whirl.
896 characters
3.85
/5
rDev
+7.8%
look: 3.5 | smell: 3.5 | taste: 4 | feel: 4 | overall: 4
Hale's El Jefe pours a clearer than might be expected hefe. It's hazy - even quite hazy - but not cloudy. You really need to stir up that yeast! And, once it's in there it helps round the flavor. Golden in color. Bright-white frothy head. Retention should be better. Lacing could be better. The nose is phenolic, but plastic-like rather than banana-like. Lots of fruit. Peach. Green banana. Apple. Dull plum. Interesting. In the mouth it's light-medium in body with a crisp effervescence. The flavor shows some more of the yeasty phenolic character, but otherwise it's clean. Basic. Wheatish malt. Lots of yeasty fruitiness. Just lightly sweet. Well-balanced. Finishes short and dry. Not too phenolic. A decent American weizen.
727 characters

3.65
/5
rDev
+2.2%
look: 3.5 | smell: 3.5 | taste: 3.5 | feel: 4 | overall: 4
Appearance: light hazy golden yellow in color. A one finger head falls quickly to surface spots. Soft spotty lacing develops.
Smell: banana and a hint of spices.
Taste: mild grain malt level with noticeable bananas, clove, lemon, and a bit of yeast spiciness. Mildy refreshing.
Mouthfeel: lightly dry and crisp from start to finish. Very short grainy banana aftertaste. Light-medium in body.
Drinkability: pretty decent. I can say it easy to quaff and the flavor profile is good. Worth a try.
506 characters

2.95
/5
rDev
-17.4%
look: 3 | smell: 3 | taste: 3 | feel: 2.5 | overall: 3
22 oz bomber purchased at Capital Market, Salem. Its a ok looking "hefe", the usual cloudy orange with a small white head. The aroma is a little on the sweet/candy grape flavoured bubble gum side, some small hints of banana Taste started off ok..though slightly medicinal..bananas, estry..but that didnt last a second and itwas replaced by a really sweet flavour and in the end takes on the appearance of a regular boring old American Wheat..or even a blonde. Mouthfeel..i did not like..to cloying and sticky. Its drinkable but really I paid $3 for this and i can get a 500ml of Paulaner at the same store for $2..I know which i prefer.
636 characters

4.04
/5
rDev
+13.2%
look: 3.5 | smell: 4.5 | taste: 4 | feel: 3.5 | overall: 4
An off beat bottle of an unknown ale found at the Beverage Warehouse in Culver City, I wonder what is inside, Maybe something good and Maybe something bad.
Poured in to my Paulaner Weissbier glass I get a good frothy and foamy head and the proper cloudy gold/yellow color with a puffy white head. Head dies a little too quickly though.
Smell is good candied and spiced bananas and phenols. Slightly stronger in the cloves and spice end of the Hefeweiss spectrum. Good clean Hefe smell though it is exactly as it should be.
Taste is slightly dry and tart with a good spice and cloves flavor in the mouth at the beginning. Banana kicks in a bit more after a while and lemon tartness too. This is quite a tasty Hefe that tends to be on the tart and spicy end of the beer style. Faintly detectable bitterness from hops. Slight lingering malt sweetness in the after taste.
Mouthfeel is good.
A quite good Hefe Weizen no matter where it was made. Flavor is spot on for the style. A good drinker that I probably would have liked better if it were warmer outside. An extremely competent German Style Hefe Weizen made in the USA.
1,135 characters
2.06
/5
rDev
-42.3%
look: 3 | smell: 2 | taste: 2 | feel: 2 | overall: 2
22 oz bomber poured into a weisbierglas. Big frothy white head of at least 1.5 inches fills to the top. I don't really pick up much nose, maybe some hops.
First pull tastes faintly lemony or fruity in some way. Next I start smelling bathroom cleaner and, by goodness, I think I'm drinking the 'scrubbing bubbles'.
I poured out the remaining 2/3 of the bottle. This offering from Hale's falls far short of Widmer or Pyramid for sure. It's not even on the same scale as the Bavarians.
When I studied in Seattle in the early 1990's, Hale's Pale Ale was the first micro that I really, really liked. Bummer, El Jefe tastes like the boss of the janitors!
652 characters
3.92
/5
rDev
+9.8%
look: 3.5 | smell: 4 | taste: 4 | feel: 3.5 | overall: 4
Presentation: 12 fluid ounce brown glass bottle sealed with a green colored crown cap. Single lime-green label has a picture of a Colonel Sanders type figure complete with white hair and a black hat. Labeled as "El Jefe Weizen Ale", a rather cheesy name play I have to say. "The Boss" has no listed strength or Best Before Date.
Appearance: Glad I used my Erdinger Weissbräu tall glass because the luscious white head positively raced up the glass sides and filled it with a minimal amount of fluid. As it collapsed with an audible fizz the, rested white head soon returns to more logical proportions and sits atop a fused golden body. More milky, than clouded, yet held to the light the body soon exhibits a faded straw torso. Reasonable head retention, but time kills the white collar and the lack of lacing ultimately detracts.
Smell: Reigns soft fruits with freshly peeled bananas. Tartness licks its own back end with a long sharp tongue. Decent strength with a self-confident "I know where I'm going" feel about it.
Taste: The first mouthful portrayed an average Hefe feel, but subsequent samples started to reveal a very fruity body, lots of tropical island fruits with some banana. Soft peaches and passion fruit mix with the wheat in the middle, but the finish has a little acidity and a citric pucker, maybe from the hops, who knows. Sweet fruity finish with vague hints of bubblegum in the latter quarter of the Bomber, but this has a solid ending.
Mouthfeel: Light airy body to start with, but closer inspection and a longer exposure to this one shows that it has a fulfilling Mouthfeel without ever dominating the traditional soft feel of Hefe's. Carbonation is slick with a spritzy demeanor.
Drinkability: A solid Weizen with a fruity tropical dimension that really lends quaffability to what can otherwise be a rather boring style.
Overall: Picked this one at BevMo, with such a corny name I almost left it on the shelf but I figured I would give it a whirl. I'm glad that I did, for this is a nice fruity angle on the American Hefeweizen.
2,084 characters
4.27
/5
rDev
+19.6%
look: 3.5 | smell: 4 | taste: 4.5 | feel: 4 | overall: 4.5
Picked up a bomber at bevmo in west hollywood. First time i've seen it there, and there seems to be a growing Hale's section lately. El Jefe has an interesting label with an older guy that has a moustache similar to Rollie Fingers of Milwaukee brewer fame. Poured into a Tulip it forms a large head which eventually falls to a thin ring like appearance and lacing is almost non existent. Cloudy and golden.
Generally speaking I'm not usually a fan of this style mainly because there is such a disparity between the "good ones" and the rest of 'em. This is one of the "good ones". Meaning its got some girth to it, while remaining very drinkable. Exotic fruits are lucious, banana comes through with flying colors. Digging deep you can get a touch of hops that help clean up, but in the end its the light citrus that finishes the bill.
This is a kick ass Hefe and the best I've had in recent memory. This style seems to be very hard to make a good one as there are so many that are just boring and uneventfull in the slightest. This one brings it.
1,053 characters
4.1
/5
rDev
+14.8%
look: 4 | smell: 4 | taste: 4 | feel: 4 | overall: 4.5
Pours a very light yellow with white haziness. The head pours about a 1 inch thick creaminess, as the session progresses it turned into lacing at best. The smell is of light grain, the yeast is buttery and biscuity, hints of lemon cloves, a spring run through a forest. The taste has a specific belgian yeast characteristic that I love, citrus lingerings with a banana finish. The grains are noticable but not overbearing. Very nice with a salad or during lunch, light enough to keep you going. Very nice.
505 characters
2.83
/5
rDev
-20.7%
look: 3.5 | smell: 3 | taste: 2.5 | feel: 3 | overall: 3
Lots of tart wheat aroma with subtle spiciness. (not banana/clove, more like yeast/estery.) Smells a little like dried apricots. No hops in the aroma, which is right for most wheat beers. Deep gold color and cloudy. Big head fades quickly leaving a small white head.
Tart start, in fact tart is dominant. Not off or infected, but this can happen with a good amount of wheat in the grist. Pretty nice malty finish but again, tart throughout. Very little hop flavor. Not a whole lot of spice either.
I had this at the brewery a week or so ago and was WAY more impressed than the bottle version. I'm a bit surprised that I don't really care for this beer. Will take notes at the brewery and review again. Could be an old bottle as wheat beers must be consumed fresh imo.
773 characters
4
/5
rDev
+12%
look: 4 | smell: 4 | taste: 4 | feel: 4 | overall: 4
Significantly cloudy amber-orange, emphasis on the former. The actual yeast particles aren't as readily apparent as they are in most hefes, they simply blur and soften the color of the beer. Atop the liquid is a head of regal white, a color that I just made up (it means closer to pure, bright white than to ivory). Even though the cap is semi-firm, it slowly melts rather than maintaining its structure as it falls. Random thick chunks of lace stick to the glass.
Hale's El Jefe has a far, far better nose than the vast majority of American wheat beers (Three Floyds Gumballhead excluded, of course), in large part because it's so vibrant. It's also sweet and intensely banana-like with an underlying tropical character; passionfruit perhaps. This is a fruit punchy nose and a good one.
I got a sense of the flavor when I had to slurp the head to keep it from overflowing the glass. When the foam is this loaded with flavor, you know something good is going on. Again, I can't help but compare this beer to the legions of truly crappy American pale wheats that every brewer and his brother tries to foist off on us. Although this isn't lip smackingly outstanding beer, it is head and shoulders above most of its peers.
It's acceptably malted with a jacked-up flavor that has to be coming from hops. Yeast just isn't this fruitysweet. In no way is El Jefe in Gumballhead's league, but it does remind me of that beer in terms of the amount and type of flavor. It's tropically fruity and tangily sweet and I seem to find something new each time I sip.
The light body doesn't come close to losing its composure and even manages just a hint of slick mouthcoating on the longer than expected finish. The mouthfeel is soft and airy and fits the flavor and the (presumed) mission statement perfectly. There's no letdown in terms of carbonation either; it's lively, but not overly so.
El Jefe (The Boss) is aptly named. It's a kick-ass American weizen that does what it must to stand out in a sea of utter insipidness. It delivers loads of flavor, good flavor, to a style that often lacks imagination. A solid effort that would be a summer staple if I lived in the Pac NW.
2,180 characters

3.92
/5
rDev
+9.8%
look: 3.5 | smell: 4 | taste: 4 | feel: 3.5 | overall: 4
This is a big interpretation of the style with bananas, cloves, citrus and yeast coming together in a cloudy party. I had fun drinking this beer because it seemed the brewer had fun with his take on the style. Not the most refined Hefe it certianly is one of the biggest and flavourful.
286 characters
El Jefe Weizen Ale from Hale's Ales Brewery & Pub
3.57
out of
5
based on
105
ratings.