Hale's Troll Porter
| Hale's Ales Brewery & Pub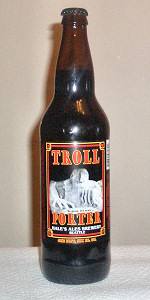 BEER INFO
Brewed by:
Hale's Ales Brewery & Pub
Washington
,
United States
halesbrewery.com
Style:
American Porter
Alcohol by volume (ABV):
7.00%
Availability:
Year-round
Notes / Commercial Description:
No notes at this time.
Added by drewbage on 06-13-2003
Reviews: 39 | Ratings: 74
3.75
/5
rDev
-2.1%
look: 3.75 | smell: 3.75 | taste: 3.75 | feel: 3.75 | overall: 3.75
On tap at the Athenian, Pike Place, Seattle
A: Shoe polish brown with a nice tan one-finger head that lingered.
S: Chocolate, light coffee, cocoa, anise and caramel.
T: Lightly robust with a chocolate/caramel/cocoa charge that finishes with a lightly bitter coffee note. Sweet.
M: Medium with medium, creamy and charred carbonation.
O: What a cool homage to the Seattle Troll. Great label, too. Since we sat on the Troll's hand, it was fitting to quaff this tasty porter. You go, Hale's Ales.
505 characters
3.7
/5
rDev
-3.4%
look: 3.5 | smell: 3.5 | taste: 4 | feel: 3.5 | overall: 3.5
16oz, tap in Bainbridge Harbour
A: Deep dark opaque brown. There is some reddish hues around the bottom. Fluffy slightly off white nitro blanket head. Leaving tons of lacing on the glass.
S: Mild roast. Milk chocolate. Some slightly piney hops as well.
T: A little bit of bitterness up front. In the middle of the sip you get that roast and chocolate character. The nitro makes this nice and smooth.
M: Medium bodies
O: B-
427 characters
3.68
/5
rDev
-3.9%
look: 4 | smell: 3.5 | taste: 3.5 | feel: 4 | overall: 4
A: A deep brown with ruby highlights... close to black. Head picks up late, but ends up a bubbly creamy light tan and sticks around for a while.
S: Smoky or toasty malts... a little bigger than some I've had? Coffee-like, and mildly chocolate aromas, almost stouty.
T: A pretty big porter, very malty... a little tinny or acedic - can't quite put a finger on it. Some deep, dark fruits, a touch of coffee, and a sweet edge post-finish.
M + D: Calm, smooth, and a pretty hefty aftertaste. Makes for a little slower drinker, but quite good if taken that way. A lot of burnt notes through it all... maybe like burnt rubber in some ways? Just a little though... it's decent, and I'd give it another shot... a bomber purchase at a time, probably.
747 characters
3.68
/5
rDev
-3.9%
look: 4 | smell: 3.5 | taste: 3.5 | feel: 4 | overall: 4
Had this on tap at The Elk Public House for $4.00. This is named for the infamous Troll statue/sculpture located under the Aurora Street Bridge near Seattle's Fremont district, which depicts a large troll devouring an actual Volkswagen Beetle.
This was a dark brown in color, with a good sized tan head. Mild amount of lace – it was there, but it wasn't terribly noteworthy.
Smell was of roasted malt and brown sugar. I thought this, while tasty smelling, could use a little bit less sweetness in the nose.
This was pretty much the same as the nose. It starts out with a nicely roasted character. Then there's a sweet brown sugar taste. This didn't taste bad at all, but I thought it could have been better if it was more toned down. Still, a fine porter to quaff.
This was somewhere between medium and full-bodied. Acceptable level of carbonation for a porter.
This was a little too sweet to be considered an outstanding porter, but it was still quite good. The sweetness wasn't to an unpleasant, cloying degree, so I think I could have had several of these if time (I had to be at work in an hour) and finances (I'm currently a broke-ass poor grad student) permitted.
1,220 characters
3.65
/5
rDev
-4.7%
look: 4 | smell: 3.25 | taste: 3.75 | feel: 3.75 | overall: 3.75
22oz bottle served in pint glass. Beer pours muddy brown with a heavy and substantial head. Caramely porter aroma suggests sweetness and toastiness. But the nose does not prepare me for the massive viscous beast in the bottle. Big on coffee flavors from the roasted malt. Heavy, but also very neutral on the back of the tongue. I don't know if I should describe this as delicate or overpowering; it's like there's a really high volume of really mild flavors. One thing is for sure: it masks it's 6.6% ABV (per Hale's website) perfectly. The finish is off-dry and pretty well balanced for how tall the profile of this porter is. I don't get any particular citrus or other specific hop flavors, but there is a swarm of lace left on my glass. Resiny.
747 characters
3.61
/5
rDev
-5.7%
look: 4.5 | smell: 3.5 | taste: 3.5 | feel: 4 | overall: 3.5
Appearance: Pours a pretty dark chocolate with ruby highlights and a forthy mocha head; nice retention and lace patterns
Smell: For all the malt that is in this brew, it is very hard to discern it in the aroma, which is more herbaciously hoppy than anything else
Taste: I'm not surprised, therefore, that the hops in the aroma immediately jump into the flavor profile, with just a little hint of roast and chocolate underneath; by mid-palate, the brew turns a bit phenolic, with an odd plastic flavor; after the swallow, the roast finally arrives, and the finish has a coffee ground bitterness
Mouthfeel: Medium body with moderate carbonation
Drinkability: While this beer has its merits, I cannot say that I am too crazy about the flavor profile
Thanks, cannabanaceae, for the opportunity
795 characters

3.59
/5
rDev
-6.3%
look: 4.5 | smell: 3 | taste: 3.5 | feel: 4 | overall: 4
A: poured pretty much brown with burnt edges and some oily reds at the rim. This beer displayed the most intricate splattered lacing I have seen in some time. It conjured up small gatherings here and there, all colored a dingy yellow-white. The head fizzed away to leave a meager ring to keep me company for most of the drink
S: hearty earthy chocolate malts, some hops, and if your sniff hard enough maybe some chocolate brownie whiffs. Judged by the nose, I am going to be disappointed. I could hardly gather any roasted malts. But, I do not give up hope yet...
T: alright, things are swinging around. My first sip gathered a blocky bakers chocolate bar and a few roasted malts within. These flavors come across much stronger on the palate, mostly the chocolate, than in the nose. I dare say that the darker flavors hint at some molasses and coffee notes.
The tail end of the sip gathers some flaky green herbal hops that lend a touch of spice to the tongue. The bitter chocolate and the shot of grassy grapefruit hops provide a soft tanginess in the finish (chocolate covered grapefruits?)
M: I am finding this porters body to be worthy of note. The first word that comes to mind is slick. The body is a sturdy medium and seems alright for a porter, maybe a bit thin? Not bad though
D: in the end, roasted flavors made a showing and the hops came with a vigilante force. It gives the tongue a workout and is fairly easy to drink, I don't mind this porter...hops and chocolate
1,482 characters
3.48
/5
rDev
-9.1%
look: 4 | smell: 3.5 | taste: 3.5 | feel: 3 | overall: 3.5
Appearance – This one came out of the tap a dark ruby in color. It was quite pretty and almost dark purple when held up to the sunlight. The head came up nicely as well and pooled on top of the liquid.
Smell – The roasted malts and big liqueur-style sweetness are about evenly balanced in this porter. The nose though is really light and hard to pick apart.
Taste – The roasty malts are light at the tongue but very pleasing. The sweets really pick things up. It's a natural kind of sweetness almost like a malt syrup.
Mouthfeel – This is somewhere between light and medium-bodied and very creamy and smooth in the mouth. There's a touch of bitterness at the finish that nicely rounds out the mouthfeel.
Drinkability – This was a bit light but otherwise went down nicely.
790 characters

3.43
/5
rDev
-10.4%
look: 3.5 | smell: 3 | taste: 3.5 | feel: 4 | overall: 3.5
Sampled in Imperial Pint at the Brewery Pub.
Beer pours a deep dark opaque black brown with ruby laser like highlights in the light. Head is a low tan and big bubbled that disappears quickly.
Nose is of lightly roasted coffee with a ending note of diacetyl butteriness.
Flavor is similiar to a dark roasted roux with a thick coating feeling mixed with a brown butter impression of diacetyl.
A quick touch of black malt acid marks the knee of the palate before a thick finish with a hint of the sweetness that proceeds.
532 characters

3.4
/5
rDev
-11.2%
look: 3.5 | smell: 3.5 | taste: 3.5 | feel: 3.5 | overall: 3
On draught served in a footed tulip pint, Troll Porter is dark, ruddy brown with a tight off-white head leaving scattered lace.
Smell is muted, a little roast, more caramel, especially as it warms.
Taste is a little roasty, lots of coffee, a touch nutty, and mild acidity. A touch of minty fuggles as well, which is welcome.
Mouthfeel is pretty soft, smooth, slick. The nitro lightens the body.
Drinkability is fine, it's a decent porter, but not particularly notable. Average.
484 characters
3.33
/5
rDev
-13.1%
look: 3.5 | smell: 3 | taste: 3.5 | feel: 3 | overall: 3.5
I was served a pint from the tap in a chilled glass at Uncle Sam's Saloon in Kennewick, Washington.
A: It poured dark ruddy body with a tall caramel head that hung in there for quite some time before falling to a thin layer over the liquid.
S: It had a sweet roasted malt profile with hints of chocolate and spices.
T: The sweet and biting roasted malts dominated before a tangy biting bitterness from the hops coated the back of my tongue. The alcohol was well hidden.
M: It was light to medium bodied with plenty of carbonation and a somewhat watery presence. It started sweet and ended bitter.
D: It was a fine brew with a nice balance of flavors, light body and pleasant appearance.
694 characters
3.2
/5
rDev
-16.4%
look: 3.5 | smell: 3.5 | taste: 3 | feel: 3.5 | overall: 3
I'm a big fan of the Fremont Troll. As I recall, my band took some promo shots with the Troll back in... what was it?... '91? That troll sure lasted longer than my band.
In any event, I imagine the mighty Troll might prefer a porter with a bit more attitude than this one. This is a brown porter, not brewed to the robust style more common to our region. So roasted qualities are in short supply and the taste tips more to the sweet. The beer is not flawed in any way, but neither does it command much enthusiasm. The Troll shows a casual chocolate sweetness with enough bittering to grab your attention and tastes like the 1980's-style recipe we've mostly outgrown. Not bad, but better beers await you.
706 characters
3.03
/5
rDev
-20.9%
look: 3.5 | smell: 3 | taste: 3 | feel: 3 | overall: 3
Tried on-tap at the brewery in Seattle.
Pours a deep brown colour, with flashes of red to it. Body is opaque and solid, with a fluid aspect to it. Head is a pocked solid film of mocha-off-white. Some solid lace. Looks pretty decent.
Some roast on the nose, a little nutty grain characters and some mild malt sweetness. Overall, it's pretty dull, and very generic.
Light roast on the front palate, but very little body or sweetness to back it up—it leaves the mid-palate feeling rather weak and empty with some mild carbonic characters. Slightly grainy roasted characters on the back. It just underlies how generic it feels.
Mouthfeel lingers a little, but it's still exceptionally light.
This is very average, and not very exciting. It reminds me of a "dark ale" brewed by a mass-producing brewery, only paying lip-service to what makes the style good.
859 characters
2.58
/5
rDev
-32.6%
look: 3.5 | smell: 3 | taste: 2 | feel: 3.5 | overall: 2.5
On tap at post St ale house.
A: dark, dark beer with mocha foam atop which is persistent. Rings of lace.
S: nutty with slightly too much toasted character making it a little too dry.
T: malts are coffee like with a tad more bitter than I would prefer in this brew. A slightly astringent and almost sour character here.
M: full bodied with light carb and a semi slick finish.
O:. Not particularly enjoyable.
412 characters
Hale's Troll Porter from Hale's Ales Brewery & Pub
3.83
out of
5
based on
74
ratings.