Quadruppel
| Hale's Ales Brewery & Pub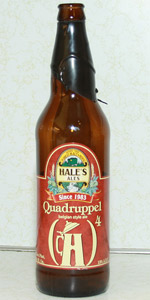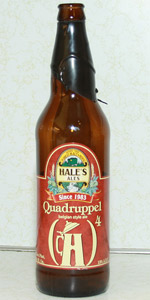 BEER INFO
Brewed by:
Hale's Ales Brewery & Pub
Washington
,
United States
halesbrewery.com
Style:
Quadrupel (Quad)
Alcohol by volume (ABV):
13.00%
Availability:
Limited (brewed once)
Notes / Commercial Description:
No notes at this time.
Added by JohnGalt1 on 02-11-2011
This beer is retired; no longer brewed.
HISTOGRAM
Ratings: 14 | Reviews: 8
Reviews by Birdlegs:
More User Reviews:

3.16
/5
rDev
-16.6%
look: 3 | smell: 3.25 | taste: 3.25 | feel: 3 | overall: 3
4.17
/5
rDev
+10%
look: 4 | smell: 4.5 | taste: 4 | feel: 4.5 | overall: 4
As far as strong beers go, the bite isn't too bad. Its got a bit of a sweet underlying tone with a kind of wine-ish aftertaste. Its not heavy but its on the ticker end of consistency. Its got a nutty/woody color which I love. The smell is tart and mildly strong. It's a good beer to share.
289 characters
3.45
/5
rDev
-9%
look: 3.5 | smell: 3.5 | taste: 3.5 | feel: 3 | overall: 3.5
22 picked up tonight at the Boise COOP for a staggering $12.50... Damn.. I hope this is $6 good let along $13. Poured into my Corsendonk tulip. 1" tannish head doesn't exactly stick around for too long, but it isn't terrible... descent lacing atop a very deep walnut brown brew that is very clear near the stem end of the glass.
Nose shows alot of brown sugar and vanilla.. a bit of plum.. only hints of peppery phenols... boozy... a bit of oak??? (is this barrel aged, the bottle label says nothing about barrels).. I swear I get some brandy... I say that, as it reminds of grappa... and I don't appreciate brandy and can pick it out pretty readily.
Flavor pretty much mirrors the aroma, but the maltiness seems a tad too much and a bit sweet... not much in the way of hop bitterness... could use a bit more IMO up front and on the finish.. hints of cocoa.. again pretty plummy.. even "winey".. there has to be brandy oak chips or brandy barrels .. odd.. and pretty damn hot... Needs more "Belgian" yeast elements.
Body is about right, but the carbonation is too light for the style... more bubbles would help carry the viscosity of the beer and make the booziness a tad more attractive.
Seems weird to call this a Quad, but I will deliver what the brewers request... there don't seem to be enough Belgian qualities for my palate... instead a bunch of maltiness and barrel (presumably) try and make up for the lack of yeasty complexities.
I dig it, but the price tag is gonna be cost prohibitive for me.. but I would like a couple more... or more for the cellar and let the brew come together and hopefully carbonate a bit more.
3.5/3.5/3.5/3/3.5
It is cool Hales is expanding on it's Belgian portfolio... I wholeheartedly encourage it.
1,744 characters



3.5
/5
rDev
-7.7%
look: 3.5 | smell: 3.5 | taste: 3.5 | feel: 3.5 | overall: 3.5
Thanks to Mages64 for sending this out in a BIF a few months back. Served in a Mikasa goblet.
Pours very dark, nearing on black. Slight garnet hue to it. A sparse head forms after a hard pour, dissipating pretty quickly to a thin collar with a bit of light lacing on the sides of the glass. The nose carries quite a bit of cherry and dark fruits. Tart cherries are quite prominent. Almost a bit of oak as well. To echo JohnGalt1 below, it seems as if this is barrel-aged, whether partially or in full. The flavor brings out more tart cherry and a bit of earth plus dark fruits and sweetness. Mild caramel. Medium body with light carbonation. Pretty decent and an interesting take on the style.
694 characters
3.9
/5
rDev
+2.9%
look: 3.5 | smell: 3.5 | taste: 4 | feel: 4.5 | overall: 4
Ar: Light vinegary, wine tannins, fruity sweetness, brown sugar, raisin, plum/prune, heavy dried dark fruit, sweet
Ap: Mildly hazy brown, light dark tan head, good retention.
T: Very fruity, light tartness up front, red wine character, heavy sweetness, pleasantly viscous/syrupy sweetness, tannins and alc balance sweetness, light chocolate, very rich, pleasant fruitiness, good complexities, nice mellow barrel character which adds pleasant subtleties, long lingering pleasant fruit and brown sugar
M: Viscous and heavy, medium carbonation, long pleasant finish, alc and wine tannins balance sweetness
O: I remember having this at the release and i really like the way it is progressing. Great complexities, nice balance and for 13% very smooth.
750 characters


3.88
/5
rDev
+2.4%
look: 4 | smell: 3.5 | taste: 4 | feel: 4 | overall: 4
Poured from 22oz bomber into a tulip.
Appearance: deep murky brown with only the slightest thin layer of tan head, which dissipated quickly. It's good and appropriate for the style.
Smell: big fruit aroma of raisins, cherries, prunes topping a sweet malt. Not overly complex, as Quads go, but a pretty decent-smelling beer.
Taste: here we go! It seems a tad unrefined but there are a lot of excellent, big flavors here! Smokiness, a little tartness, and all of the aforementioned fruits make for a big bang of flavor. I was definitely not expecting this from the relatively mild aroma. It is relatively sweet but not cloyingly so. I like it.
Mouthfeel: silky and smooth, if not exactly creamy. It works quite well for a beer this strength.
Overall: I'm favorably impressed by Hale's Quad, particularly by the flavor. This beer could probably use some maturity (either an incremental improvement of the recipe or a more literal maturation of this particular bottle, not sure which), but Hale's is definitely on the right track with this one.
1,045 characters
3.53
/5
rDev
-6.9%
look: 4 | smell: 3.5 | taste: 3.5 | feel: 3.5 | overall: 3.5
Color: Dark brown, murky (not in a bad way) no head with pour
Smell: Sweet, Dark Fruits (cherry, Raisins)
Taste: Sweet and tart interesting not what i expected
Feel: medium feel smooth not creamy tangy
Overall: Very interesting take on the style.
250 characters

3.5
/5
rDev
-7.7%
look: 3.5 | smell: 3.5 | taste: 3.5 | feel: 3.5 | overall: 3.5
Opened on Friday the 13th due to it being 13%. Poured into a Duvel tulip at 55 degrees.
A: Pours translucent brown, very light head that resided to the edges quickly.
S: Sour raisins, booze
T: Starts off with a roasty malt then transcends to a tartness almost like cherries, but like a spoiling grape.
M: thick, syrup, residual sugars...mild carbonation.
O: Pretty much 3.5's across the board due to the expectations of a quad, this is not necessarily a true replication by any means. The tartness caught me off guard for sure.
532 characters
3.97
/5
rDev
+4.7%
look: 4 | smell: 4.5 | taste: 4 | feel: 3.5 | overall: 3.5
A: Poured a deep cherry color with good carbonation and a tannish head
S: Booze, figs, raisins, plums, grapes, caramel, candy sugar
T: Big hints of raisins, figs, plums upfront with booze, grapes coming in later
M: Big body, heavy booze, dark fruits. muddy, lower carbonation
D: Alright
290 characters
Quadruppel from Hale's Ales Brewery & Pub
Beer rating:
3.79
out of
5
with
14
ratings