Wee Heavy (Barrel Aged)
| Hale's Ales Brewery & Pub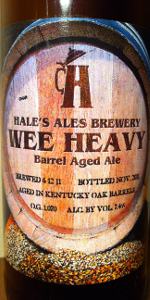 BEER INFO
Brewed by:
Hale's Ales Brewery & Pub
Washington
,
United States
halesbrewery.com
Style:
Scotch Ale / Wee Heavy
Alcohol by volume (ABV):
7.40%
Availability:
Limited (brewed once)
Notes / Commercial Description:
We reserved a small amount of our winter ale for this extra special treatment. Aged in used oak bourbon barrels for six months, the beer has flavors that bring to mind currants, caramel, and bourbon. Enjoy!
Added by harrymel on 12-16-2011
This beer is retired; no longer brewed.
Reviews: 12 | Ratings: 37

4.35
/5
rDev
+12.7%
look: 4 | smell: 4 | taste: 4.5 | feel: 4.5 | overall: 4.5
Poured into a MacAndrew's thistle glass. Pours a dark red brown amber. One finger fine light tan head with good retention and lacing. Aroma is dominated by whisky with oak and vanilla. Flavor is nice, pleasant whisky, dark and caramel malt, dark fruit. Finishes with sweet fruit, malt and whisky and a perfect amount of oak. Flavors are well integrated. Moderate to heavy, creamy body. Overall a very pleasant oaked scotch ale, I'm impressed. This is an very nice ale from Hale's line up and surprisingly flavorful for its ABV. I waited a while to try this and now hope I can find another bottle.
596 characters
4.33
/5
rDev
+12.2%
look: 4.5 | smell: 4 | taste: 4.5 | feel: 4 | overall: 4.5
Found this at the Whiskey Bar in Seattle.
Appearance has an extra dark color supporting a heavy creamy head leaving a curtain of lace. Smell of dominant heavy caramel malt having a mild whiskey aroma. Taste of the heavy sweet caramel malt backbone, mild oak and vanilla with a strong bourbon background. Mouthfeel is medium/smooth with a good balance of carbonatation. A great beer for a whiskey lover to sip and enjoy.
419 characters
4.17
/5
rDev
+8%
look: 3.5 | smell: 4 | taste: 4.5 | feel: 4 | overall: 4
From bottle:
Brewed 06.12.11
Bottled Nov. 2011
OG 1.070
Wee Heavy Aged in Kentucky Oak Barrels
"This special edition of our winter ale was actually brewed in the summer! Aged in Kentucky Oak barrels for six months, the beer has flavors reminiscent of currants, caramel, and bourbon. Enjoy."
A: pours a hazy, toasted date color with a transient finger of light peanut foam. The foam is fine in nature and sticks around as a centrally dissipating dome and a confluent ring. Spotty lace.
S: The barrel is strong in this one. Bourbon up front, but not alcoholic, sweet and appreciable. Some nice creamy malts, caramel, brown sugar and hints of dates.
T: Mmm. This is good. Wow. Bourbon is well balanced in this brew. What a find! Some nice sweet malts are bready and young. Theres a note of yeast in this as well. Vanilla and the slightest hint of bitterness. Underlying pekoe tea as well.
M: Medium bodied with some light, smooth carbonation. Theres a wet and solid feel to the finish and the alcohol then warms the throat ever so slightly (like the third or fourth exhale after a shot of strait whiskey).
O: I'm really impressed with this beer. I saw it sitting on the shelf at the grocer, and nabbed one. Really dug the flavor on this one. Really nice. Might be grabbing a few more of these.
1,308 characters

4.15
/5
rDev
+7.5%
look: 4 | smell: 4 | taste: 4.5 | feel: 3.5 | overall: 4
Poured a deep amber infused walnut brown with thick off white head that didnt last to long.Vanilla tinged oak and mild fruitiness in the nose,the vanilla is the main component I picked up.Flavors have almost a Canadian whiskey profile to them with their vanilla spice and sweetness,I liked it.Some brown sugar and fruity notes rounded out the flavors.A nice beer to have to celebrate the Lions...yeah the frickin Lions in the the playoffs!
439 characters
4
/5
rDev
+3.6%
look: 4 | smell: 4 | taste: 4 | feel: 4 | overall: 4
A: Poured a deep brown with a bugundy hue with a nice dirty white cap
S:Wood, Earthy, caramel, vanilla and bourbon
T: Caramelized sugar, toffee, vanilla and oak, bourbon is just right on this beer. Very mellow and balanced for the most part but with a dying finish on the end
which also renders some dark fruits.
M: Medium to big body
O: A good beer
353 characters
3.95
/5
rDev
+2.3%
look: 4 | smell: 4 | taste: 4 | feel: 3.5 | overall: 4
Appearance. Pours a hazy caramel-amber with a thin, amber tinted head.
Smell. Caramel, vanilla, sweet bourbon and some old dank wood.
Taste. Light caramel and woody bourbon, vanilla and a bit of grainy malt with a little hop bitterness in the finish.
Mouthfeel. Medium+ body with medium carbonation.
Overall. A very nice beer that drinks easy right now. Enjoyed it very much.
380 characters

3.83
/5
rDev
-0.8%
look: 3.25 | smell: 4 | taste: 3.75 | feel: 3.75 | overall: 4
22oz bottle (bottled 11/30/2012) into a snifter. Pours a murky amber mahogany w/ a 1-finger off-white head that leaves behind some patchy film.
Aroma is fruity, bourbony, sweet. Rum-soaked raisins, sugary figs, w/ a hint of toffee.
Taste likewise is bourbon-forward and fruity sweet. Oodles of caramel malt, soft vanilla. Lots of residual sugars here and plenty of boozy heat. Not subtle.
Mouthfeel is light and a little thin. I don't like syrupy beers but this one goes a tad too far the other way. Oaky dry finish.
Overall I'm enjoying this more than my individual scores indicate. It's a tasty sipper of a beer, just not in the same league with some of the great barrel-aged brews out there.
698 characters

3.82
/5
rDev
-1%
look: 4 | smell: 4.5 | taste: 3.5 | feel: 4 | overall: 3.5
Poured from 22oz bomber into a pint glass.
Appearance: deep, rich brown hue with lots of haze to the body. Heady cascaded creamily into three fingers of frothy tan foam. Quite good.
Smell: sweet malt with lots of luscious vanilla and oak character. The alcohol and oak add a bit of fruitiness to it; I like it a great deal. Wood aging works well with a wee heavy.
Taste: big and mean, but nowhere as pleasant as the aroma. Malt is rich and sweet with more of that oak and vanilla, but it then fades into an overly alcoholic, astringent and unpleasantly bitter end with a finish of vegetal hops. Starts great, ends less-so. Perhaps the lesson is to just keep drinking it.
Mouthfeel: medium-thick body with a good carbonation and good resulting creaminess. I like it.
Overall: not a bad beer, but the aftertaste is not working for me. The aroma is wonderful, but the rest of the flavor could use some work.
910 characters

3.75
/5
rDev
-2.8%
look: 4 | smell: 4 | taste: 3.5 | feel: 3.5 | overall: 4
Thanks to Johngalt1 for this extra. I always love to try a new barrel-aged beer that I haven't heard of before. Shared this with a friend, split into two brandy snifters.
From the bottle: "This special edition of our winter ale was actually brewed in the summer! Aged in Kentucky oak barrels for six months, the beer has flavors that are reminiscent of currants, caramel, and bourbon. Enjoy.
Brewed 6.12.11 Bottled Nov. 2011 Aged In Kentucky Oak Barrels O.G. 1.070 ABV 7.4%"
This Wee Heavy pours nicely: A rich nutty brown with hints of ambers and sherry. A formidable and earthy head have quite a bit of staying power. Decent lacing. A bit of alcohol around the edges.
Upon pouring, one can smell an aroma similar to Bourbon County Vanilla. Definite oak and bourbon. Creamy vanilla. A good swish and a bit of fruitiness appears with a touch of cardboard. I can't quite discern whether or not its from the oak or from the slightest bit of oxidation. Not a bad smelling beer. In all of its simplicity, it's quite nice. Everything follows through in the flavor. Although the tastes of currants mentioned on the bottle are completely absent, one does get a nice (albeit a bit light) mouthfeel and mouthful of vanilla, oak notes, bourbon and caramel malts. Not as much caramelization as I would like in a Wee Heavy and not as chewy either. The focus here is definitely on the "Kentucky oak barrels" mentioned on the bottle.
Not a bad beer at all, and a lot easier to put down than most BAs and/or Wee Heavy/Scotch Ales. I wouldn't seek this beer out necessarily but a decent brew all in all. Good.
1,599 characters

3.7
/5
rDev
-4.1%
look: 4 | smell: 4 | taste: 3.5 | feel: 4 | overall: 3.5
Thanks Eric. Pours a clear dark burgundy with a large creamy head. Nose is a pretty lush montage of peat, malt, earth, vanilla, bourbon barrel, with some sweet dark fruits. Flavor is pretty dry upfront, becomes heavily peaty in the mid palate, then some crazy caramel candy sweetness carries through the finish. Werthers Original. Barrel is tame in itself but this hot peat kind of flavor is really prominent. Almost abrasive at times, and quite sugary with all that melted caramel. This is pretty raw and earthy. I can't tell whether or not I like this. I think with all the weird heat and sugars flying around I have some problems with this, but it's better than a handful of barrel aged wee heavy I've had, never really my favorite style.
741 characters

3.18
/5
rDev
-17.6%
look: 4 | smell: 3.5 | taste: 3 | feel: 3 | overall: 3
A: Clear reddish dark brown body with 1 finger head.
S: Orange zest, brown sugar, bourbon, caramel, dark fruits - while this sounds good, it's not very interesting, imo.
T: Starts off ok. Bourbon note, hops, dark fruits... and it finishes off like... I am drinking sparkling water or club soda.... flavours disappear fast...
M: Very very thin body and sharp carbonation. Very very dry (not in a good way). It feels like you're drinking sparkling water.
O: For $8.99 a bottle, it was just cheap enough for me to try this... I DO NOT LIKE beers Hale's makes... bourbon aged or not. This is the most flavor-less bourbon barrel aged beer I have ever tasted.
661 characters
2.88
/5
rDev
-25.4%
look: 3 | smell: 3 | taste: 2.75 | feel: 2.75 | overall: 3
Bottle: Poured a copper color ale with a small foamy head with OK retention and some light lacing. Aroma of woody notes with some grilled corn notes with light bourbon and vanilla notes. Taste is a weird mix of grilled corn, vanilla, bourbon with a bitter and astringent finish which is not the most pleasant. Body is light for style with medium carbonation and light warming alcohol. Unbalanced with too much corn notes coming through with also too much astringency for the style.
481 characters
Wee Heavy (Barrel Aged) from Hale's Ales Brewery & Pub
3.86
out of
5
based on
37
ratings.