Trés Fem
| Hale's Ales Brewery & Pub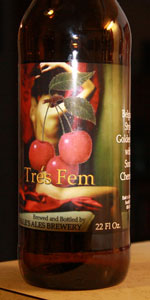 BEER INFO
Brewed by:
Hale's Ales Brewery & Pub
Washington
,
United States
halesbrewery.com
Style:
Fruit / Vegetable Beer
Alcohol by volume (ABV):
8.50%
Availability:
Limited (brewed once)
Notes / Commercial Description:
No notes at this time.
Added by JohnGalt1 on 03-10-2012
This beer is retired; no longer brewed.
Reviews: 8 | Ratings: 18

2.93
/5
rDev
-16.3%
look: 4 | smell: 3.5 | taste: 2.5 | feel: 3.5 | overall: 2.5
Bought a 22 Fl Oz bottle of this from The Beer Shoppe in Yakima, WA for $11.25. Poured from the Red/Tan labeled bottle w/ a bunch of cherries and a girl putting up her hair into a Port Wine Glass. Has no freshness date on the bottle but brewed in 2012 says the beer shop manager.
Aroma- Very sweet, malty with a distant cherry nose. No sour attributes but since cherry is noticeable, a bit above average.
Appearance- Pours a 1 finger head that has average head retention. Has a medium orange with ruby red highlights and decent clarity. Leaves good lacing behind.
Flavor- Malt, wheat, and light acidity comes around. Cherries are once again distant... Should definitely have more yeast and other characters! Quite weak all around.
Mouthfeel- Light-Medium Bodied, Medium Carbonation, Sweet all the way thru, and has the slightly cherry flavor that is left on the palate.
Overall Impression- Fell quite a bit short for me... The cherry flavor wasn't even good enough to make this brew an exceptional one. The side of the label says "Belgian Style beer with Sour Cherries" and I found neither. I really need to keep looking up every beer I am about to buy in the shops. Usually do but didn't have time with this one. Won't be coming back to this!
1,253 characters
3.35
/5
rDev
-4.3%
look: 3 | smell: 3 | taste: 3.5 | feel: 3.5 | overall: 3.5
Picked this one up last night at Bier Thirty.. Paid about $8... seems a bit pricey for an unproven Hales brew.. but I have high hopes. Poured into my small CC goblet.. The brew is a very slightly hazed bright orange... a decent white head drops quickly ... fleeting lace and pretty much no cap.
Nose is husky pale malts with a nice cherry presence, but all of it seems pretty light... even when left to warm pretty much to room temperature..
Flavor is better.. I would suspect some Belgian yeast was used... a bit of minor phenols... if there are any esters, a pretty round cherry profile masks them for me.. the fruit emerges more as an essence that is bloomed slightly by the residual malts in the brew...
Doesn't come across as "spiced", instead the yeast is talking a bit.
Body is a touch heavy for my liking... a lower carbonation accentuates the body..
I wanted to like this one a bunch more than I did... It is a good brew, but for the $$, not so much. I would hope for a more "sharp" cherry component and perhaps even a bit acidic.. but with the Belgian yeast, we get what we get.
3/3/3.5/3.5/3.5
1,125 characters
3.4
/5
rDev
-2.9%
look: 3.5 | smell: 3.5 | taste: 3 | feel: 4.5 | overall: 3.5
Reviewed from tasting notes.
A. Standard, clear amber, with a brief moment of two fingered head that dies back to a scummy layer of white foam in about 45 seconds, leaving behind moderate lacing.
S. Spiced orange and cranberry sweet buns, a very doughy aroma, with traces of band-aid funk and earthy noble hops, a fair amount of yeast spiciness and legume-ous peanut smell (!!?) as well. I was expecting a lot more fruit in the nose than I received.
T. Sugar cookie dough through and through with a bit of cherry jam spread on top. I feel like I'm at a tea party with the flavor of tiny petit-fours cakes (honey icing included) that lingers throughout the finish. Seriously lacking in acidity and tartness, this fruit beer, while tasty and light, could have really used about 20% more acidity or pucker to counterbalance things...
M. Smooth and unusually creamy texture, well carbonated yet not too fizzy, the mouthfeel is the best thing about this brew.
958 characters

3.47
/5
rDev
-0.9%
look: 3 | smell: 3.5 | taste: 3.5 | feel: 3.5 | overall: 3.5
10oz pour @ Brewforia Beer Market Meridian Id.
A: Lightly hazy gold/orange, a little head, light lacing.
S: Some sweeter malts mixed with the cherry presence...slightest touch of Belgian notes, spices, slight sweet sugary notes, darker fruit (currant, plum).
T: Nice malt sweetness to accentuate the cherries, almost a brown sugar flavor on the finish, with a touch of clove.
MF: Light to medium body, lower carbonation.
O: Pretty drinkable, but overall I'd prefer a more tart cherry presence for a Kriek (its labeled a Kriek @ Brewforia...not sure if thats true?) Its ok. no need to seek it out.
601 characters

3.77
/5
rDev
+7.7%
look: 3.75 | smell: 3.5 | taste: 3.75 | feel: 4 | overall: 4
Poured from 22oz bomber into a tulip.
Appearance: medium golden hue with a moderate haze and a strong effervescence. Head is a thick finger of frothy ivory foam with decent retention but little lace. Not too bad.
Smell: light and sweet aroma with a little hint of tartness, a little hint of cherry, and a little bit of farmhouse funk. Within those nice aromas, though, the intensity is pretty light; it would nice to have seen something a little stronger here.
Taste: sweet malt; possibly a little too sweet. Tart cherries are right in there, along with some grassiness and a little bit of that farmhouse flavor. I'm not sure if the latter is intended, or something that rode in with the cherries. The cherry is subtle, but the fresh-fruit character is definitely there. Not my favorite cherry beer, but the execution here is pretty decent.
Mouthfeel: medium-light body with a decent carbonation and a pretty big creaminess. Quite good.
Overall: I like this beer. I love cherries in beer, so this is a little bit too subtle for my taste; however, the light tartness keeps me coming back for more, so this rates high on the old drinkability scale. Definitely quaffable, especially for the ABV.
1,197 characters

3.78
/5
rDev
+8%
look: 4 | smell: 3.5 | taste: 4 | feel: 3 | overall: 4
22 oz. Bottle purchased from Fremont Seattle PCC for $5.25. Thin wispy quickly dissipating white head. No lace. Clear bright rich gold hint of red shade color.Soft cherry mild fruit ester minimal hop front.Medium light bodied mild sweet light cherry flavored clean smooth tasty body with just a hint of tartness. Dry clean easy smooth end.
339 characters

3.8
/5
rDev
+8.6%
look: 3.5 | smell: 3.5 | taste: 4 | feel: 3.5 | overall: 4
Poured into a Gulden Draak tulip. Pours a hazy medium golden amber with a thin white head that left light lacing. Light aroma of sweet malt and cherry juice. Flavor is pale malt, ripe, slightly sour cherries and light fruit juice. Finishes dry with mild sourness, a hint of hops. The flavor profile is identical to cooked pie cherries, tart and estery, the first time I've experienced this particular cherry flavor in an ale. Medium bodied with nice carbonation. An interesting cherry ale with very light malt and Belgian influence. An enjoyable change from the status quo.
573 characters

3.97
/5
rDev
+13.4%
look: 3 | smell: 3.5 | taste: 4.5 | feel: 3.5 | overall: 4
Ordered on tap at the Front Door in Boise. Small head with little lacing, but a nice amber/red color. Smelled of Belgian hops and a hint of dark fruits and cherry. Not alot of carbination, but I really enjoyed this beer. The fruit flavor was relatively light, but the yeast and malt was not overpowered by hops- a nice balance, and the alcohol was well hidden.
The best beer of the night, and a nice suprise from Hales.
419 characters
Trés Fem from Hale's Ales Brewery & Pub
3.5
out of
5
based on
18
ratings.