Dismiss Notice
Ariana
| Zagorka Brewery / Pivovaren Zavod Zagorka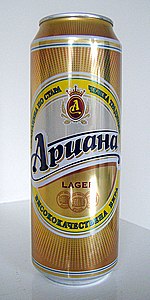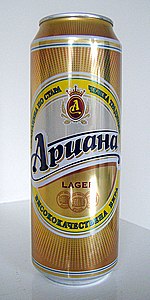 BEER INFO
Brewed by:
Zagorka Brewery / Pivovaren Zavod Zagorka
Bulgaria
Style:
Euro Pale Lager
Alcohol by volume (ABV):
4.50%
Availability:
Year-round
Notes / Commercial Description:
No notes at this time.
Added by wl0307 on 09-10-2008
HISTOGRAM
Ratings: 14 | Reviews: 5
Reviews by Garrett092112:
More User Reviews:
1.92
/5
rDev
-20.7%
look: 2.5 | smell: 2.25 | taste: 2 | feel: 1.75 | overall: 1.25
2
/5
rDev
-17.4%
look: 2 | smell: 2 | taste: 2 | feel: 2 | overall: 2
I don't have much appreciation for Bulgarian lagers and this one is definitely one of the worst. Coming form Zagorka Brewery, I have an impression it's cheaper version of Zagorka beer, which itself quite bad. It has yellow color and not big head. Taste is poor and bitter. Wouldn't recommend this beer in any occasion.
318 characters

2.89
/5
rDev
+19.4%
look: 2.75 | smell: 2.5 | taste: 3 | feel: 3.25 | overall: 3
Bottle 50cl.
A - Thin foam, pale, low carbonation.
S - Weak citrus aroma, cheap malt.
T/M - Drinkable, but nothing special, usual pale lager with some more citrus in it. Low bitterness and medium carbonation.
O - Average lager.
229 characters

2.32
/5
rDev
-4.1%
look: 2.5 | smell: 2.25 | taste: 2.25 | feel: 2.25 | overall: 2.5
February 2016 impressions:
Ariana Lager. Yellow label. 2.5 litre brown plastic bottle.
D+ / NOT RECOMMENDED
110 characters
3.28
/5
rDev
+35.5%
look: 3.75 | smell: 3.25 | taste: 3.25 | feel: 3.25 | overall: 3.25
2.69
/5
rDev
+11.2%
look: 3.5 | smell: 2 | taste: 2.5 | feel: 3 | overall: 3.5
Poured from the 500mL can into a pilsner glass.
A: The beer is a pure gold color with some carbonation rising inside. Head is 2 fingers thick, foamy, and has ok retention, leaving some flecks of sticky lacing on the glass.
S: First smell is of white bread and a slight hint of nuttiness. Little to no hop character present, and whatever is there is slightly vegetal.
T: Light bitterness that fades quickly into a somewhat nondescript malt and watery midpalate. Finishes very light with a hint of crackery malt and a slight metallic tinge that is not unique to the can (the bottle I think had that as well).
Overall this is a crisp beer that isn't the worst around, but doesn't really have any special or outstanding qualities to it. Your typical big brewery Euro Pale.
773 characters

1.87
/5
rDev
-22.7%
look: 4 | smell: 2 | taste: 1.5 | feel: 1.5 | overall: 2
Look: pours a clear yellow-straw color with a white head.
Smell: Malts, grains some lemon and light straw.
Taste: Light sweet malts, bit metallic, bit spicy bitter alcoholic after taste
Mouthfeel: high carbonation, still over-carbonating in the mouth. Watery body
Overall: I am having a hard day trying these Bulgarian lagers…
328 characters
3.06
/5
rDev
+26.4%
look: 3 | smell: 3.25 | taste: 3 | feel: 3 | overall: 3

2.5
/5
rDev
+3.3%
look: 3 | smell: 3 | taste: 2.5 | feel: 2 | overall: 2
Brought back from Sofia by my Bulgarian flatmate. Allegedly, the name "Ariana" was given to this beer in momery of a Jewish girl who was the tragically deceased fiancee of one of the original founders of the "Proshek Brothers" brewery, and her family's financial support was vital for the setting-up of this future business. Now the Proshek Brewery is no longer there, after being incorporated into the Zagorka Group, but this beer has nevertheless survived and is on the production line. BB 20/05/09, served chilled in a large pilsner glass.
A: pale golden in colour, full of super lively, large fizz in action and topped with a white fluffy head dissipating gradually.
S: the aroma is full of grassy Saaz hops with a resinous touch at the tail, backed by a focused flow of sweet, mildly peanutty pale malts and a light sour tinge typical of a lager beer. As the back label of this can states, this beer IS brewed to the type of a Czech pils - some elements on the nose are indeed witness to this.
T: a fluffy mouthful of feather-light malts and mild grassy hops precedes an even lighter, pretty neutral, taste that goes a bit metallic, then a powdery bitterness as of hop-extracts prevails until disappearing in the rather syrupy finish.
M&D: althought the mouthfeel is not so fizzy as the appearance suggests, the body is still pretty thin and fails to give the weak flavour a bit of a boost. As it breathes, the palate even goes watery in the end... Despite being brewed to the type of a Czech pils, the balance is all over the place and thus not a deserved beer for the beautiful name. Still, many thanks to my dear friend Lub for the kind gesture!
1,659 characters



1.31
/5
rDev
-45.9%
look: 2 | smell: 1.5 | taste: 1 | feel: 1.75 | overall: 1.25
Ariana from Zagorka Brewery / Pivovaren Zavod Zagorka
Beer rating:
2.42
out of
5
with
14
ratings