Ferdinand Svetly Lezak
| Pivovar Ferdinand / Pivovar Benešov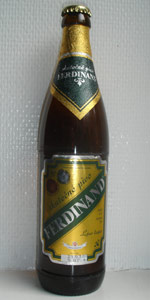 BEER INFO
Brewed by:
Pivovar Ferdinand / Pivovar Benešov
Czech Republic
pivovarbenesov.cz
Style:
Czech Pilsener
Alcohol by volume (ABV):
4.80%
Availability:
Year-round
Notes / Commercial Description:
No notes at this time.
Added by Globetrotter on 07-24-2004
Ratings: 15 | Reviews: 8

3.42
/5
rDev
-1.7%
look: 3.5 | smell: 3.25 | taste: 3.5 | feel: 3.25 | overall: 3.5

3.3
/5
rDev
-5.2%
look: 3.25 | smell: 3.75 | taste: 3.25 | feel: 3 | overall: 3
3.76
/5
rDev
+8%
look: 4 | smell: 3.5 | taste: 3.75 | feel: 3.75 | overall: 4
500ml bottle, relabeled Ferdinand Craft Brewed Czech Lager Beer, y'know, for we unworldly dunderheads in North America.
This beer pours a clear, bright medium golden yellow colour, with four fingers of puffy, finely foamy, and somewhat silken off-white head, which leaves some thin, layered cloud lace around the glass as it evenly sinks away.
It smells of bready, slightly doughy pale malt, a hint of petrol, overripe lemon rind, and earthy, leafy, and mildly skunky grassy hops. The taste is zesty floral and grassy hops, the skunky factor quickly blowing off, gritty, grainy pale malt, a still wan lemon fruitiness, and a persistent gasohol astringency, the kind that I don't mind, for some reason.
The bubbles are nice and light in their effervescent frothiness, the body a sturdy middleweight for the style, and generally smooth, both the hops and gasoline esters taking a small bite out of things here. It finishes off-dry, as the pleasant pilsener malt keeps its doors open late, and the fruity and hoppy barflies show their appreciation by ordering another round.
A decent version of the style, good and hoppy like one is supposed to expect, and with that Shell station edginess that just seems to work its way in to stay. Drinking veritable Czech lagers in August always takes me back to the month (of August) that I spent in Prague many years ago, and what I learned about great lager during that time. Sigh.
1,426 characters

3.58
/5
rDev
+2.9%
look: 4 | smell: 4 | taste: 3.25 | feel: 3.75 | overall: 3.5
Served cool from 500ml bottle into pilsner mug.
A) Clear, light amber colour, lots of bubbles rising, nice fluffy white head with good retention. Looks like a good pils should.
S) A nice blend of pilsner noble hops and bread malt. Again, like a good quality pilsner should smell like.
T) Slightly sweet fresh malt flavour not quite sufficiently balanced out by the hops. Also, a bit of a disappointing metallic tinge.
F) Nice and refreshing; on style.
O) Doesn't taste quite as good as it looks and smells. There are better Czech pilsners but this isn't a bad lager by any means.
588 characters


4
/5
rDev
+14.9%
look: 4 | smell: 4 | taste: 4 | feel: 4 | overall: 4
had at pivovarsky klub, great place with lots on tap.
appearance: amber, golden
smell: apple, bread
taste: like it smells, had a apple flavor mixed with bready malts
mouthfeel: medium bodied, good carbonation
drinkability: well balanced, equally drinkable lager.
267 characters

3.97
/5
rDev
+14.1%
look: 3.5 | smell: 4 | taste: 4 | feel: 4 | overall: 4
Ferdinand is one of my favourite Czech beers. It pours in a golden yellow colour and with some nice foam. The smell is bready, fruity and grassy and has that distincy sourness of a good lager. The taste is very rich. More fruity than bitter with the breadnotes coming on strong after a couple of seconds. A sweetness too. Maybe it's not a model Czech pilsener but it's adamn good lager, perhaps drawing towards a Vienna lager as some Czechs tend to do.
452 characters
3.33
/5
rDev
-4.3%
look: 3.5 | smell: 3 | taste: 3 | feel: 4 | overall: 4
Nondescript appearance, clear golden body. Tiny streams of carbonation, fairly effervescent. Weak aroma of mild grain, and a strain to pick up on anything else. Definitely not the "fine, pure smell" claimed on the label.
Tastes clean, mildly sweet honey malt flashes by, and a dry hop bitterness in the finish. Pretty inoffensive and bland overall. Recommended if you don't want to think about what you're drinking.
A middle-of-the-road Czech Pilsner, there are better ones out there.
492 characters
3.35
/5
rDev
-3.7%
look: 3 | smell: 3 | taste: 3.5 | feel: 3.5 | overall: 3.5
Bright copper color, high carbonation level, medium creamy head, nice lace.
Aroma malty, yeasty with a touch of fresh-baked white bread.
Start malty with no extra sweetness, medium rounded body, good hop balance, herbal accent in the finish. Very pleasant mouthfeel.
A decent Czech lager, just like it should be. Worth a try.
334 characters
2.85
/5
rDev
-18.1%
look: 3.5 | smell: 3.5 | taste: 2.5 | feel: 3 | overall: 2.5
16.9 oz heavy duty brown bottle. Clear freshness dating which I always like to see on imports.
The beer pours a nice bright gold with a huge initial head. Decent lacing
Nice smell of grains, malts and some floral hops. No off aromas at all.
The taste is slightly sweet and a bit metallic. The beer tastes a little washed out with some graininess coming on ½ way through. The hops seem to disappear. This is a very, very mild tasting beer. Seems slightly off.
The beer is a bit under carbonated for the style. Still it has a solid feel to it. Drinkabity suffers a bit from the unassertive taste profile. I'm pretty under whelmed by this one. Probably the weakest of any Czech beer I have had. .99 at Sal's Liquors in Elmhurst.
742 characters
3.05
/5
rDev
-12.4%
look: 3 | smell: 3 | taste: 3 | feel: 3.5 | overall: 3
Comes in a tall brown half liter bottle with a tapered neck and a green, gold and white label featuring nothing more than the brewery's coat of arms and the name. Sugar is listed as an ingredient. Best before 3/1/05, I opened it on 7/23/04.
Pours a clear deep slightly orangish gold under a short-lived two finger white head that lingers as film only, generating no lace. The nose is slightly sweet and heavy with melon. The mouth is mildly carbonated and fairly heavy. The opening taste is very malty, but the malt is heavy with cantelope that is just past the point of going bad. There is a very nice hops follow-up, clean, crisp and slight bitter. The impression is nicely balanced between the slightly off melon and the hoppy bite. Reminds me of the Zhigulovskoye style common in Russia, this is probably what the Russians are shooting for - and rarely hit.
864 characters
Ferdinand Svetly Lezak from Pivovar Ferdinand / Pivovar Benešov
3.48
out of
5
based on
15
ratings.