Red's Old 395 Grill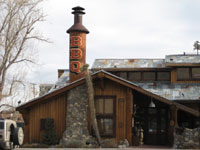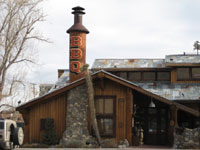 Bar, Eatery
1055 S Carson St
Carson City
,
Nevada
, 89701-5209
United States
(775) 887-0395 |
map
reds395.com
Notes:
Reviews by Beerandraiderfan:
Beerandraiderfan from Nevada
3.13
/5
rDev
-12.8%
vibe: 3 | quality: 3 | service: 3 | selection: 3.5 | food: 3
Remember that Simpsons episode when Moe changes his bar over to a family restaurant a la TGI Fridays. . . "If you like a place with all kinds of crazy crap on the walls."
Well, if you do like that, come on down to this seemingly chain restaurant. For every piece of legitimate history, there's 10 pieces of not exactly history or antique, but more like ah, junk.
Claim 100 beers or 99 beers available. About 50 of them are BMC type of variations. . . a couple keepers, Stone IPA, although its usually not available half the time. In fact, most of the good beers are frequently unavailable. And then of course, there's the ol' domestics called imports thing they got goin' on. Service is average. They don't know much about beer, the prices are reflective that you're paying for the "atmosphere." Good burger? Sure. Just plan on paying for it.
From the beer perspective, its overpriced if you can actually get one of the good beers, which can be challenging at times.
Jul 11, 2010
More User Reviews:

Rubezahl from Pennsylvania
4.08
/5
rDev
+13.6%
vibe: 4.75 | quality: 4 | service: 4.25 | selection: 3.75 | food: 4
Jul 30, 2018
VegasBill from Nevada
3.43
/5
rDev
-4.5%
vibe: 4 | quality: 3.5 | service: 3 | selection: 3.5 | food: 3.5
I have been stopping at Red's for years as I travel 395, so here is a review. This will be in a good and bad format.
The good=Atmosphere, think of that rustic mountain cabin that you always wanted, that Red's but much bigger with a lot of crap,sorry, stuff on the walls and everywhere else.
Beer selection, like 100 taps, a lot of BMC but many good micros with Lost Coast, New Belgium,Stone,Deschutes and always fresh.
Food=They have a full menu and feature BBQ
Service=SoSo
The Bad=They are usually out of many of the micros,but with so many great names I can find a few pints to make me happy.
Food= Really not consistent, for an example the BBQ is always very good to at the worst average. To be fair I have been in BBQ joints where average would have been a step up.
Sevice= Hit or miss. I have had excellant service many times but I have had it so bad I had to go search for the server.
With the above said if you are on 395 in Carson City and want some good beer and BBQ Red's is worth a stop.
Jul 18, 2010

ThreeWiseMen from California
3.33
/5
rDev
-7.2%
vibe: 3 | quality: 4 | service: 2 | selection: 4
Wiseman Zach and I pulled in here on Friday night for a couple of pints. We made the long drive up from San Luis Obispo for the UNR-UNLV game on Saturday.
Zach told me beforehand that Red's was a very hit-and-miss sort of bar. Friday night was a definite miss. When we strolled in around 10:15pm, there were only about eight or nine other customers in the entire restaurant/bar. Most of them sat in a small, drunken cluster a table over from us. All of them were over-the-hill, and two or three of them were about to be under-the-table.
"Service is shit [burp] in this shitty... solid wood... [buuurp] bar. Don't expect ta get nuthin!" That was a quote (more or less) from one of those drunken patrons. Meanwhile, the bartender stood two feet away, making his drink. Classy. After he got his drink, he griped about how she made it wrong and then told me to "give 'er hell."
Sad to say, the old codger did have a point. I waited a good three or four minutes for each of my two pints while the bartender seemed to look for "better" things to do. She was very cold to boot. Nice job with the pours, but I made sure not to tip.
With all of those negatives, Red's Old 395 Grill is still a really cool place. Authentic, historic, crap - cool crap! - adorns the walls and rafters. The interior has a cozy western feel and shows a lot of potential. Also, the beer selection is pretty damn good: lots of Sierra Nevada, Lost Coast, Deschutes, New Belgium, and other west coast micros; nice assortment of American-style ales. All three of the beers I tasted were crisp and fresh as well.
I definitely want to give Red's another shot. Too bad my visits to Carson City are few and far between. Give this place a try if you're in the area. I think I just caught it on a bad night.
Oct 06, 2009
mjl21 from California
3.63
/5
rDev
+1.1%
vibe: 4 | quality: 3.5 | service: 4 | selection: 3.5 | food: 3
I stopped in at this place recently while up in the Tahoe area. It is located in the middle of Carson City right on the main drag. It is a fairly large space with all kinds of random Old West memeorabilia on the walls and hanging from the ceiling. There are tons of tables inside and they have a nice patio. The bar is quite big and they have poker slots at the bar.
They advertise having a ton of beers. The selection was nothing spectacular, but probably would be the best you can find in Carson City. The draft list is large and you have the option of purchasing beers in glass sizes and mug sizes. They divide the draft beers into 4 different price categories and a glass can run from $3.49-$5.49. All of the usual macros and their subsidiaries are present. They carry Alaska Summer and Amber; Deschutes Mirror Pond and BB; Great Basin Icky; lots of Lost Coast; lots of SN; Anchor; Firestone DBA; lots of New Belgium; Stone IPA; and the usual popular Euro offerings. There are also a few good bottle selections such as Rogue, Alaska, North Coast, and Deschutes. Bottles go from $3.79-$4.99.
The menu is quite large and full of sandos, BBQ, burgers, and fried stuff. I had the pulled pork sando and it was alright. I enjoyed the beans and coleslaw more. My wife had a cheeseburger that she said was good.
Service was fairly quick and speedy. I tried the Icky IPA and the waiter knew that was a local one, so they have some knowledge about beer.
If you find yourself in Carson City this is probably your best bet for beer. I wouldn't make this a destination, but you could do a lot worse.
Aug 26, 2009

yemenmocha from Arizona
3.58
/5
rDev
-0.3%
vibe: 4 | quality: 3 | service: 3 | selection: 4.5 | food: 4
Best draft selection in Carson City, and perhaps in the Tahoe area as well.
Atmosphere is an old West theme with horse statues, carriages, and dead animal heads pasted to the walls. Old fashioned menu style also.
Food is meat, meat, and meat with BBQ.
Beer selection is mostly craft, and all of the ales I sampled tasted just fine (no dirty lines problem that I could see). They offer a 101 beer member club. Try all their beers, and... well you know.
If you're passing through Carson City it is worth the stop. It is on 395 behind a hotel parking lot.
Jul 17, 2008
TheEclecticGent from Georgia
3.98
/5
rDev
+10.9%
vibe: 5 | quality: 4 | service: 3.5 | selection: 4 | food: 4
Love this place! What an eclectic site. First the décor rocks! Really cool antiques like horse drawn snow sleds and buggies, a steam powered roller engine, parts from old trains, old portraits, car tags, and much more. The eye has plenty to look at during the whole experience. The food was excellent and delivered fast. The waitress was very attentive. Spoke at one point to the bartender who seemed to know his beer well. The selection of beers was great and had several I haven't had coming from the east coast. Prices were nice. I really like this place. I would drive quite a while to see it again just because of it's unique nature. If I were a local this is where I would drink.
Mar 13, 2007
Dukeofearl from California
3.93
/5
rDev
+9.5%
vibe: 4 | quality: 4 | service: 3.5 | selection: 4 | food: 4.5
This barbeque-based restuarant with a large bar area is located about a mile south of the Nevada State Capital building in downtown Carson City. It was built about two years ago (2002?) and I have eaten here several times before I decided to review it.
This is a restaurant with a nice big bar area- no brewery capabilities of its own. Atmosphere is a roomy (not large) restaurant and a good sized bar with both indoor and outdoor sections. Decor is based on old buggys and fire wagons and historical odds and ends. One section of the restaurant has a large, interesting beer can/bottle collection. The bar has an outdoor pool table and Foosball with big fireplaces for when it's cool out.
Quality is quite good. They advertise "101 beers", with 52 taps and the rest in bottles. Along with the strong presence of the standard megabrew fare, they have a large line of Sierra Nevada brews (8 taps for SN alone, each one different), several Deschutes, Fat Tire, Tahoe Brewery, several Widmer's, Alaskan, and Anchor Steam. A little bit of everything for everyone. Not a place that has all of BA's highest rated-beers everywhere, but has lots of tasty brews.
Service is acceptable, but not outstanding. The help knows they have a lot of beers, and knows some about the selection, but they are not highly knowledgeable (at least the two service people I talked with- there may be others that know more). Not bad, but nothing to get excited about.
Selection made me happy!
Food is very good. A wide variety of BBQ with a nice tangy sauce, several different pizzas, meat and potato kind of fare. A cut or two above standard pub grub.
Overall, a very nice place. Seems to have a lot of bikers and vacationers that are traveling Highway 395 (a beautiful drive for anyone who hasn't done it). This is probably a 45 minute drive from Lake Tahoe, and an hour from downtown Reno. Probably not worth the drive from either place unless you want to couple it with a historical tour of Carson City, go to the old silver mining area of Virgina City, or some other activity. It's a good place and I really like it, but when I visit, I'm staying about a mile away. P.S., there's also a nice, small casino across the street if you are visiting and want to get away from the big places.
Jul 06, 2004
Red's Old 395 Grill in Carson City, NV
Place rating:
3.59
out of
5
with
9
ratings