Cēsu Nefiltrētais (Cesu Unfiltered)
| Cēsu Alus Darîtava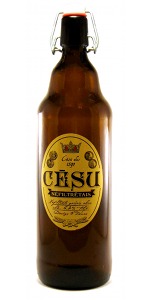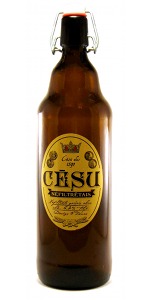 BEER INFO
Brewed by:
Cēsu Alus Darîtava
Latvia
Style:
Euro Pale Lager
Alcohol by volume (ABV):
6.20%
Availability:
Year-round
Notes / Commercial Description:
No notes at this time.
Added by atis on 11-27-2010
HISTOGRAM
Ratings: 11 | Reviews: 6
None found.
More User Reviews:
3.19
/5
rDev
-2.1%
look: 3.25 | smell: 3 | taste: 3.25 | feel: 3.25 | overall: 3.25
A: The beer is slightly hazy amber yellow in color and has a faint amount of visible carbonation. It poured with a short off white head that quickly faded away, leaving specks of bubbles on the surface and a collar around the edge of the glass.
S: Faint aromas of sweet malts are present in the nose along with some hints of yeast.
T: The taste follows the smell, with flavors of pale and caramel malts, although these are stronger and have a touch of sweetness.
M: It feels medium-bodied and slightly chewy on the palate with a moderate amount of carbonation.
O: This beer seems to be a little fuller in body compared to other Euro Pale Lagers and it's tough to detect any adjuncts in the smell or taste. Unfiltered is the way to go in this style of beer.
Serving type: bottle
779 characters

2.85
/5
rDev
-12.6%
look: 3 | smell: 3 | taste: 2.75 | feel: 2.5 | overall: 3
Reviewed from notes taken in Riga in Summer 2014.
On-draught at the Naughty Squirrel Hostel. Cost was 2.40 euro. Expectations were average going in.
APPEARANCE: No bubble show forms as it's poured. Head is two fingers in height, and of off-white colour, boasting nice creaminess and thickness. Pretty good (~5-6 minute) retention. Has a nice even consistency and a decent complexion, but leaves no lacing as it recedes.
Body colour is a clear translucent glowing copper of average vibrance. No yeast/sediment is visible within. Generally attractive, though not unique or special. Not the hazy appearance one might expect in an unfiltered brew.
AROMA: Sweet helles malts, caramalt, cream, hints of zwicklbier-esque unbunged malt/wort. It's a bit sweet, and the lack of filtration gives it some lively yeast aromatics. Pleasant overall, and mild in terms of intensity, but not particularly alive or inviting. I detect no off-notes or overt alcohol.
TASTE: Helles malts, caramalt, some cream, clean barley/2-row, a kiss of marshmallow. It's a simple unfiltered lager, and I do like it. Average depth and duration of flavour. Mild flavour intensity.
Nothing stands out as special or particularly well-executed, but it's approachable and inoffensive.
TEXTURE: Smooth, wet, fairly sticky and syrupy. Kind of thick for its relative lack of flavour. Lumpy, chewy. Doesn't suit the taste all that well. Overcarbonated.
OVERALL: Drinkable forgettable fare. I don't dislike it, but I wouldn't buy it again or recommend it to others. It'll be easy to finish the glass, but it's pretty unremarkable.
C (2.85) / AVERAGE
1,614 characters
4
/5
rDev
+22.7%
look: 4 | smell: 4 | taste: 4 | feel: 4 | overall: 4
Nice 1 and a half finger head at the beginning.
The body is cloudy as unfiltered beer should be.
Color - more looks like amber color with cloudiness.
Aroma - pleasant aroma - yeasty which is good cause it shows that the beer is very lively.
Taste - pleasant and lively taste.
Overall - good beer! Definitely worth to try it again!
339 characters
3
/5
rDev
-8%
look: 3 | smell: 3 | taste: 3 | feel: 3 | overall: 3
3.4
/5
rDev
+4.3%
look: 3 | smell: 3 | taste: 3.5 | feel: 4 | overall: 3.5
Bottle from Stockmaan in Riga. From notes.
A - Poured a copper colour with the head running away fast from a small one finger white cap to just about nothing. Fairly strong visible carbonation. Bright even though it's unfiltered?
S - Sweet malt, caramel, some light grassy hop.
T - Sweet malt, caramel, and grassy hops come out again. Sweetness isn't too bad and the hops are a nice balance.
M - Light tingly carbonation and a light to medium body with lingering sweetness in the finish.
O/D - Better than most lagers from the region. A nice one to drink a fair amount of and still get some flavour.
604 characters

2.56
/5
rDev
-21.5%
look: 3.5 | smell: 2.5 | taste: 2.5 | feel: 2.5 | overall: 2.5
On draft in Riga.
Slight hazy golden orange. Off white head.
Not much here. Reminds me a bit of a Keller pils but kind of bland. Bready pils malts. Earthy hops.
Light bodied. Easy drinking, but not too flavorful.
217 characters


2.88
/5
rDev
-11.7%
look: 3 | smell: 2.5 | taste: 3 | feel: 3 | overall: 3
Can, 5.4% ABV.
Pours hazy amber beer with massive golden head, receding to a ring of froth rather quickly. Rather sour aroma of dough, yeasts, slightly dusty. Taste is semisweet, somewhat metallic, caramel notes with good bitter finish. Good carbonation, medium body.
267 characters

2.96
/5
rDev
-9.2%
look: 3.25 | smell: 2.75 | taste: 3 | feel: 3 | overall: 3
Cēsu Nefiltrētais (Cesu Unfiltered) from Cēsu Alus Darîtava
Beer rating:
3.26
out of
5
with
11
ratings